When businessman David Low was planning to build a new family home, he wanted a tranquil retreat that would also evolve with his growing art collection.
In his search for a suitable architectural firm to take on the project, Low found affinity with eco.id Architects founder Sim Boon Yang, who has been designing luxury resorts and residential properties in Asia for the last 30 years.
"I dreamed of a house that is not stagnant, but evolving; a place to display my furniture and art pieces," shared Low, whose Futuristic Store Fixtures is behind the interior furnishings of lifestyle boutiques such as Victoria Secrets, Levi's and Bath & Body Works.
Related: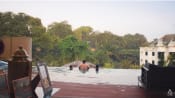 A Singapore family home built on a steep slope and irregular plot of land
Sim designed a Brutalist-style concrete structure that was masculine yet artistically expressed as a floating volume that levitates within its landscape. He said: "The concept of a person's house as his castle is still very relevant, the idea that you retreat to somewhere very safe and secure – essentially a cocoon of tranquility."
The U-shaped house sprawls over 17,000 sq ft and has two wings, one for Low and his wife Emily, and the other, for their daughter. A central courtyard connects the private wings to the living and dining spaces, in a concrete and stone spatial experience that nods to Chinese courtyard houses.
"These courtyard spaces were designed with a visual focal point in mind, which created very controlled views out – outside people don't look in and you look into the greenery," Sim explained. That concept was extended to the bedrooms where every suite looks out to its own private courtyard. The occupants get privacy while soaking in modern Japanese ryokan vibes.
For this family of three in Singapore, eco.id Architects' Sim Boon Yang designed a tranquil retreat that is stylishly furnished with Asian art and bespoke furniture.
Related: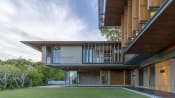 A Singapore home with a three-storey 'loudspeaker' to call everyone to mealtimes
The house reverberates with the family's passion for entertaining guests and art as well as Low's 41 years of experience in the family's furniture business. Sim did up the interior details while Low custom-built all the furniture to suit the interior theme. Every piece is unique, such as the living room's semi-transparent Kyoto-style screens made from burnt charcoal.
Sim also created formal and informal entertainment spaces, including an oak table for eight to indulge in wine and cheese in the the wine cellar. The homeowner's interest in Asian art is reflected in modern, abstract Chinese and Japanese design elements, which are further accentuated by his wife's delicate ikebana floral arrangements and the bold brush strokes of local artist Henri Chen's ink paintings.
A unique bonsai tree, which took the duo two years to find, anchors the dining room view with its stately structure floating on a pond, surrounded by a miniature moss garden. Sim commented: "I think it is important to be inspired by a cultural idea, but you must always contemporise it and add a modern edge."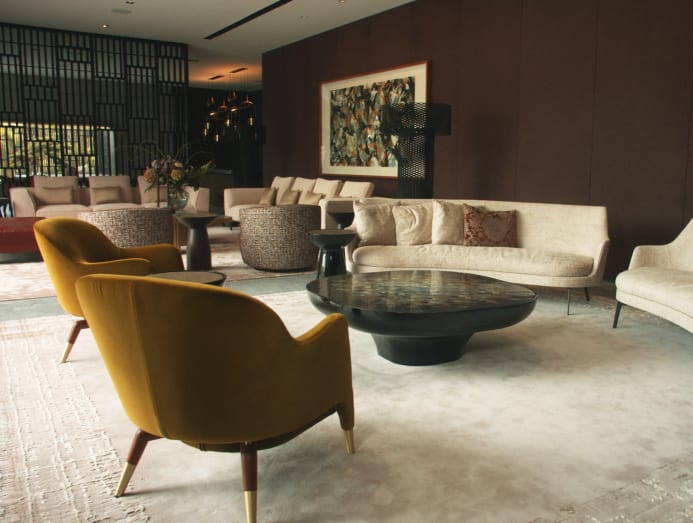 Related: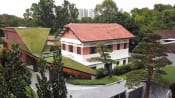 Inside Sheng Siong co-founder Lim Hock Leng's 33,700 sq ft family home
For Low, the journey of building the house was a fun and exciting one. Not only is the space a playground for him to indulge in art and antique buys during his travels– including a prized 2,000-year-old Han dynasty horse from Bangkok – it has become a meaningful place to bond with his family and friends. He has also become good friends with Sim.
Sim shared: "When I design houses, I try to figure out a way to make sure that the home is almost like a safe haven for someone to retreat to. [This is] a new way of living where the home provides an opportunity for David to look after his guests, display his hospitality to friends. It is essentially a cocoon of tranquility for him."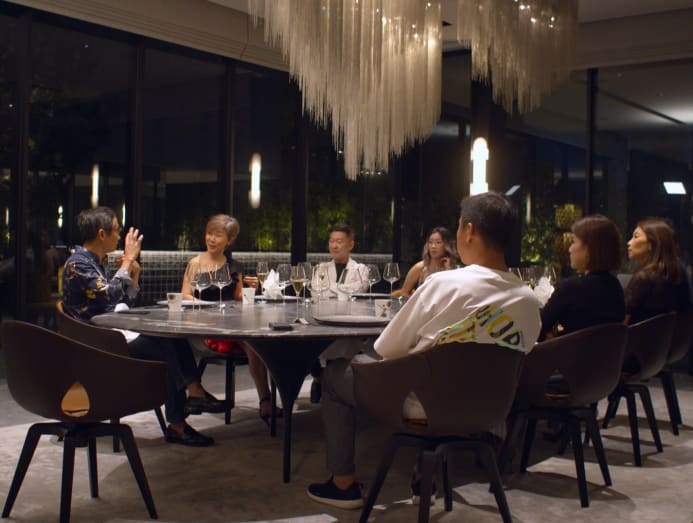 Adapted from the series Remarkable Living (Season 4). Watch full episodes on CNA, every Sunday at 8.30pm.
Related:
This home in Thailand brought a multigenerational family closer together during lockdowns