The taste of nostalgia does not come more delicious than in the hands of four Chinese cuisine maestros, three of whom were brought out of retirement to present the first-ever "8 Hands Culinary Showcase: A Rediscovery of Cantonese Classics" menuat Goodwood Park's Chinese restaurant Min Jiang.
Hong-Kong born Singapore-based Chinese cuisine masters ChefChan Kwok (best known for helming Orchard Hotel's Hua Ting Restaurant), Chef Chin Hon Yin (Sheraton Tower's Li Bai) and Chef Chung Ho Shi (Conrad Hotel's Golden Peony) have all gamely donned their aprons once again to join hands with Goodwood Park's Min Jiang Master Chef Chan Hwan Kee and deliver an exclusive menu comprising intricate dishes that date back to more than 30 years.
They were assembled by popular veteran host-comedian Moses Lim, who has also served as a celebrity food critic and expert on Chinese cuisine.
"Hong Kong-style Cantonese dishes have enjoyed a rich history in Singapore, and represent the grandeur of yesteryear, whereby each dish is a carefully created masterpiece with nuanced flavours that 'dance' in the mouth," shared Lim. "To appreciate Chinese cuisine today, we must pay homage to these dishes from the past, the chefs who created them, and their culinary mastery."
Running from May 18 to May 25 at Min Jiang, the showcase boasts three set menus, which revives rarely-seen heritage Hong-Kong styled Cantonese cuisine that most people would be hard pressed to find in restaurants today.
Every one of the 19 highlighted dishes are elaborate and labour intensive, relying on the skills of each acclaimed chef, who are all individually armed with a range of 20 to 40 years of experience in the art of Chinese cuisine.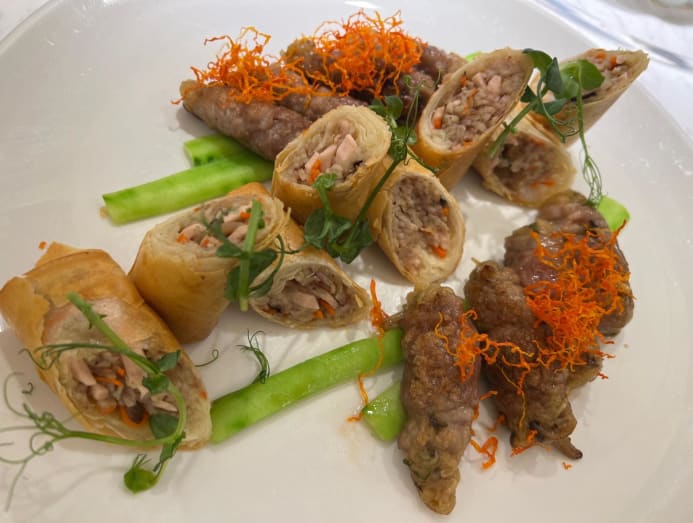 A must-have is Chef Chan Kwok's Black Angus Beef Rolls stuffed with Enoki Mushrooms, one of his signature dishes when he first arrived in Singapore back in 1981 at Happy Valley Restaurant.
Together with Chef Chan Hwan Kee's Deep Fried Shredded Yam and Prawn Spring Rolls, this dish boasts varying textures from the tender US Black Angus beef, juicy angled luffa slices and a crisp shredded carrot garnish, juxtaposed against the appetising deep fried goodness of the classic spring roll.
Chef Chan Kwok also presents his Crispy-fried Milk Custard – a mainstay back in the 1970s and 1980s – which is notoriously difficult to master.
After achieving the perfect consistency of milk, cream and cornflour, the custard is then carefully deep-fried at the right temperature to render a fragrant 'fried-yet-fresh tasting' result. This precursor to the more commonly found sweet version is seldom served nowadays due to the complex process and time required.
Here, it is served with a sugar dip, and paired alongside the moreish nibble that is the Pan-fried Australian Scallops stuffed with Minced Shrimps.
There are also old-school heart-warming thick broth dishes like Chef Chin Hon Yin's Double-boiled Bird's Nest in Minced Chicken Broth with Yunnan Ham, Diced Chicken and Crabmeat; as well as Chef Chung Ho Shi's Classic Pan-fried Prawn on Toast and Pan-Seared Japanese Bell Peppers stuffed with Dace Fish and Minced Jinhua Ham.
All popular Chinese banquet must-order dishes from the past, the latter is a classic dish that showcases skill and sophistication. Dace, a popular fish in Hong Kong, is made into a paste with ginger and spring onions before being stuffed into Japanese green bell peppers specially chosen for their crunchier texture.
Lim himself presents a "cameo" dish –  Steamed Rice Vermicelli with Tiger Prawn and Ikura on Egg White prepared byChung Ho Shi using a recipe by Lim.
Lim shared that he was inspired to create this dish from a similar one he tasted back in the 1990s by a Hong Kong chef in Singapore. But for this updated take, he has opted to swop out the fried prawn for a steamed one, making the unique dish lighter on the palate.
Requiring meticulous effort to create is Chef Chan Hwan Kee's dessert – Baked Peony Flower Red Bean Pastry and Durian Glutinous Rice Ball.
The delicate 'flower' is crafted using chilled dual-coloured pastry, which is carved, then slowly fried in oil over very low heat for about 10 to 15 minutes, until it 'blooms'. The handmade Durian Glutinous Rice Ballis Min Jiang's signature, filled with creamy D24 pulp and a lusciously soft, slightly chewy texture.
The first-ever 8 Hands Culinary Showcase: A Rediscovery of Cantonese Classics at Min Jiang at Goodwood Park Hotel runs from May 18 to May 25. Dine-in reservations may be made via 6730 1704, min_jiang [at] goodwoodparkhotel.com and at this link.