When you and your band of brothers are in show business, you can be sure that your wedding will be quite a production – as is the case for Joshua Tan. Yup, the Ah Boys to Men actor just tied the knot with Zoen Tay, his fiancee of five years, on Dec 26.
Naturally, the wedding, held at Raffles Hotel, was attended by several of his Ah Boys co-stars such as Tosh Zhang, Charlie Goh, Maxi Lim, Wang Weiliang and Noah Yap.
The groom himself has curiously deleted all but a sponsored post for Love & Co. on his Instagram account – which, incidentally, features him and his new wife as the co-ambassadors of the jewellery brand.
The couple met at a muay thai gym in Singapore but had to endure a long-distance relationship as Tay had to return to Australia for a few years to complete her medical studies. And there was also the topic of their seven-year age gap (he's 32, she's 25).
But love endures and today, Tay is the newly minted Mrs Tan in addition to her roles as the co-founder and director of skincare brand Zyu Skincare, which she launched with her husband just before COVID-19 hit Singapore in 2019.
Thanks to Tan's buddies' social media posts, fans can be privy to his special day, including a BTO footage of Tan getting ready and toasting his friends before, as they say, let the show begin.
The actor mentioned that he had initially wanted a wedding in Australia but later decided to keep it local so that more people – about 250 guests were invited – could attend the event. 
Guests were treated to performances that kicked off with Tan making a grand entrance in a white tuxedo as he led his best men in black rapping behind him to the stage.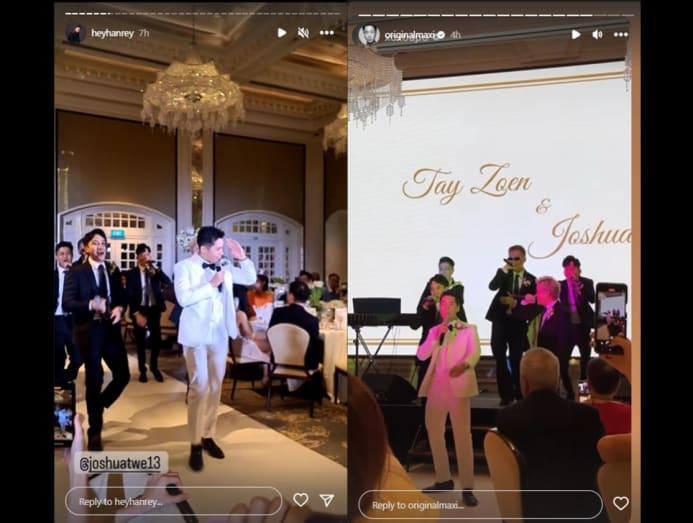 There was also a comedic number by Aden Tan, who brought Hi My Sweetheart's mushroom-haired Lin Da Lang character into the ballroom.  
Lending some romance to the day were Zhang's and Yap's acoustic rendition of Elton John's Can You Feel The Love Tonight.
But certainly, the highlight of the wedding was the couple themselves, who wowed guests with two looks.
The first had Tan in that same white tuxedo and Tay in an ethereal, off-the-shoulder gown.
The second ensemble had the groom in a black tuxedo and the bride showing off a luxurious, sequined gown that is also worn off the shoulder.
Tuxedoes and gowns aside, the couple sure wears the look of love well.