Collectors of Louis Vuitton will know that there's a trunk for every occasion, whim or fancy. The history of the maison's iconic trunk dates all the way back to 1854, when the first flat-topped travel trunk was fashioned by Monsieur Louis Vuitton himself.
It's a design that has withstood the test of time. Decades later, Louis Vuitton trunks are still being made, catering to every desire. Need a trunk for your prized possessions of timepieces or sneakers? Or one that functions as a coffee table, vanity or flower vase? The options are limited only by one's imagination.
Related:
The fascinating story behind Louis Vuitton's iconic trunks: Steamships and railways, mahjong and Supreme
Demonstrating the countless variations and possibilities of modern-day trunks, Louis Vuitton recently held its Art Of Living savoir faire showcase in Singapore. The exclusive, by-invitation only event took place from Apr 13 to Apr 24 at the stately Former Command House.
Built in the 1930s, the historic property, gazetted as a national monument, played an important role in Singapore's military history. It was once the residence of the British General Officer Commanding of Malaya. In the 1970s to 1980s, it served as the home of Singapore's Speaker of Parliament, Dr Yeoh Ghim Seng. From 1996 to 1998, it housed former president Ong Teng Cheong while the Istana underwent an extensive renovation.
Louis Vuitton's showcase marked the first time that the property has been leased to a commercial brand.
Upon entering the building, guests are greeted by an imperial staircase, flanked on each side by two conservatories. Subsequent rooms were transformed according to three themes – leisure, wardrobe and gastronomy.
Several trunks at the showcase were revealed in Singapore for the first time. These include a contemporary interpretation of the Malle Chien pet trunk. At S$50,500, this trunk is truly designed for the pampered pooch. It features a golden metal grid in the form of the iconic Louis Vuitton Monogram floral pattern on the sides for ventilation. There's also a removable soft trunk cushion for your furry friend's comfort along with a fashionable pet collar and leash.
The redesigned Vanity Mahjong Trunk also made its debut in Singapore for the first time, showcased in the Leisure Room.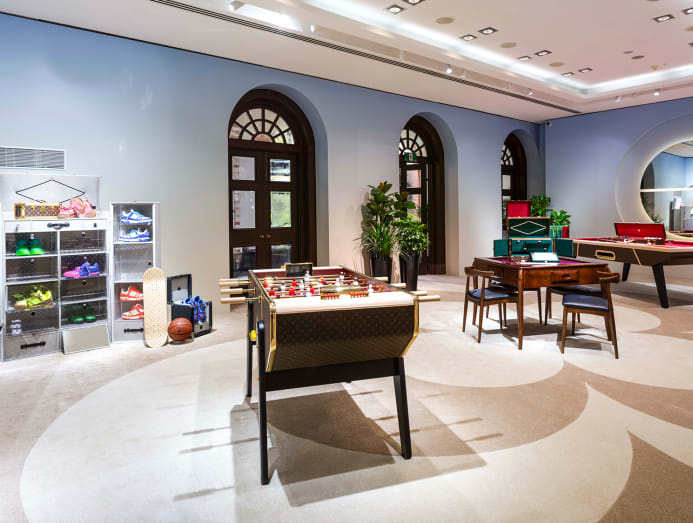 The trunk is a stunning objet d'art, with a whopping price tag of S$89,500. It features an elegant emerald green hue for the inner lining. Compartments open up to reveal exquisite game tiles, made of corian and wood. It was purchased by a private client at the event, a Louis Vuitton representative told CNA Luxury.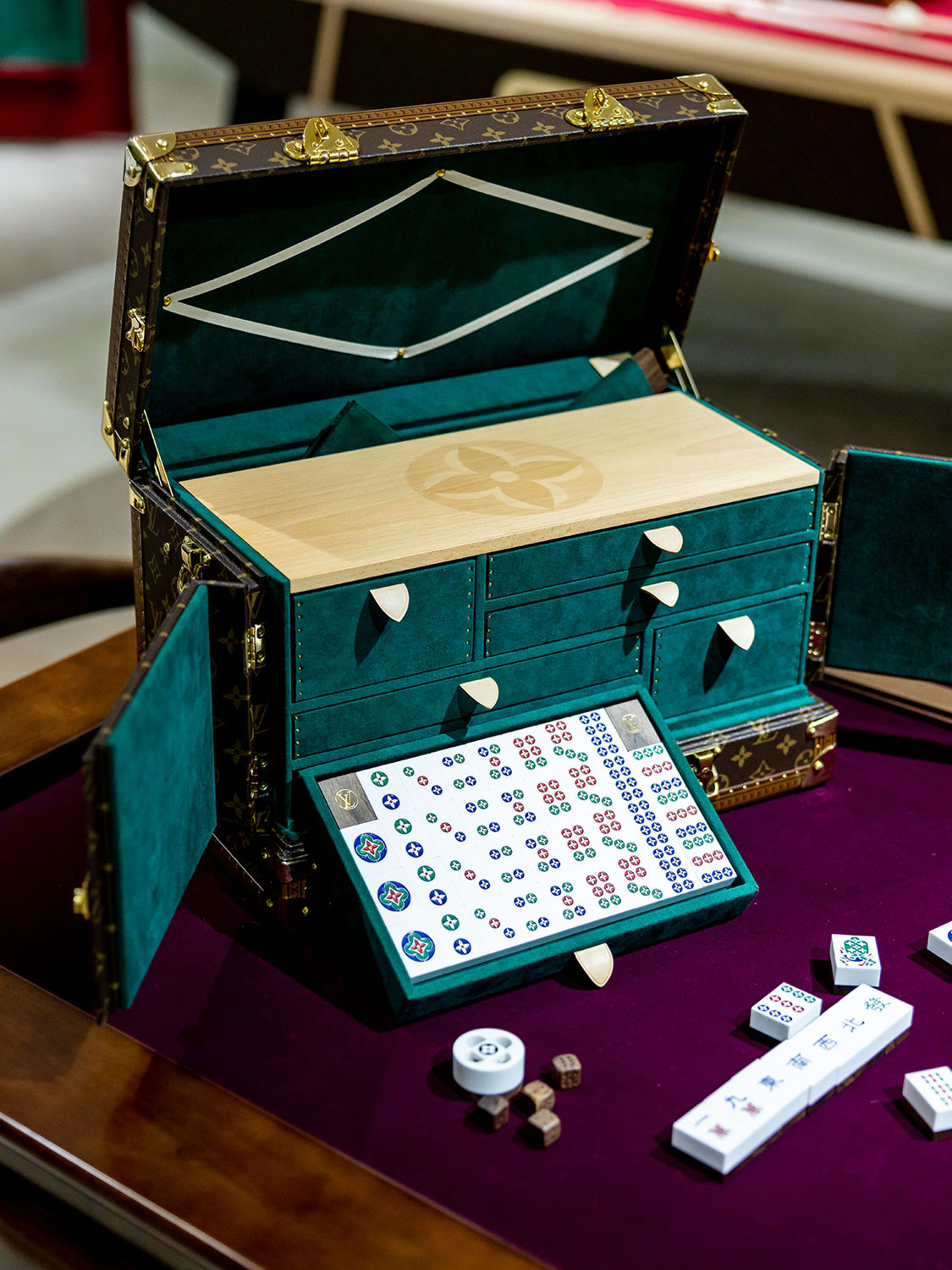 Found in the Gastronomy Room was the playful Cocktail Trunk (S$36,000), made to transport everything needed for the perfect cocktail. The hard-sided case is fashioned from multicoloured Watercolour Monogram canvas. It opens up to unveil two shakers as well as straws, coasters and a bottle opener.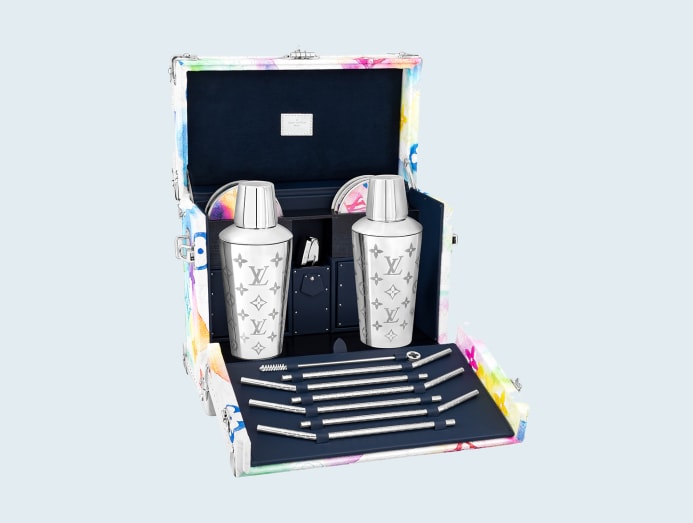 Related: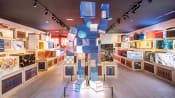 Louis Vuitton celebrates the 200th birthday of its founder with a special trunk exhibition in Singapore
Other highlights included a S$281,000 Sneakers Trunk, designed as a centrepiece of a dressing room for the most passionate of collectors. It features transparent Perspex Monogram doors and Monogram Taigaram signatures.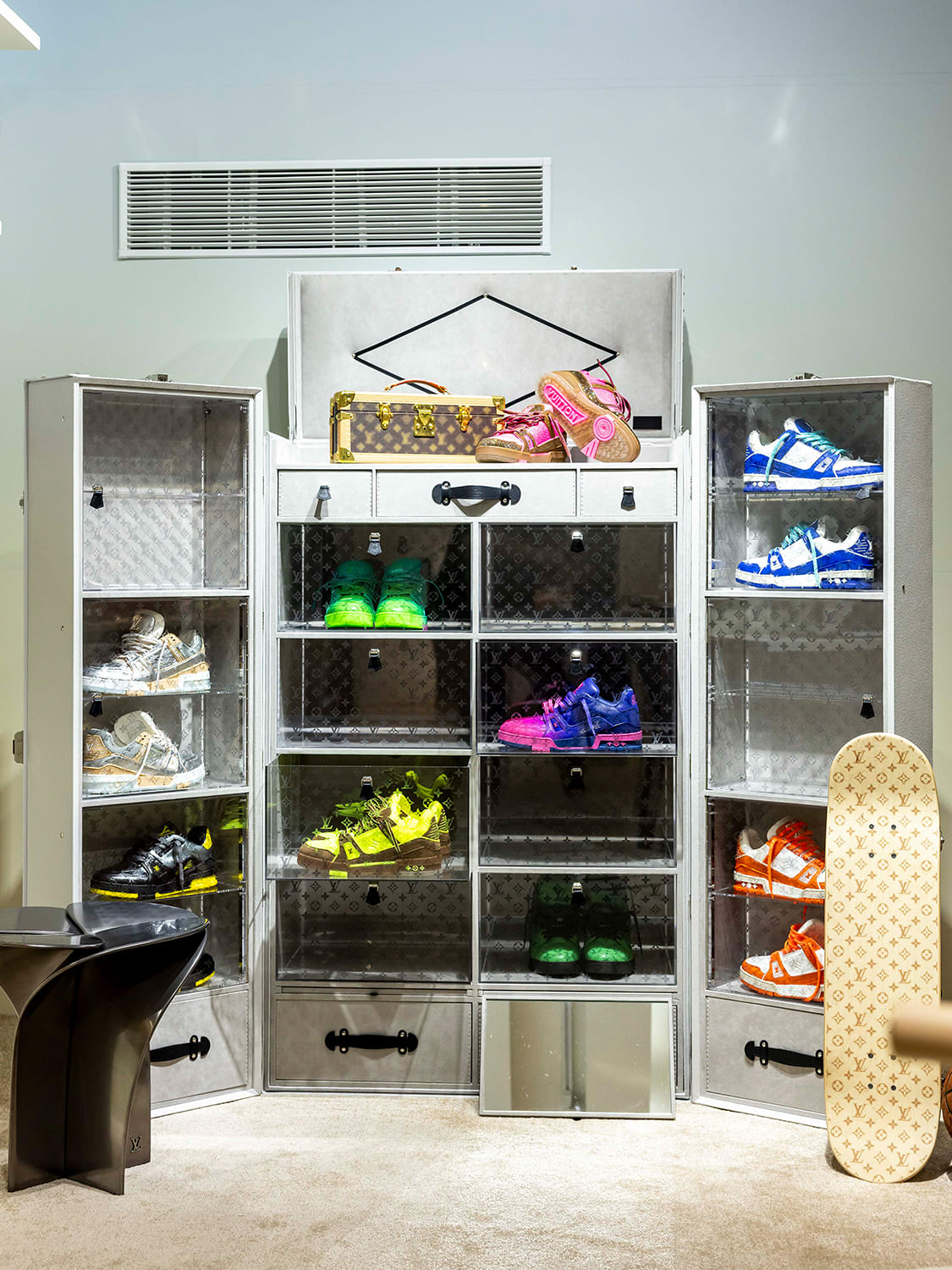 The stunning S$249,000 Malle Horlogere watch trunk, which holds the most precious of timepieces, was another must-see in the Wardrobe Room.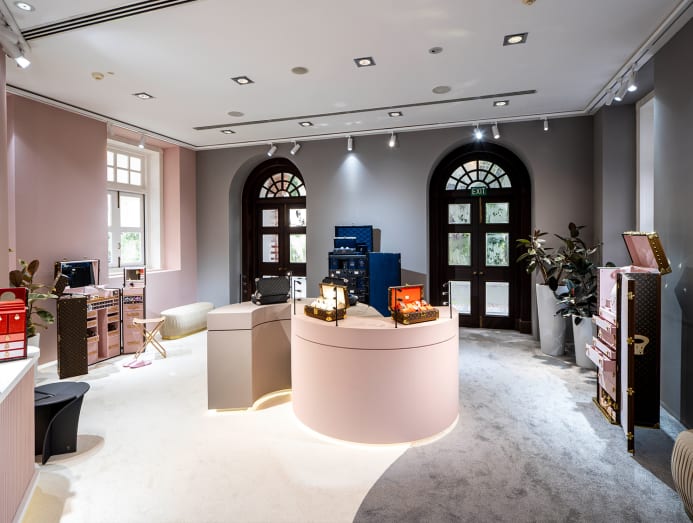 Meanwhile, the intriguing Malle Jardin (S$50,500), made from glass, is fashioned as a terrarium. It features a Perspex tray that allows for the creation of a floral composition.
Also showcased alongside the collection of trunks was Louis Vuitton's Objet Nomades collection of limited-edition furniture. Injecting radiance into the Gastronomy Room was the Aguacate by Campana Brothers sculpture. Nine differently sized Aguacate (Spanish for avocado) pieces are configured and mounted onto a wall to form an eye-catching installation. Each piece is woven by hand.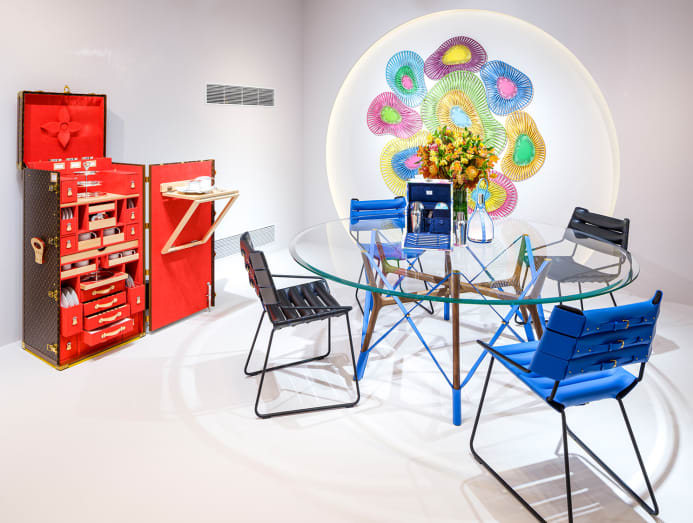 The Raw Edges' Cosmic Table, showcased in the Drawing Room, features a base that's both deceptively simple and ingenious. Originally created using just three pieces of interlocking paper, the innovative carbon-fibre form is covered with thin layers of Louis Vuitton leather.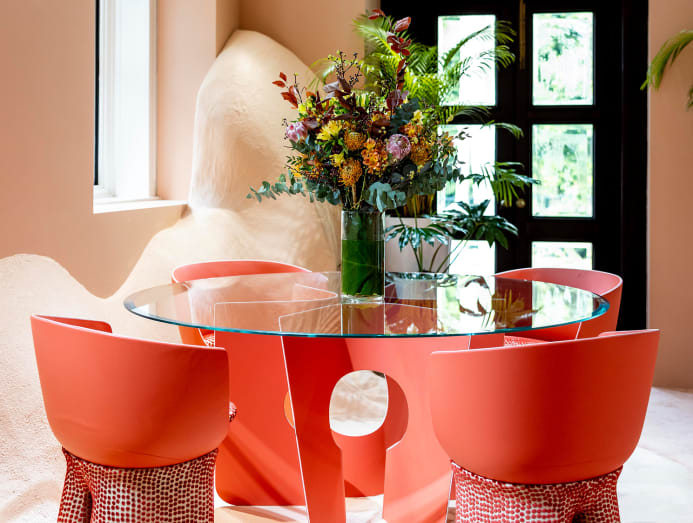 The Bulbo chair by Campana Brothers is designed to resemble a tropical flower, each of its layered petals lined with Louis Vuitton leather.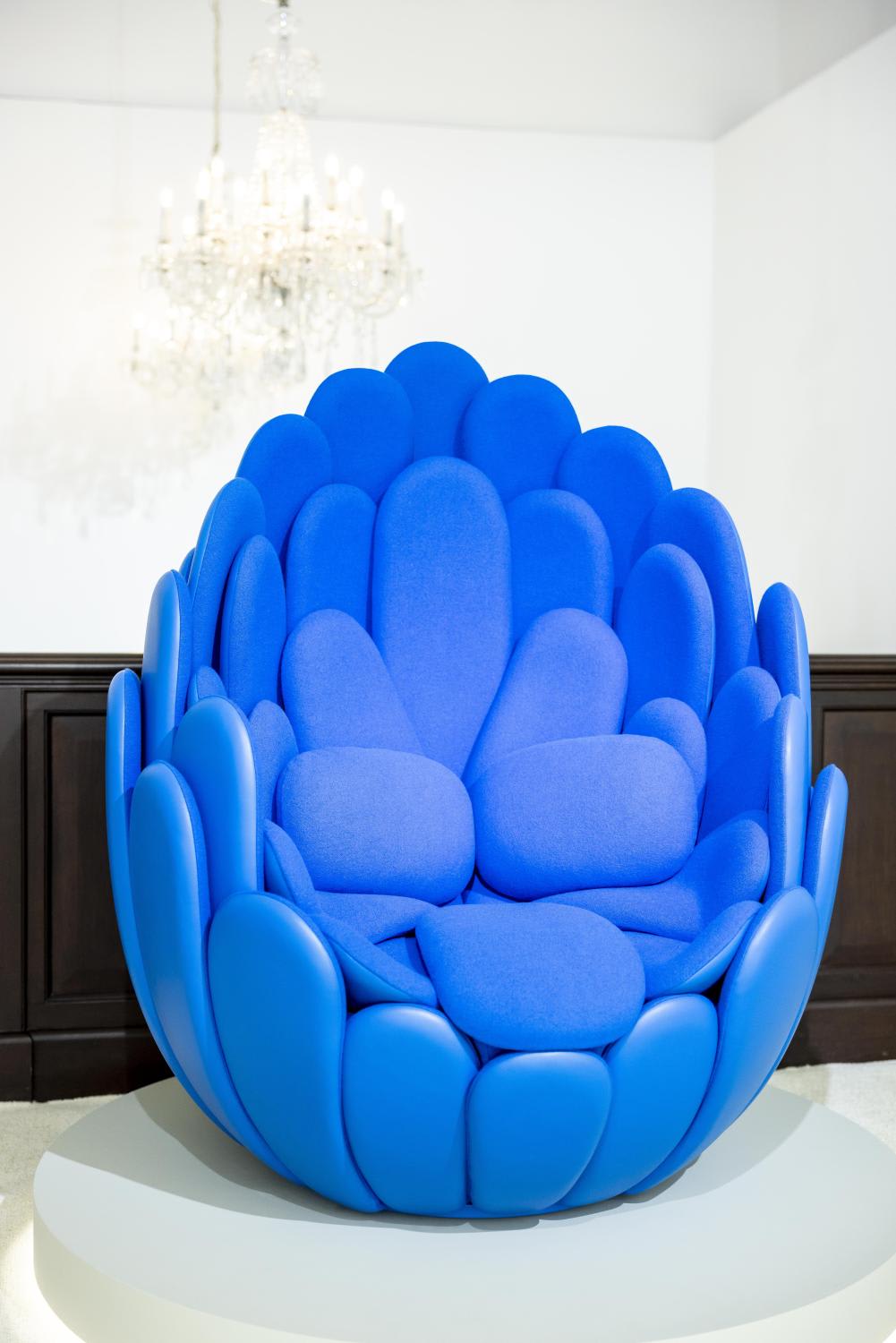 Outside the main building, the outdoor yard of the Former Command House was transformed into an Instagrammable spot with a giant, life-sized chess set. The front lawn was illuminated by Monogram shaped lights, making for a stunning photo backdrop in the night.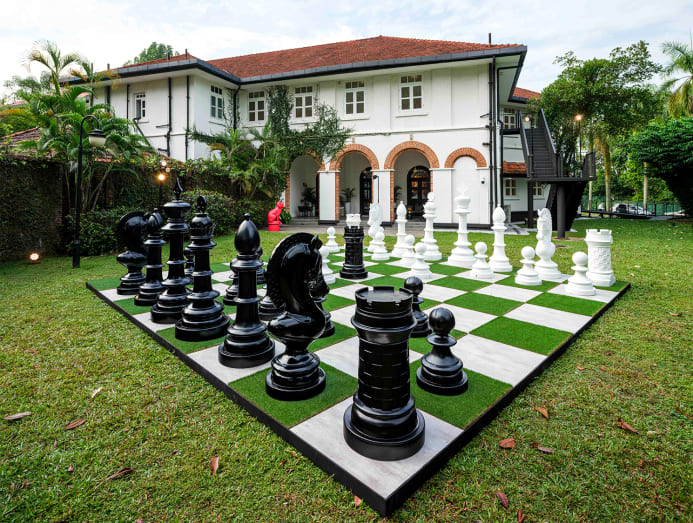 Related: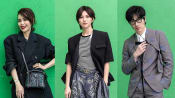 Zoe Tay, Stef Sun and more attend Louis Vuitton's fashion show in Singapore