Feeling the need for speed and looking for something to take your breath away… for free?
In anticipation of the long-awaited, pandemic-postponed Top Gun: Maverick – the sequel to the 80s blockbuster megahit starring Tom Cruise opening in Singapore on May 25 – Marina Bay Sands (MBS) and United International Pictures (UIP) have collaborated to present a Top Gun-themed multimedia light and water show, complete with special choreographed pyrotechnics.
This special one-off showcase will take place at MBS' Event Plaza on Saturday (May 21) from 8pm onwards. Free and open to everyone, this will be the first public fan event staged by MBS since the COVID-19 pandemic.
Titled Top Gun: Maverick – A Light, Water & Pyrotechnic Extravaganza, this 10-minute show sees MBS adapt their popular nightly multimedia light and water show Spectra, promising a visual spectacle featuring state-of-the-art projections, lasers, lights and water effects alongside pivotal scenes from the upcoming movie itself.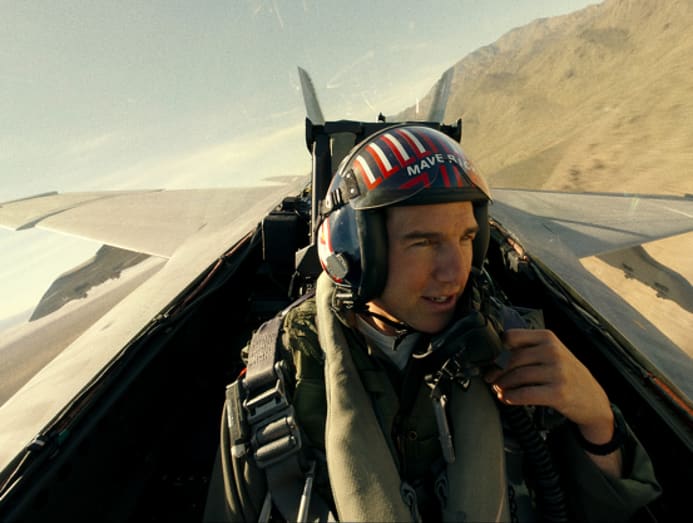 The spectacle will also be accompanied by a special orchestration of pyrotechnics, all set against the movie's soundtrack which includes Lady Gaga's new single Hold My Hand, the new movie anthem specially written for the film by the singer-songwriter herself.
There will also be Instagram-worthy moments as Top Gun projection mappings will illuminate Marina Bay Sands – from the three iconic hotel towers and the underbelly of Sands SkyPark, to the facade of ArtScience Museum.
For members of the public who are looking to join in the action from a different vantage point, there will be Top Gun-theme food and drinks available for a limited time at selected outlets across MBS, including Bread Street Kitchen's The Need for Speed (a twist on the classic Army & Navy cocktail); Yardbird's Great Balls of Fire (comprising Nashville Chicken Wings and a Southern Peach Cocktail) and LAVO Italian Restaurant & Rooftop Bar, which boasts a selection of cocktails and savoury appetisers that have been specially concocted with tributes to the iconic callsigns and nods towards the original film.
Audiences unable to make their way down for the first show will also have a second opportunity to catch it on the same night at 9.30pm, without the pyrotechnics display.
Top Gun: Maverick – A Light, Water & Pyrotechnic Extravaganza will be showing at Event Plaza, May 21, 8pm.