You've likely fallen asleep in buses many times in your life because of early morning starts or long days at work. In the future, you can choose to do so in comfort – on a bed and not with your head resting on the shoulder of your seatmate – when the tentatively named The Bus Resort opens at Changi Village in the second quarter of next year.
Located next to Changi Village's hawker centre, the new sustainability-focused resort will be made up of upcycled public buses. The project from Singapore travel agency WTS Travel and its partners, had its groundbreaking ceremony on Sunday (Aug 28).
According to a media release, this is the first resort in Southeast Asia that will use reconstructed buses as guest rooms, providing the buses with a new lease of life. There will also be an events and experiences centre within the resort, for activities such as Pilates, yoga and other mindfulness-focused experiences.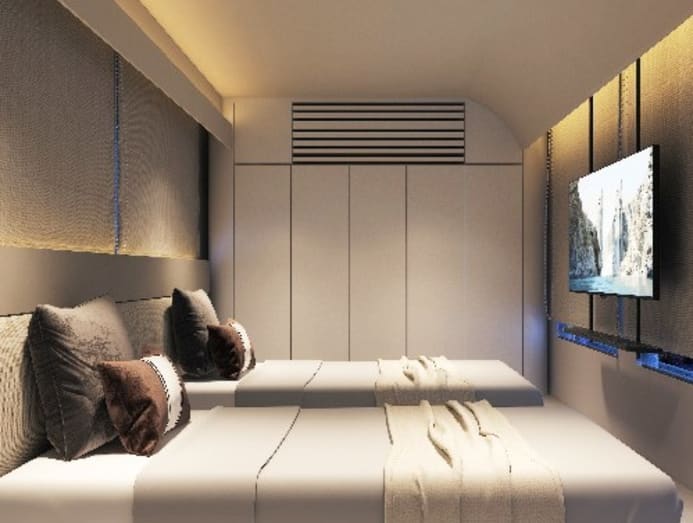 Each bus will offer about 28 sqm of space, making up a guest room that will be big enough to accommodate families. There'll also be an outdoor area for each bus that can be used for barbecues. A night's stay is expected to cost between S$300 and S$400.
The resort is planned for launch in the second quarter of 2023, occupying more than 8,600 sqm of land. The Bus Resort – with its 20 guest rooms – will plug into the vibrant Changi Village ecosystem of F&B, retail stores and attractions, such as the newly renovated Changi Village Hawker Centre, Changi East Boardwalk, Changi Chapel & Museum and Smith Marine floating kelong.
A new resort at Changi Village is set to open in the second quarter of 2023, where guests will stay in upcycled public buses. Each bus will have about 28 sqm of space, making up one guest room. Heidi Ng reports. 
Minister Dr Maliki Osman, Minister in the Prime Minister's Office, Second Minister for Education and Foreign Affairs and Grassroots Adviser for East Coast GRC GROs (Siglap) officiated the groundbreaking ceremony.
He said: "Changi Point, with its rustic charm and lush greenery, is an enduring icon to many Singaporeans. This project will add a new attraction to an already vibrant area. It also demonstrates an innovative way to create exciting experiences while also upcycling. We hope to see more such developments which bring value to the community while also serving our longer term goals of a green and vibrant East Coast."
Micker Sia, WTS Travel's managing director, said: "This is an incredible opportunity for Singapore, WTS Travel and partners to showcase how tourism, nature and environmentalism can come together for the benefit of our community. Through the execution of creative ideas, we can upcycle existing resources and create unique and exciting new experiences for both locals and tourists."