On Singapore's roads these days, it's rare to see manual cars, let alone people who still drive them.
What motivates these women to drive a manual transmission vehicle when an automatic transmission vehicle is clearly more practical and much less cumbersome in Singapore's stop-and-go traffic?
When marketing director and digital creator Aarika Lee and her husband rapper Kevin Lester, also known by his stage name THELIONCITYBOY, decided to purchase a new car five years ago, they purposefully chose a manual transmission for their family of four.
They chose a used silver Toyota Yaris, a COE vehicle on the verge of being scrapped, and renewed it for another five years.
"When you drive a manual, there is so much to appreciate about a car. You experience the car in a completely new way, and you never get bored," she explained.
"It's also significantly more engaging and enjoyable to drive a manual car, to the point where we prefer manual cars over automatics when we rent a car overseas."
Lee's first car, a 1970 classic Volkswagen Beetle, was also a manual transmission.
"I wish I could have kept her, but maintaining vintage cars in Singapore is prohibitively expensive, so I had to let her go. However, I hope to own another one someday," the 38-year-old stated.
How did Lee develop an interest in manual cars? As a precocious ten-year-old, she observed her parents drive.
"I began by asking my mother to explain how a manual transmission worked. She would let me hold the gear stick while she drove around the carpark, her hand covering mine and showing me how to change gears.
"I believe that having a taste of that increased my excitement. Therefore, as soon as I could, I enrolled in manual driving lessons," Lee recalled.
A LESS DISAPPOINTING DRIVE
Serena Chin, Legal Director at Carousell, has a similar story. Her love affair with manual transmissions began when she climbed into a Land Rover Defender while still in primary school.
Her father, who worked in construction, drove the Defender home one day from the office, and the rest is history.
"I was immediately taken with the vehicle's ruggedness," the 30-year-old explained.
Chin purchased a replica Defender 2.5 3-Door TD5 90 Hard-Top in 2018 for S$47,000.
She named it Leaf after the grassmere green hue that complemented the nearly 20-year-old vehicle's vintage styling, and she still proudly drives the impeccably maintained classic car today.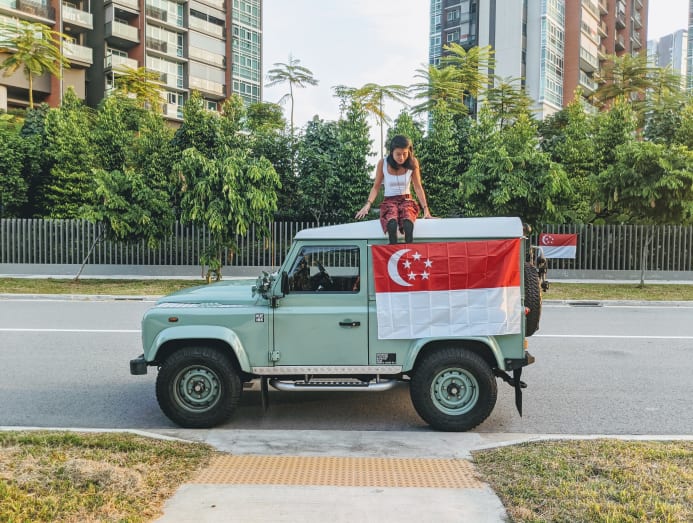 Chin had previously driven another manual vehicle, an Opel box van, which was ideal for ferrying friends to picnics by the bay, complete with a bean bag in the back.
"Drives in a manual car are less monotonous," she explained.
"IT IS THE SENSE OF COMPLETE CONTROL"
Carolyn Theng misses the feeling of complete control over the vehicle the most when she drives a manual car.
She drove a manual black Honda Civic Type R FN for a decade before having to scrap it in 2018 when its COE expired.
"I used to enjoy changing gears. The 6-speed Type R's short shifter and gear ratios were incredible; smooth and easy to maneuver.
"And I enjoyed listening to the engine rev as I changed from first to sixth gear; it was music to my ears," said Theng, who works in the automotive industry as a marketing manager.
Theng, who is in her forties, currently drives an automatic Audi A5 Sportback, a shared family vehicle.
"I miss my manual transmission a great deal. Automobiles are so banal. "There is no excitement; it is simply getting from point A to point B for me," she explained.
Annalisa Yeo, a fellow manual enthusiast, is all about the clutch.
"I enjoy the ability to coordinate the clutch, gears, and pedals simultaneously. It's far more satisfying than driving an automatic car, in my opinion.
"The ease with which automatic cars operate allows the mind to wander, sometimes to the point of boredom," explained the 29-year-old freelance actress, writer, and performer.
"As a result, I'm extremely appreciative of the focus that manual cars necessitate. It's cool to be able to control multiple components of a complex machine rather than relying on it to do everything for you."
CNA Women is a new section on CNA Lifestyle dedicated to educating, empowering, and inspiring contemporary women. If you have news, concerns, or ideas about women to share with us, please email CNAWomen [at] mediacorp.com.sg.