There are some impressive electric vehicles and hybrid cars on their way in 2022 in terms of both performance and looks. From sports cars to SUVs, new technology is allowing them to go faster and for longer. While petrol heads can still enjoy the roar of a combustion engine, cleaner energy cars are expected to make major inroads this year.
RELATED: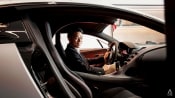 In Singapore, a S$5 million car that you can't even drive on local roads
BENTLEY FLYING SPUR HYBRID
Arriving in the second half of 2022, the new Flying Spur hybrid has a combined power output of 536hp, coming from a 2.9-litre V6 petrol engine and an advanced electric motor. This is 95hp more than Bentley's Bentayga hybrid SUV.
This sleek-looking car has a total driving range of more than 700 km, with an all-electric range of over 40 km. Inside the cabin, the automatic start/stop switch has been replaced with a control for the three eco-friendly driving modes – EV Drive, Hybrid and Hold, which maintains the battery's state of charge.
The electric motor is powered by a 14.1kW battery and can be fully charged in around two-and-a-half hours. And as part of its connected car functions, the Flying Spur hybrid lets the driver know when the car is regenerating power.
The combined power of the Flying Spur hybrid gets it from 0 to 100 kmh in 4.3 seconds, which is almost the same as the petrol-engine V8 version (4.1 seconds). It comes with a price tag of S$949,999 before COE.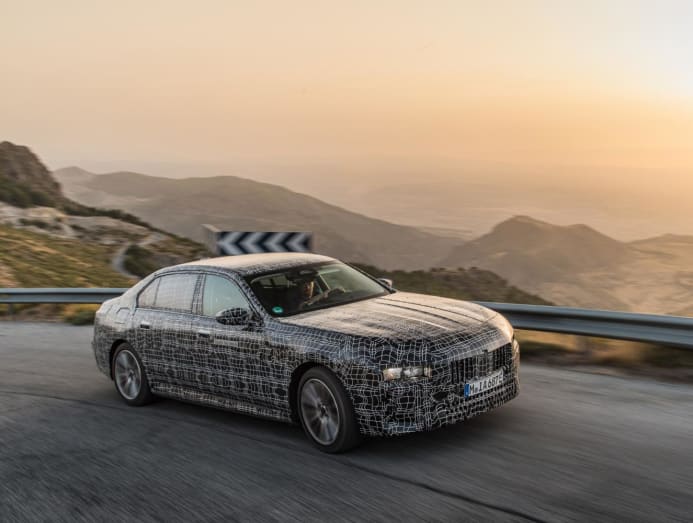 The premium German carmaker is taking things up a notch this year with even more electrified vehicles in the pipeline. Among the highlights is the first-ever i7, based on the same vehicle concept as the popular BMW 7 Series.
The all-electric i7 is currently undergoing driving dynamics testing at the group's winter test centre in Sweden and BMW has released some photos of it being put through its paces just a few kilometres away from the Arctic Circle. The frozen surfaces and snow-covered roads are considered excellent conditions to test its drive and suspension systems.
The i7's electric drive, high-voltage battery, power electronics and charging technology all originate from the fifth generation of BMW eDrive technology, which has already been integrated into the BMW iX, its all-electric SUV. BMW, which describes the i7 as the world's first purely electrically-powered luxury sedan, says it will be coming here in the last quarter of 2022.
Not only does Ferrari continue to produce beautiful cars but the Italian supercar maker is also making big advances when it comes to electrification. The latest model to hit the roads this year will be the 296 GTB, a rear-engine, two-seater Berlinetta, which means little saloon in Italian.
Not only will the range include 8- and 12-cylinder engine versions, but for the first time it will offer a V6 engine paired with an electric motor. Ferrari says this will usher in an "authentic revolution" for the Prancing Horse brand. This is the first-ever Ferrari with a rear-wheel drive-only PHEV architecture.
As you'd expect from Ferrari, this new hybrid still packs a punch and can unleash a massive 819hp in total output. Highlighting its performance levels, this electrified model has a maximum speed of 330 kmh and can get from 0 to 100 kmh in just 2.9 seconds.
Ferrari said it worked hard to make sure the car remained lightweight after the hybrid system was added, with the extensive use of lightweight materials. The 296 GTB's cockpit now has an entirely digital interface and comes with a price tag of S$1,130,000 without COE.
Lexus is bringing its first ever plug-in hybrid to Singapore this year, in the form of the NX 450h+ F Sport model. The Toyota-owned brand first launched the NX in 2014 as a luxury SUV crossover and has sold more than one million of them globally, making it one of the best-selling models in the Lexus line-up.
Lexus is bringing three variants of its new NX range here, including the plug-in electric vehicle (PHEV), as it rollouts more electrified cars. PHEVs are similar to standard hybrids but their batteries are bigger, allowing them to drive much further on electric power alone. Around 95 per cent of the NX parts are newly developed while there's plenty of new technology inside the cabin.
Arriving in the first quarter, the Lexus NX 450h+ F Sport is equipped with a thermally-efficient 2.5-litre engine, a lithium-ion battery of 18.1 kilowatt (kW), plus front and rear electric motors. The car has a targeted EV range of up to 98 km based on urban driving, while the newly-developed battery enables all-electric driving at speeds up to 135 kmh.
The German luxury car brand is quickly developing its electric sub-brand EQ, and has already launched two SUVs in the range. Coming to Singapore in 2022 will be the EQE, essentially an all-electric E-Class but with a sporty "purpose design".
The car's battery has an energy content of 90 kW and a range of up to 660 km. The EQE also allows new vehicle functions to be activated via over-the-air updates (OTA) in many locations. With 19- to 21-inch wheels, combined with a muscular shape, the EQE definitely has an athletic look about it.
Mercedes-Benz has also gone big on air quality in the EQE. A new system provides a very high filtration level to trap fine particles, micro-particles, pollen and other substances entering with the outside air. Using pre-entry climate control, it is also possible to clean the cabin's air before getting into the car.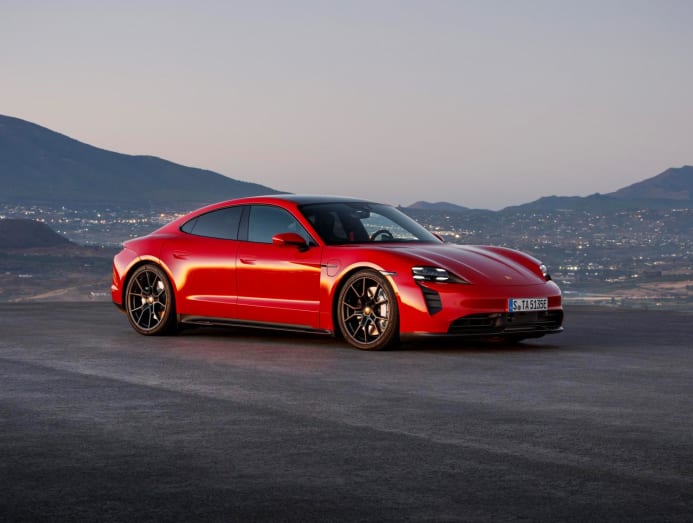 Launched in 2019 as Porsche's first all-electric model, this sleek saloon now offers many variants. The latest will be a GTS, which stands for Gran Turismo Sport. With a range of up to 504 km, the new sporty model is the first Taycan to break the 500 km mark.
There are already 4S and Turbo versions of the Taycan, and the new GTS is what Porsche calls "a real sweet spot in the range". It has an impressive 440 kW of overboost power when using Launch Control, while it can do the century sprint in 3.7 seconds, helped by an adaptive air suspension system.
Along with its impressive electric performance it also looks very distinctive with numerous black/dark details on the exterior. A huge panoramic roof is also available as an optional extra for the Taycan GTS, divided into nine segments that can be switched individually. Porsche claims this as a world first in the automotive sector.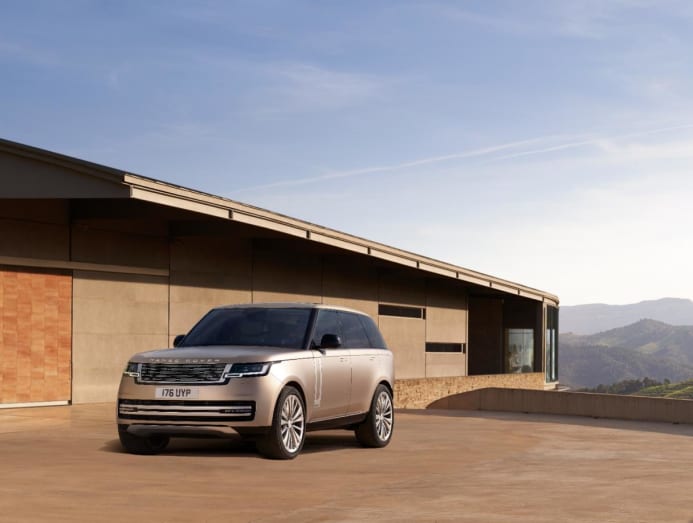 Range Rover, which considers itself to have created the original luxury SUV, is bringing out new models for 2022 while introducing some mild-hybrid technology. The British marque will be bringing its new 3-litre, 6-cylinder petrol version to Singapore, which features a 48-volt mild-hybrid system that harvests energy usually lost under deceleration and braking to boost fuel efficiency.
Range Rover is also bringing in more personalisation for customers to bespoke their SUVs. A choice of four-, five- or seven-seat interiors will be available across its standard and long wheelbase body designs. The new Range Rover comes in SE, HSE and Autobiography variants, although only the latter will be available in Singapore for now.
Its new luxury SUV will also be the first Land Rover model to feature power-assisted doors with integrated hazard detection and anti-pinch features (optional extra). Another first for the new Range Rover will be vegan-friendly seat coverings. Buyers can opt for Kvadrat, a plastic, wool-like material which Range Rover says feels like leather but is 30 per cent lighter and saves 75 per cent on CO2 emissions.
RELATED: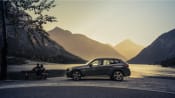 Singapore's top motoring execs recommend… Germany's best drives