Imagine being able to do everything – from sleeping and working to entertaining guests and having a spa – all within a 23,263 sq ft apartment that's 50 storeys up and with 270-degree panoramas of the Marina Bay area and Singapore's skyline.
If you're an ultra-high net worth individual (UHNWI) looking to establish your business and family here, this super penthouse located in the Marina Bay Residences condominium may be the all-in-one luxury home of your dreams.
The 99-year leasehold property is a re-configuration of three penthouse units, which were originally part of a collection of five marketed by Tristar Properties in 2021 for S$138 million, plus an additional duplex unit, to create an apartment that's roughly the size of eight tennis courts in total, spanning the 52nd to 54th floors.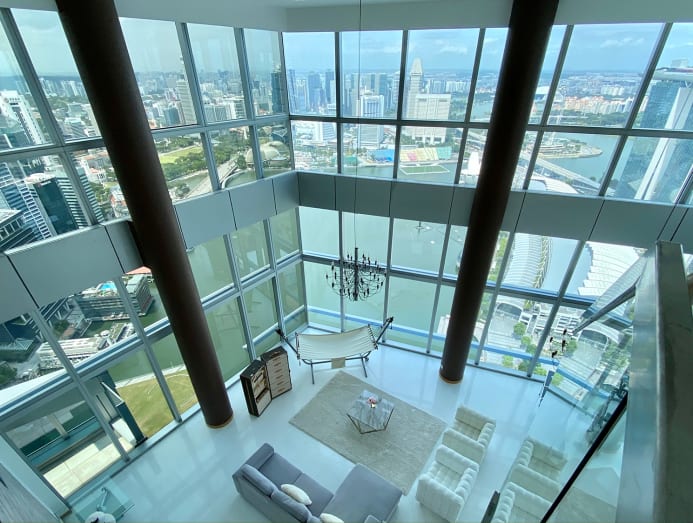 The asking price? An auspicious S$111,111,111, before the renovation works, which will be done by interior design firm Studio IF. That works out to S$4,776 psf, which, compared to the most expensive penthouse purchased in 2021, a 12,077 sq ft Les Maisons Nassim unit located in District 10 for S$75million (S$6,210 psf), is almost a steal for the space and location.
According to Knight Frank's The Wealth Report 2021, the number of UHNWIs, defined as those with a net worth of over US$30 million, including their primary residence, rose by 10.2 per cent in Singapore in 2020. Globally, the city is ranked third among countries with the fastest-growing UHNWI populations, behind China and Sweden. This signals a strong demand for high-end properties here, especially penthouses, which are often regarded as the pinnacle of Singapore's non-landed property market. 
Related: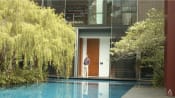 The multigenerational home of a Singapore doctor and his seven-member family
"With more UHNW individuals moving to Singapore from China, Hong Kong and Indonesia, as well as the pandemic that has resulted in people feeling the need for bigger living spaces as hybrid working becomes the norm, we are definitely seeing more demand for such penthouses in the past year, on the ground," said Linda Chern, CBRE's head of residential services, Singapore.
These buyers are mostly foreigners who are ineligible to buy landed homes, and are largely couples with kids. Owning a super penthouse is definitely a draw, where owners can potentially do everything without leaving their apartment, Chern added.
However, if these UHNWIs frequently entertain or hold meetings, she noted that they "generally prefer Good Class Bungalows, which are typically sprawled over larger grounds, where guests may park their cars freely and not be constrained by space".
Related: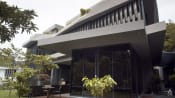 A bungalow that was once home to former President Ong Teng Cheong
On the other hand, foreign buyers as well as local ones are also drawn to penthouses for the convenience of managed amenities such as a concierge, gym, swimming pool and residents lounges, said Knight Frank's Nicholas Keong, head of residential (prime sales and international project marketing) and private office Singapore.
"The buyers would usually look for larger-sized penthouses starting from at least 3,000 square feet, with at least three bedrooms with ensuite bathrooms, a powder room and a study. Double volume floor-to-ceiling heights and outdoor space such as terraces and balconies are also highly sought after, providing great indoor-outdoor living – perhaps as a result of the pandemic," he explained.
"Living in a penthouse or super penthouse is akin to living in a bungalow in the sky. Not only do these buyers get the space which landed properties offer, penthouses also offer views that comes with height."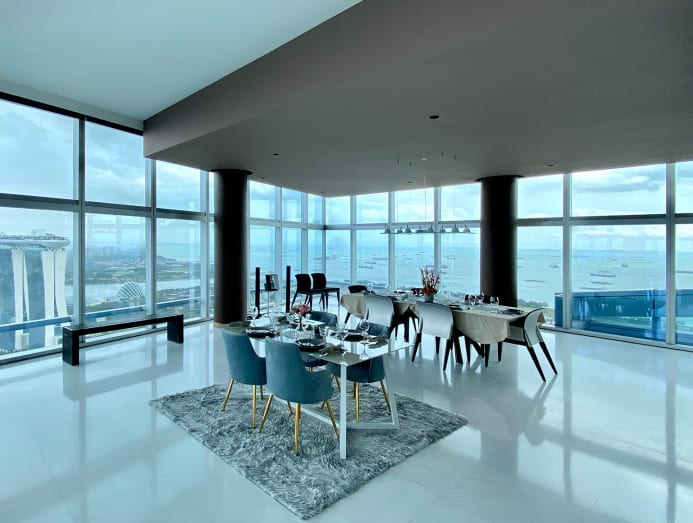 Tristar, who is the exclusive marketing agent of the super penthouse, shared that besides UHNWIs and family offices purchasing properties for their own use, there are also investment funds that have approached them to review investment opportunities and asset enhancement.
"With an average luxury penthouse size of 5,000 sq ft, we often have buyers wanting more space for both internal as well as outdoor use as more people are working from home," said Tristar's associate director Edwin Yip.
"Their needs are also getting increasingly more sophisticated. They want to combine home (family), work (home/family office and staff) and play (clubhouse, entertainment, wellness) into their residences. But penthouses and big format units in Singapore are rarely built beyond 5,000 square feet apart from a few exceptions."
Related: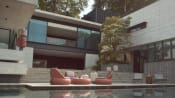 A concrete house in Singapore that 'floats' above the landscape
Gwen Tan, co-founder of Formwerkz and Studio IF's design principal revealed that although the studio has drawn up a lavish layout with a fly-through video for potential buyers to envision their future home, the space will only be renovated after the plans are confirmed with the new owners.
The proposed design is certainly for those where the sky's the limit in terms of budget. Besides gilded finishing and interiors dressed mostly in stylish neutral hues, there's a mega 3,000 sq ft master suite with a Rolls Royce shooting star scene on the ceiling and a 25m cascading waterfall with Northern Lights at the rooftop bar and outdoor lounge, presumably for those looking to immortalise their travel experiences.
There are also seven bedrooms, three dining areas, a karaoke and movie room, boardroom, roof-top gym and pool, among other amenities.
Each floor has specific zones for residential, entertainment and work-related activities, all bedecked in the top names in luxury furnishings, from Italian designer Minotti's dining tables and chairs to chandeliers from award-winning UK lighting designer Lee Broom.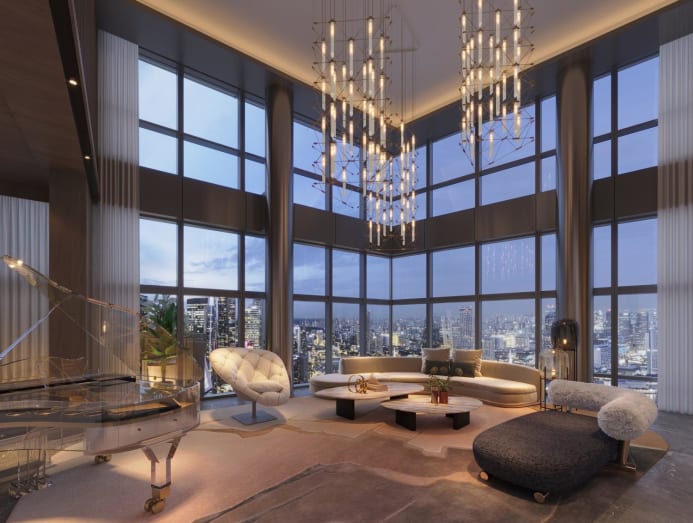 Other features that were also incorporated from lifestyle trends: Bigger wardrobes – walk-in ones no less, in a boutique setting to display bags and accessories – and a wellness section with steam baths, saunas, foot massage room and proper treatment beds.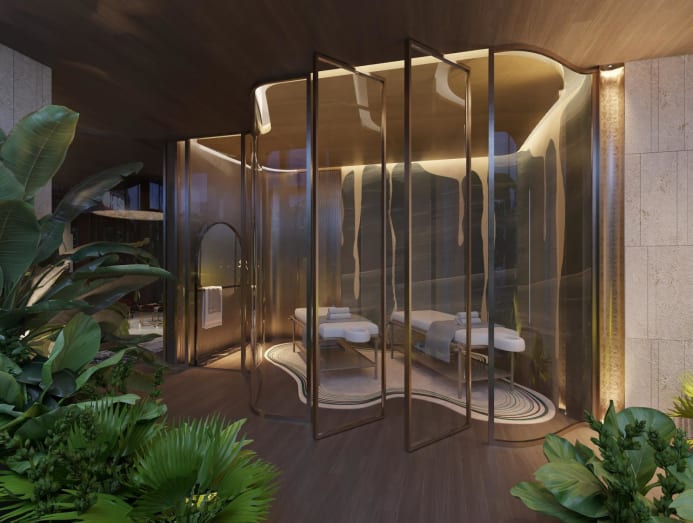 Cigar bars and tea galleries are popular too, as are wine cellars for homeowners to show off their collections to their friends, Tan added.
Totally a fancy abode for those who find comfort, privacy – and bragging rights – priceless.
Related: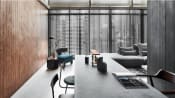 House tour: A three-storey penthouse in Singapore with a rooftop Jacuzzi