The light at the end of the tunnel is finally here for vacation-starved Singaporeans, except those who didn't manage to score a plane ticket before airfares skyrocketed.
But, if you have until the end of March to clear your leave or remaining days carried over from the previous year, travelling in the first quarter has its merits. You get to enjoy off-peak prices, and attractions and flights are nowhere as crowded.
With only a week off work, nobody has time for 13-hour flights and the subsequent jet lag. Thankfully, Australasia has been up to plenty since we've been gone, with new hotels and attractions emerging from a post-pandemic glow-up. Below are six destinations, their latest offerings, and airline deals available at the time of writing.
1. PERTH
A stroll by the Swan River is inevitable when in Perth, but the Matagarup Bridge Climb, which opened in December 2021, makes for a less cliched vantage point.
Bona fide adrenaline junkies can kick things up a notch at Optus Stadium's Vertigo, which recently hosted a challenge in The Amazing Race Australia. Opened in March 2022, The attraction allows you to walk on the edge of the stadium's roof, just in case the zipline didn't hit the spot for you.
If you can't go a week without Asian food, Miss Mi at Novotel Perth Murray Street, a modern Asian restaurant opening in February 2023, is ready to dish the good old umami flavours from back home. When making the customary day trips to Fremantle or Swan Valley, a bite at the Gage Roads Brew Co and Old Young's Kitchen, both opened in January 2022, will help line your tummy for the next round of tipples.
Flights to Perth start at S$718 and S$181 on Singapore Airlines and Scoot respectively. HSBC and American Express cardholders save up to 25 per cent at Pan Pacific Perth.
More of Australia:
The ultimate road trip guide to exploring Australia's Sunshine Coast on a self-drive holiday
Sydney for thrill-seekers: Skydiving and other activities to get the adrenaline pumping in New South Wales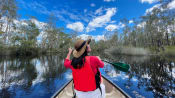 I sniffed a koala and I liked it: Rainforests, rivers and rainbows in Queensland, Australia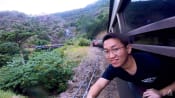 More than just a gateway to Australia's Great Barrier Reef: Fancy chasing cows and licking ants in Cairns?
A beginner's guide to campervanning in Australia: How to plan and enjoy the great outdoors on wheels
2. BALI
Bali is something of an epicentre for digital nomads, and the hotel scene in 2021 definitely got the memo. Andaz Bali, for instance, has kept beachfront living equal parts intimate and social with private villas and a village square where locals and travellers can mingle.
Potato Head Studios, a new hotel in the brand's creative village, Desa Potato Head, also launched with 168 guest rooms, co-working spaces, and events for the eco-minded to commune.
Bobocabin Kintamani opened in the same year – a dream come true for introverts and travellers on a budget. The homes are tiny but the views are expansive, and we wouldn't pass up the opportunity to live by the lake and mountains with creature comforts like air-conditioning and hot water.
For an equally refreshing change of scenery, The Cave by Chef Ryan Clift, owner of Tippling club in Singapore, serves a ten-course meal to truly take you off the grid.
Flights to Bali start at S$338 on Singapore Airlines and S$109 on Scoot.
More of Bali: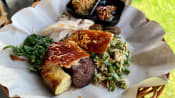 5 of Bali's best babi guling restaurants for the island's famous spit-roasted pork dish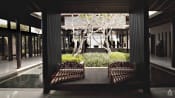 How this Singaporean architect built a luxury resort as a love letter to Bali
3. BANGKOK AND KHAO YAI
The revamped MBK Center and new Jodd Fairs Night Market, which replaced the former Ratchada Train Night Market in November 2021, continue to draw bargain hunters to Bangkok, but that's not all.
Other developments include Harajuku Thailand, a shopping district the size of 36 football fields that will transport you from the land of smiles to the land of the rising sun; and Sansiri Backyard, an urban farm where you can harvest greens, feed animals, or have a farm-to-table experience in the middle of the city.  
For the full countryside experience, Khao Yai is merely three hours away by car. It's where the wealthy construct holiday homes and temperatures dip below 20 degrees Celsius, which is music to every Singaporean's ears. Mountain top hotels have sprouted in the last two years, and among these are Roukh Kiri, whose twelve villas nail the European farmhouse look to a tee; and InterContinental Khao Yai Resort, located right by a sprawling national park where visitors can hike to waterfalls and spy wild elephants on a night safari drive.
Flights to Bangkok start at S$338 on Singapore Airlines and S$445 on Thai Airways. HSBC and UOB card holders are entitled to free nights at Chatrium Hotel Riverside Bangkok and COMO Metropolitan Bangkok respectively.
More of Thailand:
Traveling to Thailand? Here are 9 of the best new resorts and hotels for your next holiday
At private resort Ani Thailand, the magical experiences extend far beyond its grounds
Check in to the Standard Bangkok Mahanakhon the next time you're in the Thai city
4. TOKYO
Consider the yen's dip as a sign to visit Tokyo Disneyland. Specifically, their two new rides from Beauty and the Beast and Baymax, as well as Toy Story Hotel, which will open its doors with guest rooms a la Andy's bedroom this April.
Hayao Miyazaki's fans need no reminder that the long-awaited Studio Ghibli Theme Park opened in Nagoya last November, though it's three hours away from Tokyo by train. You'd have to wake up early for a day trip, but where else will you see Howl's Moving Castle come to life?
Shibuya Sky, a 360-degree observatory that's 230 metres in height, which opened on the cusp of the pandemic, is finally having its moment after three years and two seasons of Alice In Borderland.
Other attractions waiting to be discovered include Kadokawa Culture Museum, comprising a natural history museum, art museum, and library; and malls like Miyashita Park, With Harajuku, and Mikan Shimokita. Gamers can also check out Japan's largest esports park, Red° Tokyo Tower, where they can buy a day pass to access unlimited computer games and virtual-reality simulators.
Flights to Japan start at S$905 on Cathay Pacific, and HSBC cardholders get a S$120 discount with a minimum spend of S$1,000. OCBC card holders, on the other hand, get up to 25 per cent off when booking with Japan Airlines and discounts on selected hotels in Tokyo.
More of Tokyo:
Ramen hunting in Tokyo with an expert from San Francisco
5. SEOUL AND BUSAN
The highly coveted Paradise Hotel and Resort in Single's Inferno is in fact part of Paradise City, an integrated development completed just before the pandemic. It's now open to the public, but if it's swamped with fans of the Korean reality TV series, try The Leap Sadang, a hotel that opened last July with a private pool and traditional tea set in each suite.
Hotels aside, new attractions include The Hyundai Seoul, which opened in February 2021 with eight floors of shops, cafes, and creative spaces; and the Pohang Space Walk, a whimsical art installation slash observatory in the city where Hometown Cha-Cha-Cha was filmed.
If you can afford the time, Lotte World Adventure Busan: Magic Forest, which reopened last March, is the perfect excuse for a short stay in Busan. But don't leave without a joyride on the Haeundae Beach Train, which opened in October 2020.
Flights to Seoul start at S$688 and S$170 on Singapore Airlines and Scoot respectively.
More of Seoul: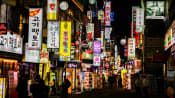 How to spend 36 hours in Seoul: What to eat, drink and do
Squid Game in a village, Myeong-dong blues: A first-timer's visit to South Korea via VTL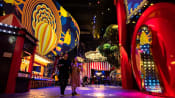 We visited K-drama locations in Seoul and Incheon: Squid Game, Itaewon Class and Hotel Del Luna
6. HONG KONG
The theme parks in Hong Kong have also gotten their fair share of sprucing up. While Hong Kong Disneyland's new attraction, World Of Frozen, will only be launched in the second half of 2023, a new night show has already debuted.
Alternatively, there's Ocean Park's Water World, a water park which opened in September 2021. There are five indoor and outdoor zones to get that holiday tan before calling it a day at The Fullerton Ocean Park Hotel Hong Kong, which opened in July 2022. Each one of its 425 guest rooms faces the sea, guaranteeing everyone a million-dollar view of the sunset.
The city has also added two new museums to its repertoire. There's the Hong Kong Palace Museum, where history buffs can nerd out at artefacts from the Forbidden City, and M+, a museum of visual culture with exhibitions by the likes of Yayoi Kusama. If you're in Shenzhen, the world's first Muji Hotel deserves a spot on your itinerary. It opened in 2018, but barely got the airtime it deserves no thanks to the stop-start years after.
Flights to Hong Kong start at S$308 and S$307 on Singapore Airlines and Cathay Pacific respectively. HSBC cardholders get a S$120 discount with a minimum spend of S$1,000.
More of Hong Kong: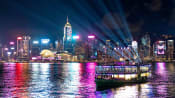 Revisiting familiar Hong Kong favourites: From iconic hotels to celebrated restaurants
Here's everything new you'll want to experience when you're in Hong Kong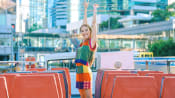 48 hours in Hong Kong: Actress-host Grace Chan's insider tips on what to see and do
Other travel ideas: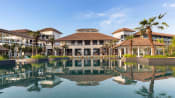 Planning a trip to Desaru? Here's a handy list of hotels to stay at for your weekend getaway
Vietnam is increasingly on top of many travel lists – here's where to stay in style from north to south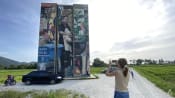 3 nights in Penang: Instagram art in the countryside, dreamy sunsets and a most unusual dinner date
Geysers at night and luxury tree house stays: New things to do on your post-pandemic New Zealand vacation