Cher Yam Tian of Palm Beach Seafood Restaurant and Roland Restaurant – and widely recognised to be the creator of Singapore's iconic chilli crab – died on Wednesday (Feb 15). She was 90 years old.
Tributes for Cher have been pouring in, including from food blogger Dr Leslie Tay and Makansutra founder KF Seetoh.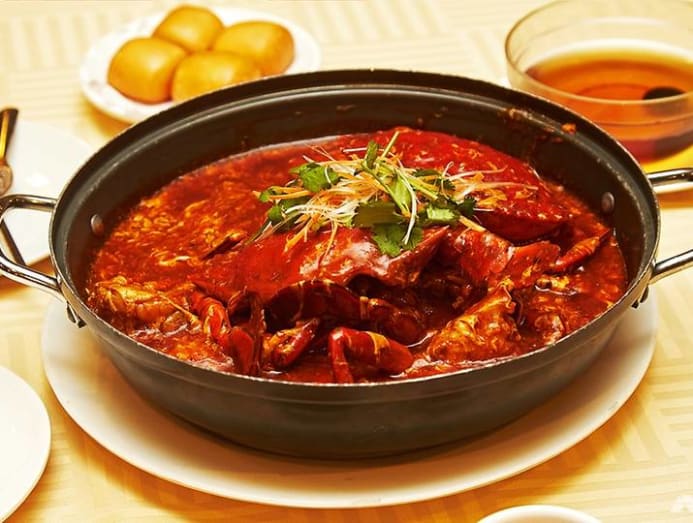 "It was Mdm Cher Yam Tian that came up with our iconic chilli crab in the 50s, that inspired the legendary sambal version we revere today, dreamt up by the Chef Hooi of the Four Heavenly Kings (close friends of the family). Her audacious idea to cook a bold crab with a bolder chilli sauce has made it into our makan history," Seetoh wrote in a Facebook post on Thursday. "We will remember you and thank you for this gift of culinary. May you rest in peace." 
According to Singapore Infopedia, Cher came up with the dish way back in the mid-1950s when she added bottled chilli sauce, instead of her usual ingredient of tomato sauce, into a dish of stir-fried crabs.
She said in an interview that she started serving her chilli crab dish to her friends and family, which led to them telling her that she should start selling her signature creation.
So in 1956, Cher, together with husband Lim Choon Ngee, began selling the now iconic dish from a pushcart along Kallang River. Business was so good that they eventually opened a restaurant in 1962 along Upper East Coast Road and named it Palm Beach Seafood.
In 1985, their son Roland took over the family business. Today, the eponymously named restaurant is located in Marine Parade, run by Roland, his wife Lilian and younger brother Richard. The chilli crab served at Roland Restaurant is still made according to Cher's recipe. 
Blogger Tay of ieatishootipost also paid a heartfelt tribute, calling Cher a "culinary legend". 
"The best way to remember her is to be familiar with the story of chilli crab! May she rest in peace!" he wrote in a post on Facebook.