Could Dakota Johnson be joining the Marvel Universe? 
The 32-year-old star, known best for playing Anastasia Steele in the erotic 50 Shades trilogy alongside Jamie Dornan, is reportedly in talks to play Madame Web in an upcoming Spider-man spin-off.
Though the deal has not been officially finalised, US entertainment media reports said Sony has met with a number of A-list actors but have their sights set on Johnson.
The film about the clairvoyant Madame Web, who uses her psychic abilities to help Spider-man solve and stop crime, is said to already be in development, with S J Clarkson on board to direct.
Related:
Tom Holland discusses possibility of returning as Spider-Man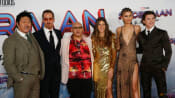 Spider-Man: No Way Home swings to 6th highest grossing movie in history
The screenplay was written by Matt Sazama and Burn Sharpless, the duo behind Jared Leto's new vampire chiller Morbius.
If realised, Madame Web will be Sony's first modern comic book adaptation to feature a woman in the title role. The character first made her debut in the 1980s comic The Amazing Spider-man #210.