Lace up your soccer shoes: The Becks is making a comeback to Singapore's sunny shores.  
On Thursday (Jun 9), Adidas Singapore posted an announcement on Instagram that former England and Manchester United football star David Beckham will be part of a closed-door event at its Singapore Brand Centre in Orchard on Jun 17. 
Titled We Got This Talk Show 2.0, the event will run from 4.15pm to 5.30pm, and will see him and other celebrities share about their mental health and how they "got out of a rut" to reach their respective achievements.
The other speakers include Singaporean footballer Ikhsan Fandi, DJ Jade Rasif and influencer Christabel Chua (also known as @bellywellyjelly), with 987 DJ Joakim Gomez set to host the event. 
However, meeting them will not be as straightforward as dribbling a ball between cones. Adidas Singapore is running a contest on its Instagram page until Sunday (Jun 12) to give away 20 pairs of tickets to the event.
One of the most easily recognised faces in the world, 47-year-old Beckham has had a lifetime contract with Adidas since 2003, which reportedly earned him US$160 million (S$220 million). 
Retiring from professional football after an illustrious 20-year career in 2013, he became the president and co-owner of American soccer club Inter Miami CF and also co-owns the English football club Salford City.
Beckham's far from a stranger to Singapore, having made several visits to the country before. In 2005, he came to the island to help campaign for Britain's bid to host the Olympic Games. On that visit, he played basketball with former British athlete Daley Thompson at the British Club near Bukit Timah as the International Olympic Committee voted.
As the Sands Global Ambassador, he attended a dinner and film festival at Marina Bay Sands in 2017, and observed a football match for the visually impaired while interacting with Asean Para Games athletes in the same year. 
Before COVID-19 prevented international travel, the football and fashion icon was spotted eating mee goreng with chopsticks at Tekka Centre in 2019. An unconventional choice by Singaporean standards – most diners would opt for a fork – but it sure is reminiscent of local talk of the country being a "cultural melting pot".
Related:
'Welcome to the family': David Beckham shares photos of son Brooklyn's wedding to Nicola Peltz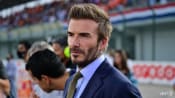 David Beckham hands over Instagram account to Ukrainian doctor helping pregnant women and babies