Talk about lifelong learning. Radio DJ, actor and host Dennis Chew has gone back to school to continue his education.
While accepting his All-Time Favourite Artiste Award at the Star Awards on Sunday (Apr 24), Chew surprised the audience by revealing that he will be heading back to school to pursue a diploma full-time.
And in a social media post on Monday, he shared a photo of himself standing at the entrance of Ngee Ann Polytechnic. He captioned the post: "First day at school. I need to learn how to use a MacBook." He included the hashtags #excited and #nervous.
The 48-year-old personality is pursuing a diploma in Chinese Media & Communication, a course that many of his industry peers have graduated from.
Chew revealed backstage at the Star Awards that he wanted to go back to school because he hoped to understand his job from a new perspective as well as to gain clarity about what the youth are looking for these days, reported AsiaOne.
He even shared that he had bought several Ngee Ann Polytechnic T-shirts because he's "so proud" to be part of the school.
Related: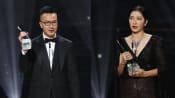 Star Awards 2022: A night of surprises for Chen Hanwei, Huang Biren and Brandon Wong
Star Awards 2022: The most outstanding watch and jewellery looks seen on local stars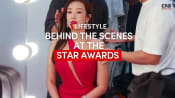 Behind the scenes at Star Awards 2022 | CNA Lifestyle