Which celebrity made snow angels in Hokkaido? Who has snapped those requisite cheesy pictures in Italy (you know, pretending to hold up a certain famous leaning architecture)? 
Here's a quick round-up of what some of the local artistes have been up to this Christmas – real snow not always included.
SNOW QUEEN OF CALDECOTT
We can neither confirm nor deny when Zoe Tay was in Hokkaido (her latest Stories show her in Batam). But from the Queen of Caldecott's Instagram feed, she has certainly holidayed up a (snow) storm in Niseko, an area renowned for its remarkable powder snow that has attracted skiers and snowboarders from over the world.
We'll let your imagination take over what it must feel to touch, throw and fall into the cold, blissful powder like Tay did in her posts while wishing "your holiday is full of love, peace and joy!".
Never mind a snowman, Anna. Zoe will make a snow angel with you.
A CHEESY HOLIDAY
Desmond Tan has been honeymooning and eating his way through Italy since Dec 12, if his Instagram posts are anything to go by.
Right up to Christmas Day itself, Tan was still posting Stories of scrumptious cheesy treats against famous backdrops in Rome and later, with his buddies in London – as well as his (still) very mysterious Mrs. 
Speaking of cheesiness, Tan wasn't above poking fun at himself for posing for those ubiquitous touristy shots involving the Leaning Tower of Pisa.
He wrote on an Instagram post: "When I was a kid, I was fascinated about the Leaning Tower and always wanted to visit it. It was amazing to finally be here, and what made it perfect was to be here with my Mrs. We behaved like kids when we took the cheesy photos, we laughed and we created beautiful memories".
THE FAMILY THAT EATS TOGETHER, STAYS TOGETHER
Rebecca Lim, another newlywed, is all about family and food as her Instagram Stories can attest to: A salt-crusted whole salmon baked to perfection and cracked open by her "kor" (older brother), then expertly sliced by her dentist sister.
And who could blame Lim for over-indulging on that scrumptious hunk of roast beef – and teasing her followers with the festive offerings that her family sells online – when everything looks so good? It's a family affair – including a new family member, hubby Matthew Webster – when it comes to food for the Lims.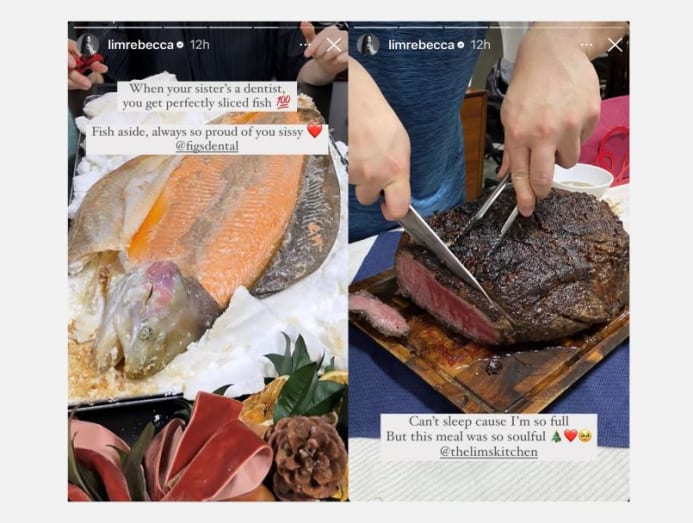 A WINNING MINION CHRISTMAS
Allan Wu was in Los Angeles with his family for Christmas and he was surrounded by Minions. Yup, those yellow, googly-eyed and overall-loving creatures. 
"How's it going everyone? It is Christmas Eve here in Los Angeles and check out this Christmas decoration set-up from my brother, all these Minions," said Wu on his Instagram Stories.
"Also, he won an award for it, the Holiday Home Decorating Contest winner! Too cool, and with music. Also, he's got all these Minions and freezing snowmen. Falalalala-lalalala. Too cool! Merry Christmas!"
Wu did get plenty of snow with his brother on Bear Mountain, according to his hashtag. 
"I remember we used to only care about how fast we were going or how much air we could get off jumps. Now, we're just happy to finish the day with no injuries!", he wrote on an Instagram post.
"Our goals may have changed, but it shouldn't stop us from doing the things we love. Happy Holidays!!"
"HUG YOUR PARENTS A LITTLE TIGHTER"
Class95 DJ Jean Danker doesn't want anything but a little prayer for her father this Christmas. "Merry Xmas you guys. Hug your parents a little tighter today if you've got them around still healthy and happy," she wrote on Instagram.
"My Papa's been in hospital and I would really appreciate a little prayer for his complete healing while u celebrate today. I believe prayers can move mountains so every single one will help. Thank you thank you."
Won't you send some her way?
HAMMING IT UP
Others like Carrie Wong don't mind "hamming" it up for the 'Gram. "Merry merry Christmas peeps! Ham was good!!", read her simple and contented post.
That must have been some ham.