With 2023 just around the corner, it's time to take stock of how far you've come this year, like Elvin Ng, James Seah, Chantalle Ng and other Singapore celebrities have done. 
Perhaps it's the fact that the pandemic has stifled us for the last couple of years but when we asked these celebs what their biggest lessons of 2022 were, one common thread seemed to run through all their answers: Get out of your comfort zone and challenge yourself. Time to put that on your list of New Year's resolutions? 
ELVIN NG, ACTOR
The biggest lessons I've learnt this year is to get out of my head, not set so many rules for myself and to give up control.
I went to New York in June to go back to school and that solo trip taught me that we set too many rules for ourselves in our heads and that we should learn to give up control in order to live more in the moment and freely. To be open and vulnerable, and to be directly sensitive to the world around us with fewer walls built up means that we experience a more vibrant and gracious world where we take the centre away from ourselves.
I'm now always trying to be as open and spontaneous, and to go with the flow where life takes me, so anything goes and it's a happy, rich and rewarding experience in which I can always learn new things about myself.
CHUA ENLAI, ACTOR AND HOST
As 2022 comes to an end, I've realised what a hermit I've been in the last two years. I've learned that we need physical interaction. We've all missed out on chance meetings – silly ideas coming from random conversations. There's no longer any sense of serendipity. We were and still are living too much in front of a screen. Despite restrictions having been relaxed months ago, I guess I'm still finding the differences in our lifestyle way too noticeable to ignore.
All this talk about change – it's funny because we always want to change for the better but I don't think I've changed that much as I'm finding joy in the familiarity of the past. I think the new people around us change things for us. I see new faces at work and they bring a whole new energy to what we do. One change I despise, though, is that traffic jams are back.
The other important thing I've learned this year is that you can top-up your CashCard via an app. I don't need to visit an ATM and touch those grubby keypads anymore! Just joking. But only a bit. 
JEAN DANKER, CLASS 95 DJ
The biggest lesson I've learnt this year is that the biggest battle lies in my head and that I can do anything I set my mind to.
Two things led to this revelation: First I took up golf! This is very out of the box for me. But because of the pandemic, I wanted to challenge myself and learn something outside of my comfort zone and see if I could enjoy and excel at it. It's a frustrating sport but I think I've finally started to enjoy it! Although I can't say I excel at it yet.
This year, I also debuted my video podcast on mental wellness called R U Okay?. It was challenging to do everything from conceptualising, getting guests, overseeing edits and deciding on the design and look of it, as well as the social media that supports it. It was extremely daunting but we did it and are now in season 2.
I will just keep my big girl pants on in 2023 with the knowledge that I really can do whatever I set my mind to.
JAMES SEAH, ACTOR
My biggest lesson in 2022 was learning how to be positive, and that positivity attracts positivity. At some point, I started seeing the negative in everything instead of the positive and when someone close pointed this out, it really hit me. I had indeed been giving out a lot of negative vibes and I didn't like that. Then I chanced upon a passage on the Internet that said "positivity attracts positivity".
So I've been learning and being mindful about maintaining a positive outlook on life and trying to stay positive whenever I'm tired or in a tough situation. 
YA HUI, ACTOR
The biggest lesson I've learnt is that I have the courage to do things I never thought I could achieve. I never thought I could climb a mountain – but I did. And it feels amazing, even now.
There's always a lot of fear in us, so most of us choose to stay in our comfort zone. But once you muster the courage to step out of it, you'll discover it's a whole new world!
CHANTALLE NG, ACTOR
This year, I discovered the power of my thoughts. And that our reality is a reflection of the meaning we give to a situation.
A more positive mindset can change my reality, my reactions and my life. By looking at the good side of things, I can see the fun I'm surrounded by.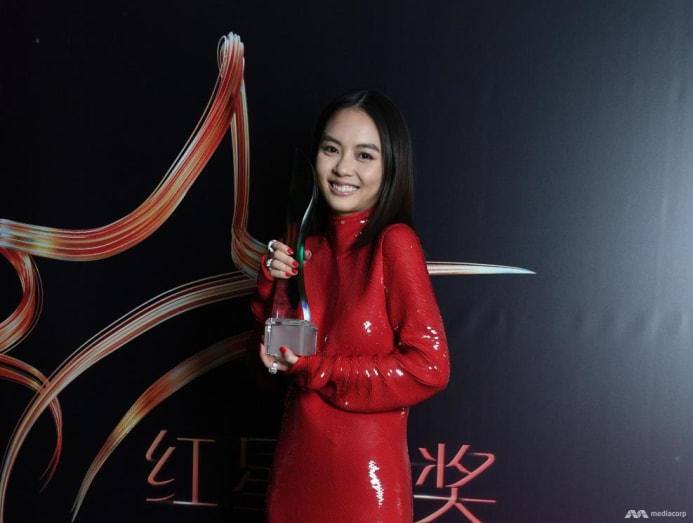 Related:
Chantalle Ng and Xu Bin pair up again, Shane Pow returns for first drama since break with Mediacorp
TAUFIK BATISAH, SINGER
I've learnt that it's important to be comfortable with being uncomfortable. Don't short change yourself by staying in your comfort zone.
At the end of 2021, at 40 years old, I decided to start training for a purpose: To join fitness challenges. I'd never been athletic in school so this was something absolutely new to me.
So far I've won three different medals: First place for One FM 91.3's One Challenge, second place for Spartan Stadion in Johor and first place for Spartan Dekafit in Sarawak. And I'm just getting started.
It's never too late for anyone to achieve great things. It's all in the mindset. Get out of your comfort zone and don't be afraid to take the leap!