Marvel has just released its very first look at the highly anticipated film Thor: Love And Thunder. Set to a soundtrack of Guns N' Roses' Sweet Child O' Mine, the trailer, which dropped on Monday (Apr 18), begins with Thor Odinson (Chris Hemsworth) on a path to self-discovery.
"These hands were once used for battle, now they're but humble tools for peace. Now I need to figure out exactly who I am," he says in the clip, as he spends time running around with Korg (voiced by director Taika Waititi).
The 90-second teaser also featured familiar faces, including Chris Pratt as Guardians of the Galaxy's Peter Quill and Tessa Thompson as Valkyrie.
But undoubtedly, Marvel fans were waiting for one other familiar face – Natalie Portman – and they weren't disappointed as she makes an appearance in the last few seconds of the clip.
As anticipated, Portman – Jane Foster in the first two Thor films – has returned to the franchise as a female Thor. In the trailer, she's seen all decked out in her Mighty Thor costume, with the sacred hammer Mjolnir in hand, as she looks directly at Hemsworth's Thor.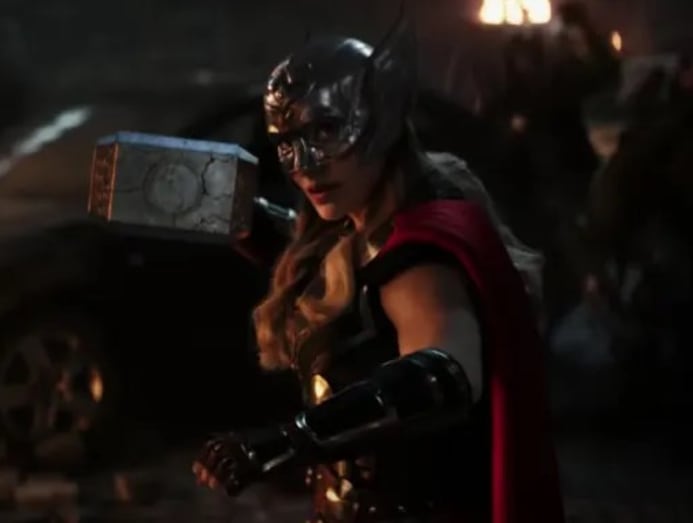 Love And Thunder is the fourth in the superhero franchise, following 2011's Thor, 2013's Thor: The Dark World and 2017's Thor: Ragnarok. It's based on the comic book, The Mighty Thor, which sees the Jane Foster character take up the superhero mantle after Mjolnir deemed Odinson unworthy.
What in Asgard is happening here? We'll just have to wait for the film to premiere on Jul 8 to find out.