You might remember him as petrol kiosk staff Ali in the Channel 8 drama Don't Worry Be Happy, but Khaironi Salleh – affectionately known as Roni – was also a senior cameraman with Mediacorp.
On Sunday (Jun 19), his former colleague and Channel 8 news presenter Evelyn Lam shared a Facebook post on his death. She wrote: "I've lost a comrade today. It's very painful.
"He taught me to 'dare to be happy', and he has been that way all his life. There will be laughter wherever he is. Roni, have a safe trip."
Alongside other Facebook users expressing their condolences on Lam's post, Khaironi's son, local content creator Danial Ron, commented: "Thank you very much for being a part of my father's life."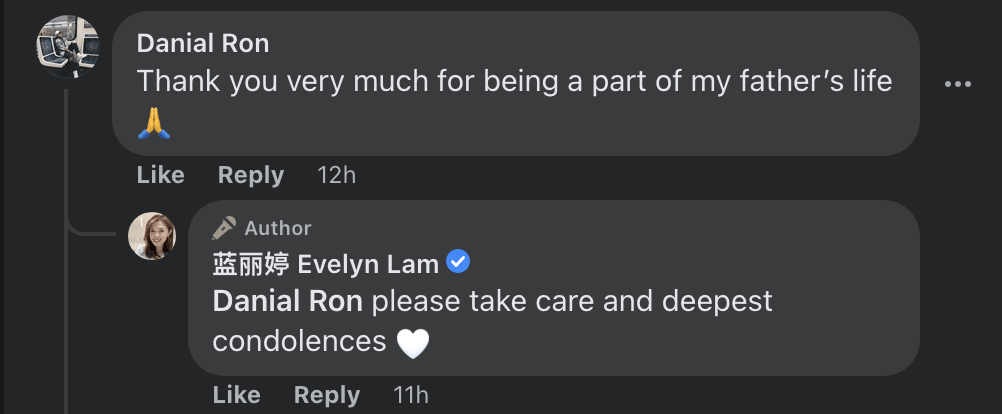 While expressing his disbelief at his father's death, Ron separately shared that Khaironi died from an "intracerebral haemorrhage".
A Mediacorp spokesperson said in a statement on Jun 21: "We are greatly saddened by the passing of our beloved friend and colleague, Senior Cameraman Khaironi Salleh. 
"Roni had worked in Mediacorp for 37 years and was much loved by all who knew and worked with him. He had worked across different editorial teams, including more than a decade at the CNA Bureau in Indonesia, and also acted in the Chinese sitcom Don't Worry, Be Happy. 
"This is a devastating loss for Roni's family, friends and his colleagues at the Mediacorp family. We offer our deepest condolences and will do all we can to support all our staff who are grieving." 
Don't Worry Be Happy, which ran for six seasons from 1996 to 2002, also starred Chew Chor Meng, Quan Yifong and Mak Ho Wai, who died earlier this year aged 76.