We've seen Gemma Chan play the heiress of a rich family and a superhero who's lived to see human civilisations come and go.  
Now, we get to see her be part of a time-travelling family in Netflix's adaptation of Thai-Chinese author Pim Wangtechawat's upcoming novel The Moon Represents My Heart.  
The series will be developed by 21 Laps Entertainment, better known as the production company behind Stranger Things and The Adam Project, as part of their content agreement with the streaming service. 
According to Wangtechawat's website, The Moon Represents My Heart will follow "generations of a British-Chinese family of time travellers".  
However, when the protagonist Tommy's parents mysteriously vanish while time travelling, he finds that time stands still for him, and he must find them before he ends up getting stuck in the past. 
A blurb on the website says that the story will be: "About relationships between parent and child, whether one can accept the choices of the other, and whether they would make the same decision again." 
It's not clear yet what role Chan will play in the screen adaptation. But in addition to starring in it, she will be teaming up with 21 Laps' founder Shawn Levy to executive produce it. 
This isn't her first time adding the executive producer feather to her cap either. The Hollywood Reporter reported that the 39-year-old Eternals star will also be acting and executive producing for the upcoming biopic on Hollywood's first Chinese-American star, Anna May Wong. 
And yes, the novel and series carry the same name as the iconic 1977 Teresa Teng song. It will also be Wangtechawat's debut novel; she had previously written essays, poems and short stories. 
Speaking about the novel, which will be published in the United Kingdom by OneWorld publications, Wangtechawat said: "(It's) a deeply personal debut inspired by my Chinese heritage." 
The novel will be published early next year; while it's unclear when the series will be available for streaming, we're hoping it doesn't come too far behind the book. 
Related: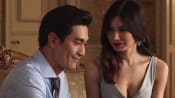 Crazy Rich Asians fans rejoice: Gemma Chan to star in spinoff film that's in the works