Lizzo wowed in a bright orange Dolce & Gabbana robe adorned with flowers and a huge hood as the wild and wacky Grammys red carpet did not disappoint on Sunday (Feb 5). Tattered streetwear, T-shirts and denim mixed with blinged-out couture, wild patterns and plenty of skin.
Lizzo walked gingerly as she navigated a heavy, long train that left her with little peripheral vision. After awhile, she dropped her robe to her shoulders to reveal a busty sequin corset gown underneath in a softer orange. The coat was entirely embroidered with handmade silk flowers, and the gown was silk with crystal mesh Swarovski details. She accessorised with crystal embellished heels and sheer fingerless gloves.
"Lizzo is a floral garden fantasy in her ruffle orange 3D robe and matching corset dress underneath," said Holly Katz, a stylist and host of the Fashion Crimes podcast. "And we love to hear her roar!"
Taylor Swift, perhaps channelling her Midnights era, wore a long two-piece sparkly skirt with a high-neck, long-sleeve crop top, all by Roberto Cavalli. He's one of her favourite designers. It was midnight blue. She added statement diamond earrings by Lorraine Schwartz, her hair in an updo.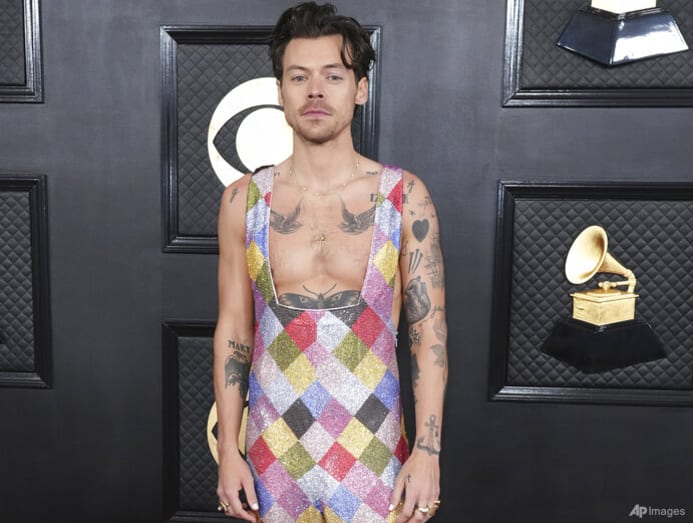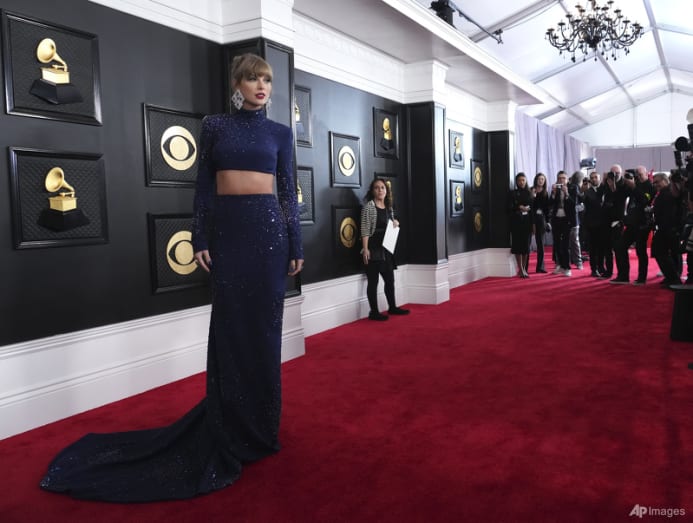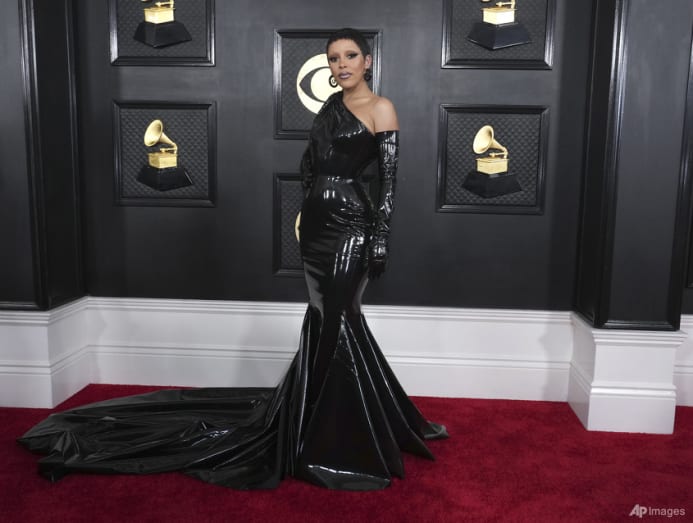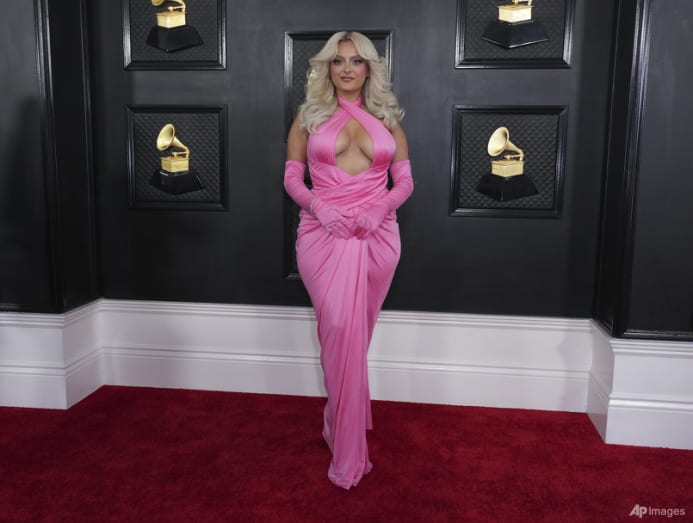 Fashion lover Harry Styles walked the carpet in a rainbow harlequin pattern jumpsuit adorned with Swarovski crystals. His low-cut, multicolored Egonlab look drew cheers. Egonlab is a young brand out of Paris.
And Cardi B wore bombshell royal blue with huge shoulders and a headpiece over one eye. "I'm trying, I'm trying," she told photographers as she carefully walked down the carpet.
Machine Gun Kelly, who often pushes into edgy fashion, was in a silver foil suit. It was custom Dolce & Gabbana. He was accompanied by Megan Fox in creamy Zuhair Murad. It had a corset bodice and heart embroidered applique.
Sam Smith was in fire engine red, with Kim Petras and drag queens Violet Chachki and Gottmik in the same colour. Smith wore a top hat with a veil. They, too, wore matching gloves, a trend of the night.
The marathon carpet kicked off with some notable looks. Doja Cat, always pushing her fashion envelope, showed up in a Latex, one-shoulder and skintight black gown with long matching gloves from Atelier Versace.
Bebe Rexha sizzled in hot pink with twists from head to toe and a va-va-voom halter bodice, proving that Barbiecore is going strong. The look was Moschino by Jeremy Scott.
Kasey Musgraves also took the Barbie note with a feathery cape in a lighter pink hue over a catsuit.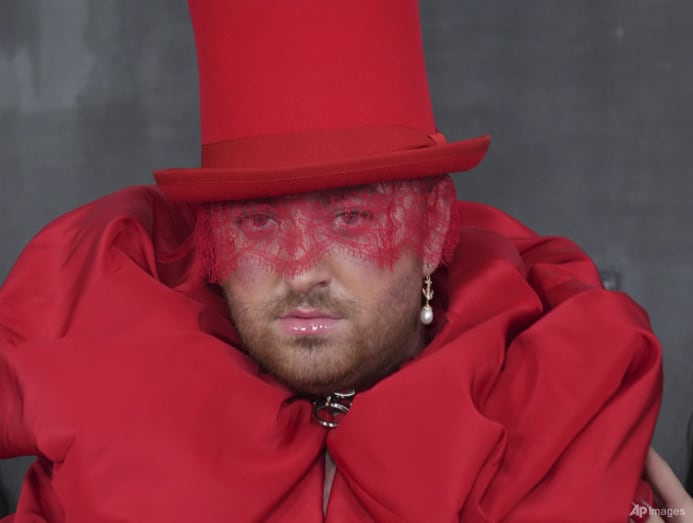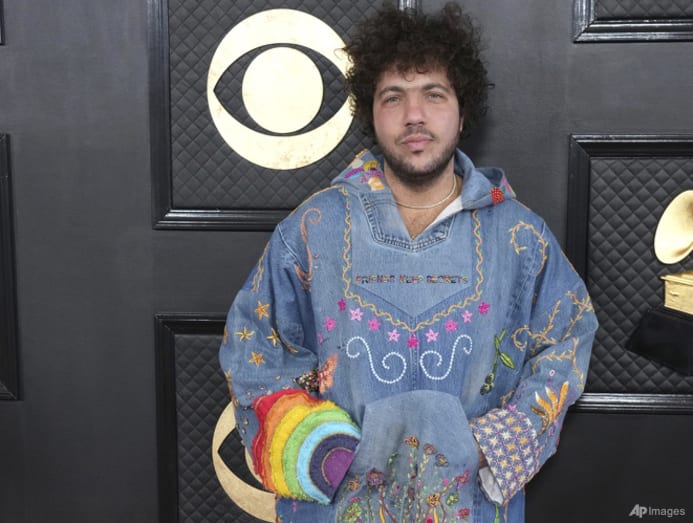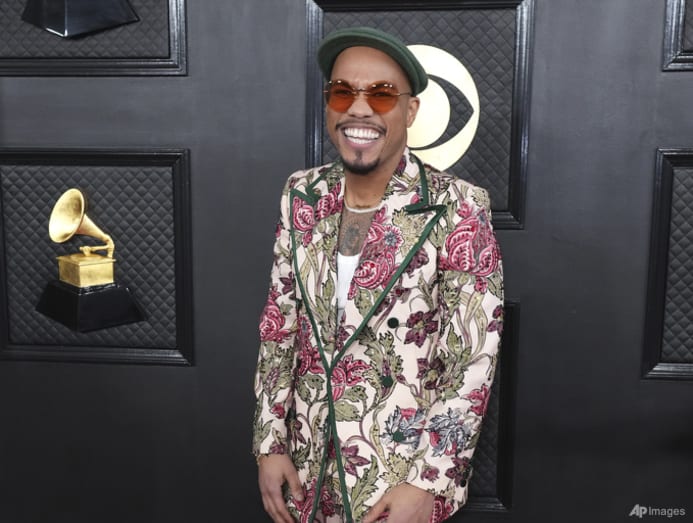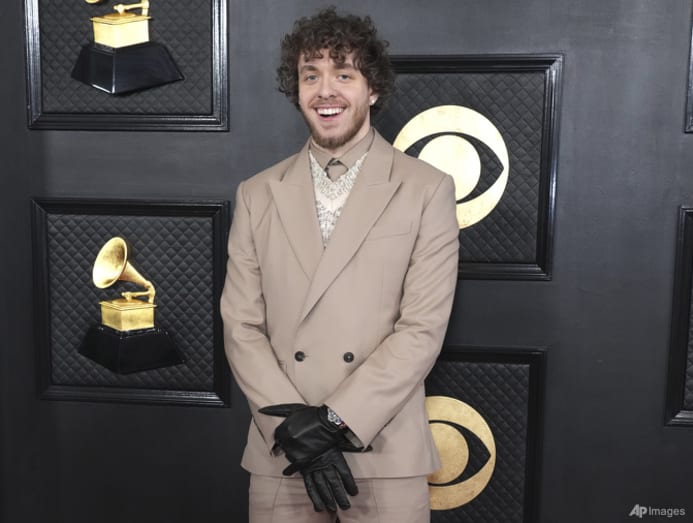 There were golden crowns (Matt B), glittery mouth bling (Alligator Jesus) and epic tattoos (Alisha Gaddis). And just about every hue on the colour wheel was represented.
Slouchy and roomy spoke to many of the men, as did an embroidered denim shorts ensemble for Benny Blanco.
"Who can't stop talking about Doja Cat donning 30,000 red Swarovski crystals for Paris Fashion Week? Well, she certainly doesn't disappoint at the Grammys as she totally channelled the queen of darkness," Katz said. "The Mia Farrow 60′s haircut was a perfect match for this look."
Viola Davis, meanwhile, completed her EGOT by winning a Grammy at the Grammys pre-telecast ceremony in a Naeem Kahn red, silver and blue tiered sequin short-sleeved gown.
Shania Twain isn't up for a Grammy. She's not presenting. That, she said, freed her to have fun with fashion. Twain's hair was red and her Harris Reed wide-belled pantsuit was adorned with huge black polka dots against white. She topped it off with a towering, matching wide-brim hat.
"Here I am with all my new fun things to wear," she says. Reed is a young British American designer she wanted to support. Her goal: "I just wanted to add some pop and cheer."
Laverne Cox WAS "Wakanda Forever" in her custom strapless leather Kim Kassas embellished warrior figure dress and African-inspired jewelry, Katz said. "Paying homage to the African culture through fashion is always in style."
Cox's leather dress by Kim Kassas honours the vision of the late fashion editor Andre Leon Talley.
Prabal Gurung whipped up a custom sunny yellow look for Kelsea Ballerini. Amanda Gorman was in a top colour of the night: Black. She twirled her long, sheer overlay worn over a mini-dress on the red carpet.
Ballerini's look, Katz said, was "so ethereal and dreamy on the red carpet."