Even public agencies are weighing in on the controversy surrounding a recent video by The New York Times, which showed the making of what it called a "Singaporean chicken curry" that viewers said looked nothing like it – or any type of curry for that matter.  
Over the past week, social media users have expressed disdain and outrage over the Instagram Reel uploaded on the Times' Food page, in which journalist Clarissa Wei cooks a curry that one user said looked more like "drain water".
Another user even coined a new name for the dish – "poulet de longkang" or "sewer chicken". 
Of course, many chipped in with the ultimate Singaporean jab – threatening to call the police. 
More recently, the Housing and Development Board (HDB) and the Singapore Civil Defence Force (SCDF) put up social media posts poking fun at the situation.
Related: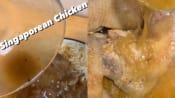 'That's drain water': New York Times' Singaporean Chicken Curry recipe gets slammed
They both issued public service announcements on Facebook, complete with illustrations featuring the controversial dish. 
"Even if the chicken curry turns out bad, the last thing you should do is pour it down the sink," HDB wrote in its post on Saturday (Feb 5), warning that grease and oil can clog pipes and should be disposed of in the trash. Hilariously, it made sure to include pandan leaves in its illustration, which had been a point of contention in the curry drama. 
Earlier on Friday, SCDF similarly warned homeowners not to leave their cooking unattended, lest their curry really ends up looking like "longkang water". 
Social users applauded these posts, with one saying: "Everyone is calling the police after seeing the 'Singapore Chicken Curry' but (it is) SCDF that comes to the rescue."