Hong Kong pop star Jackson Wang was very busy playing Santa Claus by giving fans the gift of himself when he was in Singapore as part of his Magic Man World Tour.
During his first solo concert at the Singapore Indoor Stadium on Dec 23, the encore took on a feverish pitch when the singer-rapper casually announced that he was going up to the second floor to see his fans. And he did.
He scaled up to the second level and climbed over the metal railing, much to the excitement of the concertgoers. Two security guards quickly followed suit as the artiste disappeared into the audience stand.
Related:
Jackson Wang: The K-pop star on his favourite Singapore food and childhood movie
That wasn't the only close encounter that fans had with the former member of K-pop band GOT7. Earlier on, the 28-year-old multi-hyphenate whipped his admirers into a frenzy when he went into the crowd to pick out two lucky fans to serenade to. And when a superstar asks if you have a husband or boyfriend, your correct answer is "no".
Singapore was Wang's third stop in his world tour. He had already performed in Bangkok and Kuala Lumpur and will be including London, Paris and Dubai on his 2023 itinerary.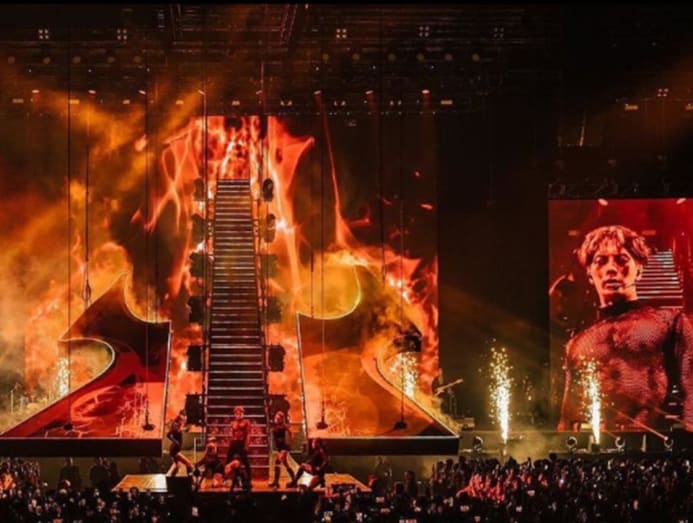 Singaporeans had another chance to catch Wang in person at an exclusive VIP afterparty at Marquee – including actor-singer Glenn Yong, who captured his fanboy euphoria on Instagram.
"After @jacksonwang852g7's concert last night, I was ready to head back home when I suddenly received a call asking me to go backstage because Jackson wanted to meet me. I was so shocked LOL I thought it was a prank at first, but I just went for it".
Yong continued: "When I went into his dressing room (still in shock at wth was happening), he came over and gave me a hug. He told me he's seen my stuff and he likes what I'm doing, so he wanted to meet to get to know each other and hang."
The Singaporean actor's multiple posts showed him partying with the Magic Man himself.
Perhaps hungry post-afterparty, Wang was spotted at Haidilao at Marina Bay Sands as well – much to the delight of the diners suppering there.
On the Chinese social media platform Little Red Book, Wang's brother was videoed attempting the noodle dance that the hotpot chain is known for, while Wang could be heard in the background saying, "Not bad, not bad". 
But not all fan encounters were that civilised, such as the one captured on Twitter that has been going around.
While trying to get into a van after a fan meet at The Pavilion at Far East Square a day before the concert, Wang was aggressively accosted by a super fan, who fought his way to have a selfie taken with the star.
The singer-rapper was unfazed and repeated "It's okay" to his minders – and even helped the fan to activate his phone's camera for a selfie.
It's no wonder that Singapore loves this obliging star.