Here's an early Christmas present for BTS fans: A picture of Jin, the K-pop band's first member to enlist for military service.
The image of Jin or Kim Seok-jin sporting a buzz cut and uniform was posted on The Camp, a website for South Korean families to stay updated with their loved ones in the military.
He looked more tanned (maybe it's the lighting) and certainly very different in the hair department – quite a departure from the floppy hairstyle that fans associate him with.
The singer had previously given fans a sneak peek of his haircut on Weverse on Dec 11, adding "Hehehehehe, it's cuter than I expected".
Jin reportedly enlisted on Dec 13 at the 5th Infantry Division recruit training centre in Yeoncheon County of Gyeonggi Province for basic military training.
Meanwhile, in other non-military news, BTS has hit another YouTube milestone. The K-pop band's music video for Spring Day surpassed 500 million views on YouTube on Dec 23 – about six years after the video's initial release on Feb 13, 2017.
This is BTS's 15th music video to reach the 500 million view mark following DNA, Fake Love, MIC Drop (Steve Aoki Remix), Blood Sweat & Tears, Dynamite and Butter.
Related: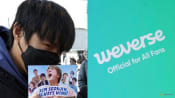 BTS fandom tech firm Weverse reaches beyond K-pop