Judging by her photos on Instagram, veteran actress Hong Huifang seems to be enjoying herself in South Korea, where she's been since December.
And it looks like it's not just for a super long holiday. According to Lianhe Zaobao, the 61-year-old Hong is currently working on a Singapore-South Korean flick titled Ajumma, which also stars Hometown Cha-Cha-Cha actor Kang Hyung-suk.
The Mediacorp actress hasn't confirmed her role due to confidentiality clauses but she is reportedly filming there until March.
The movie itself, Ajumma (which is Korean for "auntie"), was previously announced. It will be a drama that centres on three people, with actor Kang playing the role of tour guide Kwon Woo, who is dealing with debt and being separated from his family.
Kang's involvement was announced last year and K-drama fans will recognise him from shows such as Hometown Cha-Cha-Cha, Mystic Pop-up Bar, Do Do Sol Sol La La Sol and Crash Landing On You.
In the meantime, we'll just settle for Hong's regular Instagram updates – to work up our travel envy and to spot more clues.
Speculation about her new project started after she posted herself wearing winter clothing on Dec 31 with the caption: "The next few months will be a new journey and experience for me and a turning point in my life. I'm so thankful and blessed!"
Related: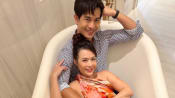 'Take along things she'll forget': Celebrity couples' secrets to long-lasting marriage