It all began when Benjamin Lee, also known to Singaporeans by his blogging moniker Mr Miyagi, displayed blood pressure readings that had staff at the clinic telling him he should be immediately warded.
"My blood pressure was at 180/113, which was basically hypertensive crisis, according to the doctor," Lee recalled. "I had been diagnosed as dangerously hypertensive."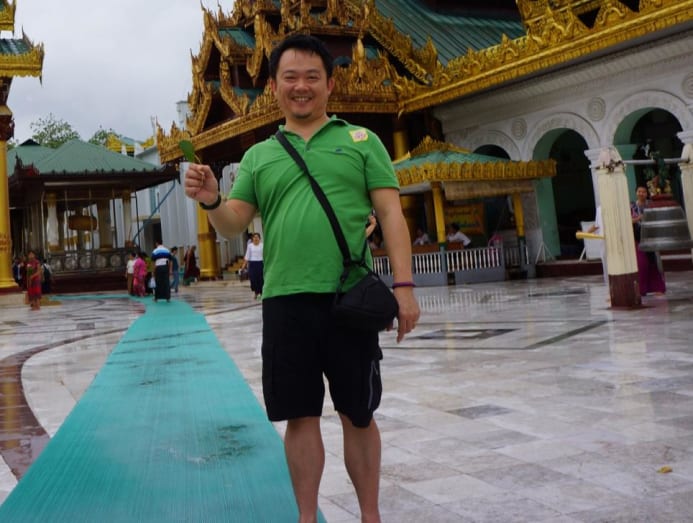 "I did modify my diet – which led to a substantial weight loss – but I didn't exercise then," he admitted. "The weight piled back on to the 70s by the time 2020 came around."
It was only three years later, during the second year of the pandemic in 2021, when Lee decided to get fit, once and for all.
"Like everyone else, my family and I had to adapt to a life of working from home, with little to no commuting. And as for myself, the lack of movement and increased alcohol intake – I have a wine fridge under my work desk – was probably doing the most damage," he told CNA Lifestyle.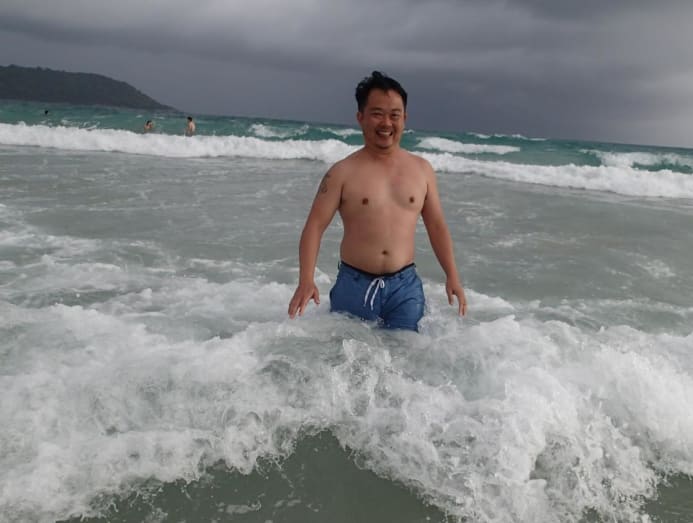 But then suddenly, Lee found himself with a treadmill at home, courtesy of his wife's pandemic online shopping.
"Soon after it arrived, she started bugging me to use it," he recounted. "I thought okay, just walking on it isn't going to be too much of a commitment. It was probably around the end of April in 2021 that I started using the treadmill regularly."
Lee was 52 years old then. Fast forward to December 2022 and the 53-year-old ran his first ever half marathon. He also now weighs a healthy 61.5kg for his 162cm frame.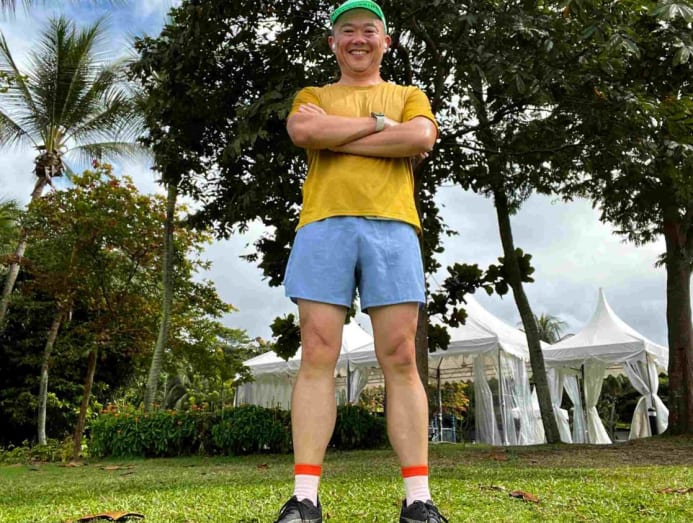 THANK YOU, APPLE WATCH
Trying to get back in shape can be frustrating at any age, but it can be even more discouraging when you're older, when you're wondering whether it's even possible.
But examples like Lee's prove that getting fit after 50 is absolutely possible. It may not be as easy as it was when you were 20, but the rewards will be just as great – if not more so – in your later years.
"I think the daunting thing was the fact that I hadn't worked out in close to two decades. The last time I was in a gym was in 2003," admitted Lee. "So there was a bit of fear there… but a treadmill is pretty forgiving, because there's always the stop button!"
It wasn't just the treadmill that helped Lee, but something else more ubiquitous nowadays.
According to him, it was "the Apple Watch that made for a big change in my life".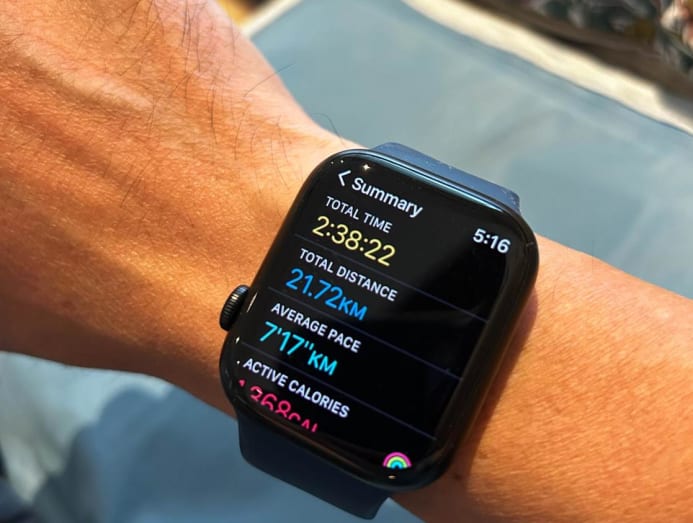 "It was the culmination of being at a low point in my health and fitness, my family urging me to do something about it, and the fact that I was already wearing an Apple Watch that kickstarted the fitness journey," he admitted. "I decided to plan at least 20 minutes of exercise a day."
He shared: "The workout app on the watch has a variety of workouts to start off with and tally up daily metrics like calories burned, number of minutes exercised, and number of hours where you're on your feet for at least a minute.
"All it took was 30 minutes of exercise a day, which I could split into two 15-minute workouts twice a day, and I hit my initial target of 350 calories a day quite easily."
He continued: "The more serious metrics on the watch keep me engaged in my fitness journey too – seeing things like VO2 max measurements going up over time has been especially gratifying."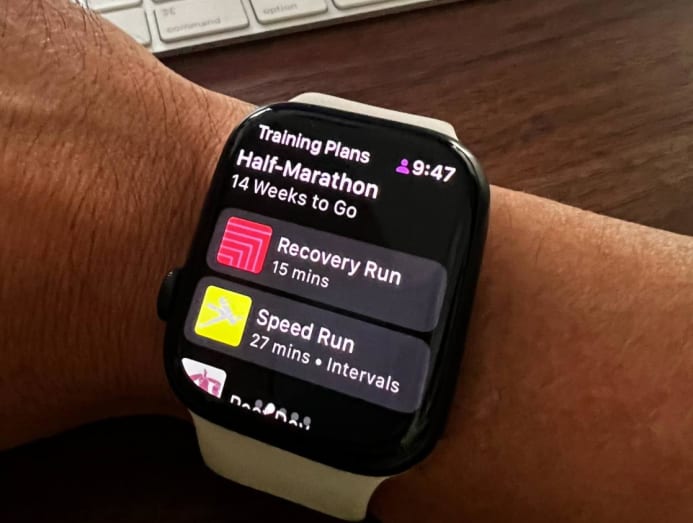 READY FOR THE RUN
After getting his fitness levels up, the next goal for Lee was the half marathon, which he signed up for in July last year.
"At that point, the furthest I had run was 12km, but I thought that was an achievable target because I had been adding a kilometre or two to my long runs each week," he explained.
Using the Nike Run Club app on his watch and phone, he started training using the 14-week half-marathon programme.
He stuck to an early morning routine – and even did it overseas. "My family and I took a 10-day trip to Perth in September, and the first things I packed were two pairs of running shoes," he shared.
After 14 weeks of preparation, Lee was confident he'd finish the race. "But there's no dress rehearsal that could ever have prepared me for the crowd – there were 12,000 entrants in the half marathon and 8,000 in the full marathon," he said, adding that a thunderstorm meant the event was delayed and they had to wait at the starting area for an hour.
"The mental preparation came in handy – staying focused and calm at the start was crucial. I had to start really easy, because these old legs need some time to warm up," he quipped. "And also, so that I could last the distance."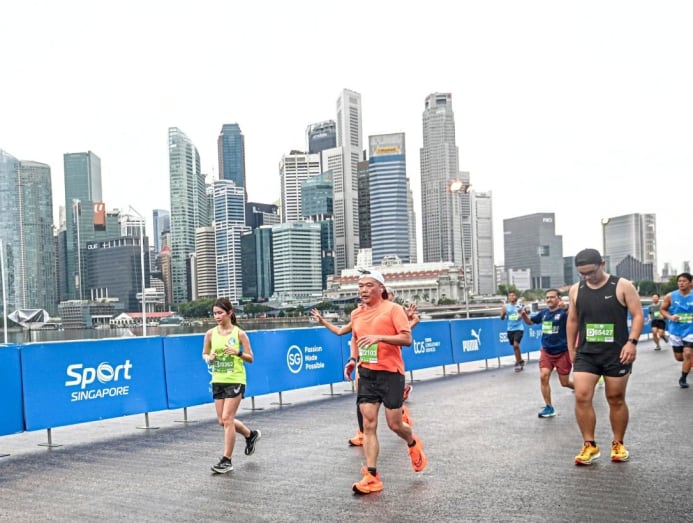 One of the biggest obstacles for him was the early start – Lee couldn't get a full night's sleep before, which he believed led to the massive cramps he got in his calves at the 17km mark. He hobbled most of the remaining 4 kilometres to the finish line.
THE UPS AND DOWNS
Ever since kickstarting his fitness journey a year and half ago, there have been lots of ups and downs for Lee, who has lost 10kg.
"When I started, I couldn't finish running 500m without stopping. There was (also) a period in 2021 where the knees were so banged up I had to stop for two weeks. I read up on running mechanics, and slowly changed how I ran," he shared.
"I also spend two days in the week with weight training to build muscle in the core and legs. Runners like to say that foam rollers are their best friends. So it's that and yoga or pilates on the days when I'm not running have helped with my running endurance."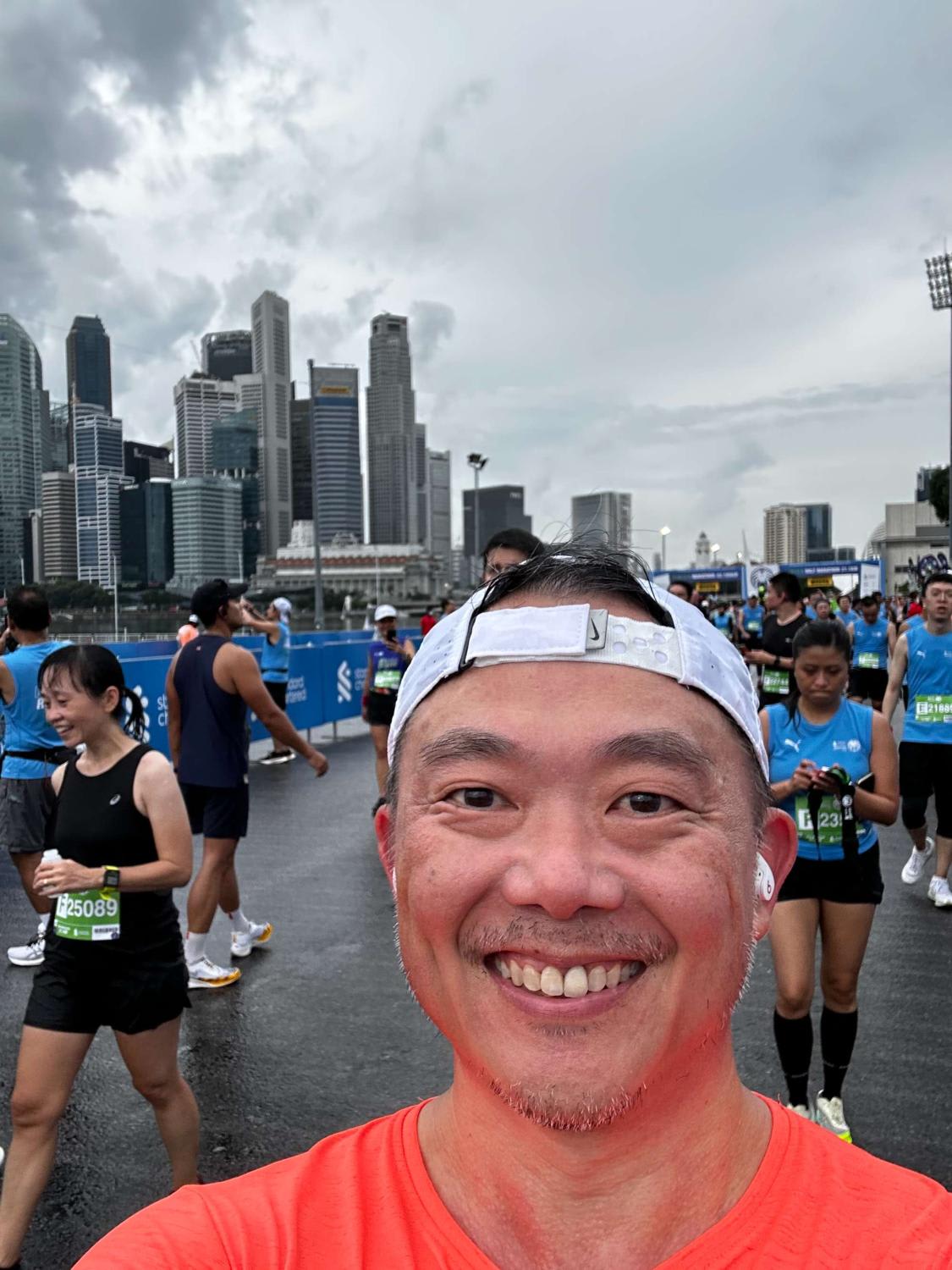 Most importantly, he found himself part of a community. "You never run alone, even if you prefer not to join organised runs. I was running in Sentosa a few months ago and was probably grimacing trying to get through the run, when this random runner coming in the other opposite direction purposefully made eye contact, pumped his fist at me and said, 'Come on!'" he recalled.
Since then, Lee says he's made it a point to smile at anyone coming his way, whether they are running or not.
"I never thought I'd be the sort to say things like, 'Working out creates energy that others can use' or anything airy-fairy like that," he said. "But yes, I've become it."
Next up? A full marathon this year. "And maybe run two full ones a year for as long as my legs will carry me!" he said.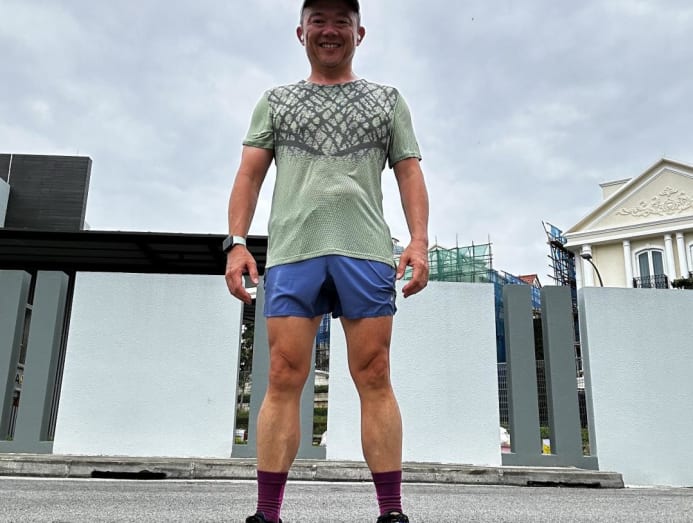 THE HEALTH EXPERTS' TAKE

If you're inspired by Lee's story and want to give it a go, where do you start and how should you go about it?
CNA Lifestyle asked two experts: Dr Joshua Li, Associate Consultant at Changi General Hospital's Department of Sport & Exercise Medicine, and Ray Loh Ban Chuan, Senior Physiologist, Orthopaedic Surgery, Tan Tock Seng Hospital.
I'm in my 50s and I haven't exercised for a long time – how do I kickstart my routine?
"The general rule of thumb is to 'start low and go slow'," said Dr Li, who pointed out that you need to consider your baseline fitness and underlying pre-existing, or undetected, medical conditions.
Loh added: "For those with chronic health conditions such as high blood pressure, high cholesterol, diabetes and history of heart diseases, consult your doctor before you start marathon training if you have not been exercising regularly (three to four times a week) at a jogging or running intensity for the past six months."
How useful are wearable tech like fitness trackers or smartwatches, and how much should I rely on them?
There are pros and cons but remember – they're not medical devices.
"For those with specific training plans, wearables allow one to know how their training session is going according to their training goals," said Dr Li, who added there are other advantages such as being linked to athlete-targeted social apps to add a dimension of motivation and community, and "gamifying" certain aspects "which can break the monotony of marathon training."
But you need to be discerning regarding the metrics these wearables provide. "Even with correct data interpretation, there is also an element of inaccuracy when it comes to the wearable sensors' ability to precisely detect real-time parameters such as heart rate, blood oxygen saturation, running pace," he said.
Loh added that for optimal training outcomes, training at the right zone consistently and persistently is important when training for a marathon.
"Wearable devices can provide useful information such as average heart rate at certain pace and distance ran, stride length, cadence, which are important in fine tuning training programmes to prevent injuries and overtraining," he said. "However, there are also other factors such as weather, work, diet, hydration, rest and recovery, and stress levels, that may affect the performance of a training session."
Hence, an overreliance on devices without awareness on one's body conditions may be counter-productive. 
Speaking of wearables, what is VO2 max on my fitness tracker and how does it work?
The VO2 max is an indicator of how fit a person is when exercising at an "all-out" condition, said Loh, with measurements taken from our oxygen intake and carbon dioxide expelled during maximal exertion. Using it as a pre and post training indicator can be useful to show our gains and how effective our training regimen is.
"But for more accurate readings, exercise testing should be conducted at a controlled environment. Wearable devices compute and predict VO2 max based on heart rate, distance ran and speed which may be over- or underestimating," he pointed out.
I'm ready to train for a marathon – what should I keep I mind?
Dr Li emphasised that a properly structured, systematic, and step-wise training programme is vital to prepare for the high physical demand of a marathon.
"While training or on event day, it is crucial for participants to know their physical limits and pay attention to any symptoms, particularly middle-aged and older individuals who have been previously sedentary," he said.
"Chest pain, breathlessness, giddiness, palpitations, and fainting are possible heart-related symptoms and should not be ignored – stop training and promptly discuss the symptoms with a doctor for further advice."
At my age, I'm concerned about getting injuries – how do I avoid that?
It's important to learn the difference between "good pain" and "bad pain", said Dr Li. The former is the expected discomfort from leaving one's comfort zone, while the latter indicates impending injury.
"Overuse injuries, particularly of the lower limb, are common during the marathon training process, especially in the presence of training errors or improper equipment like running shoes," he said.
"Repetitive overloading during marathon training can result in injuries to bone, joints, muscles, tendons and ligaments of the hip, knee, foot and ankle. Participants should pay attention to abnormal aches and pains in the lower limbs and seek medical attention if they persist even after a short period of rest."
Related:
You're running and your legs suddenly develop a bad case of itchy rashes – what's the reason for that?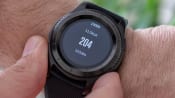 Does walking 10,000 steps a day really help in your weight loss efforts?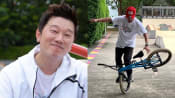 'I feel alive when I am on my BMX': The 48-year-old 'uncle' who loves doing tricks