Joanne Peh's newly launched podcast is fast gaining popularity. The actress shared on Instagram on Wednesday (May 11) that her title, What Do I Know? With Joanne Peh, "made our way into top #5 on Spotify last week", prompting a celebration with cake and fast food. 
To mark the occasion, she posed with a miniature cake which was topped with a figurine modelled after her as well as collaterals for the podcast. The reel begins with Peh insisting the figurine looks nothing like her, saying it was too "voluptuous" and drawing peels of laughter from her team around her.
The first episode of What Do I Know? With Joanne Peh was released on Apr 13. Peh said in an Instagram post marking the launch that she started the post "as an excuse to reach out to friends and strangers to share their insights with me". 
The four episodes that have been uploaded so far include a conversation with singer and internet sensation Annette Lee, Asia's largest Barbie doll collector and a gynaecologist. 
Peh is the latest among a string of local celebrities who have joined the world of podcasts in recent years. Others include actor Andie Chen, who hosts Conversations with Andie where he speaks with fellow celebrities, and radio DJ Sonia Chew with Men, Explain, where she explores male perspectives on women-related issues. 
Related: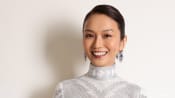 Joanne Peh says not winning at Star Awards gave her the 'perfect lesson' to share with her kids