A multicultural multi-hyphenate overachieving Zoomer is what this writer has decided to label Got7 K-pop star BamBam.
After all, how many 25-year-old Gen-Z singer-songwriter-rapper-dancers do you know are Thailand-born, South Korea-trained and frequent fashion collaborators with Burberry, Louis Vuitton, YSL Beauty Thailand and Korean eyewear cult brand Gentle Monster?
Affable, funny, open and just a touch shy, Kunpimook Bhuwakul, better known by his nickname BamBam, sat down last week with CNA Lifestyle at the reopening of the Gentle Monster store in ION Orchard to talk about life since he and his Got7 bandmates launched their respective individual careers.
K-pop star BamBam of Got7 sat down with CNA Lifestyle's Genevieve Loh for an exclusive candid chat at the reopening of Gentle Monster's ION Orchard store.
"I didn't know I could do solo schedules like this. You know, because I always was really shy, all the time and then I still don't get used to it," he admitted. "But I'm trying to find out a good part of me and also an 'empty' part of me."
He added that he's been working on himself, "like my skills, like how I make music and how I perform on stage.
"When you have a lot of members, you can fill up the stage. But when I'm alone, I need to be really good at everything. Because no one is covering up my emptiness'," he explained. "It's growing up, you know what I mean?"
BamBam has indeed grown up. Ever since he and his fellow Got7 members – Mark, Jay B, Jinyoung, Youngjae, Yugyeom and Jackson Wang – all collectively left their agency JYP Entertainment in 2021 to pursue solo projects, BamBam has successfully sought new pastures.
He has signed under ABYSS Company, released two mini solo albums and became ambassador for everything from video game The Sims 4 to the NBA's Golden State Warriors to the aforementioned luxury and fashion brands.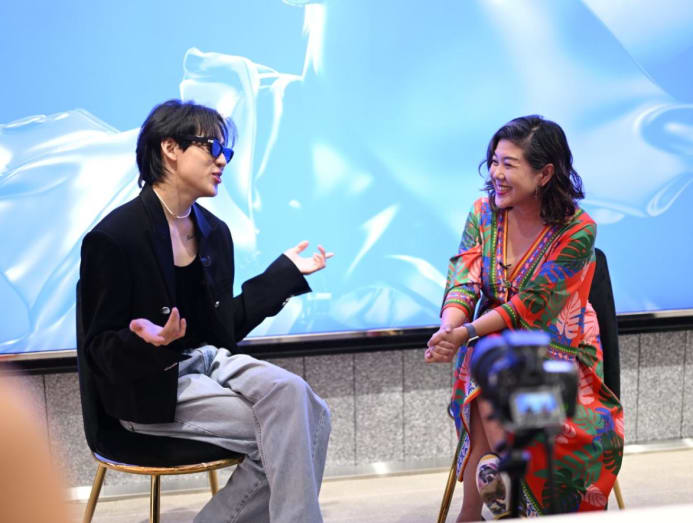 But all this hustle still has not led him to stray too far from his original group. Yes, they still have their infamous Got7 group chat.
Do they speak to each other there, we asked. "Every day, almost! It's still so busy in there!" he revealed. "You know, we love to make fun of each other. Like today, a picture (of me at Gentle Monster event) is going to go out. And of course, one of them is going to make fun of me, for sure!"
And according to BamBam, there is a lot of future Got7 "stuff" planning in there, too.
"I can't let you guys know what it is, but okay, one thing – a big thing will come up this year. It's something new!" he shared. "It's not just going to be an album. It's not going to be a world tour or concert. It's something a lot of fans have been waiting for like, three, four years now I guess. We'll be working on something!"
So being the multicultural multi-hyphenate that he is, what does he feel are the most Thai and Korean traits he possesses that has contributed to his success in the entertainment industry?
"This is the question I never get asked in my life, I like it!" he replied with a laugh.
"I think the most Thai thing that I have in me, actually, is from my mother," he said thoughtfully, adding that was her that taught him to stay grounded. "She also taught me that whatever you do, you just need to be humble, you know? And never forget where you come from. You know, (being) humble and really calm and sweet is from Thailand's famous culture. I think that's the most Thai thing I got right now."
As for the most Korean thing?
"You know Koreans love to work really fast. If I have a meeting and they say 'let's meet up at like 3pm', I have to arrive there at 2.40pm. Because if you arrive at 3pm, it'll count as you're late. In the other countries, we're kind of chill. We have a meeting at 3pm in Thailand, then we start at 330pm, you know what I mean?" he shared.
"So, we love to work fast and since I have to deal with a lot of Korean businesses, so I have to move fast like the way they do. So, it's become my work style. So now, in every country, or everything I do, l love to do it really fast!"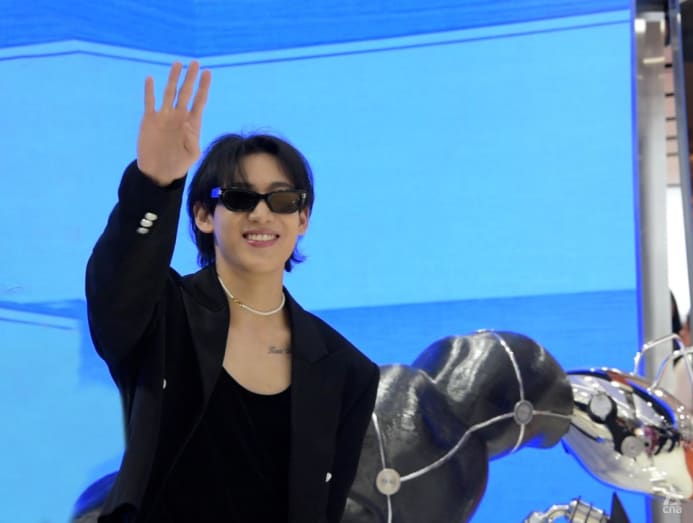 Indeed, "fast" would be the word to describe the ferocity BamBam has delved into the different aspects of music and fashion. Does this mean movies will be his natural next step?
"I would love to shoot a movie. But acting is the thing that I'm really bad at!" he admitted. "And I'm really scared to start, you know?"
He shared that people have constantly reached out to him to do dramas, but he would always turn the opportunity down.
"I always say no, because I feel like I'm not ready for it. I'm not ready for it. Because I don't want to mess up the movie, you know? I want to do it but maybe later. Maybe when I'm older?"
What he does want to try is walking on a runway though, he revealed.
"I want to try that but I need to be a little bit taller," he said with a laugh.  "So maybe that dream is kind of too far too!"
Related:
Jackson Wang: The K-pop star on his favourite Singapore food and childhood movie
What he knows for sure is his love for Singapore. We asked him if he loves the place as much as his bandmate Jackson Wang, who visits Singapore frequently, for both work and pleasure.
"Of course!" he said, without missing a beat. "(One of) the top five foods in my life is in Singapore, which is Hainanese chicken rice! Last night I arrived, right away even before I got into my hotel room, I went straight for Hainan chicken rice. At Chatterbox!"
He added: "The next morning, I didn't know what to eat, so I ordered Hainanese chicken rice again!"
Twice in a row?
"Yeah, twice! I really love it!"
Yes, BamBam, you multicultural multi-hyphenate. You really do love Singapore.