It is more than a pleasure to support local chefs – it is a duty, in the interest of building an ecosystem that nurtures creativity and a culinary scene we can be even prouder of.
Chef Marvas Ng, 35, is as local as they come – born and raised in a kampung, a SHATEC graduate, a bak chor mee fan, and a Singapore representative in the 2020 Culinary Olympics, one of the oldest international culinary arts competitions in the world.
And in spite of cooking professionally with classic French techniques for several years – he is also the General Secretary of the Disciples of Escoffier Singapore – he found his heart always returning to the Asian flavours he loves and takes comfort in.
And so, you'll find his food is simultaneously Chinese and French: Kuhlbarra fish maw double-boiled in sake and dashi, served in a collagen and fermented black bean beurre blanc; butter-roasted, Chinese herb-brined poulet with ginger and spring onion salsa; crispy-chewy caneles made with baijiu or fermented sorghum liquor instead of rum.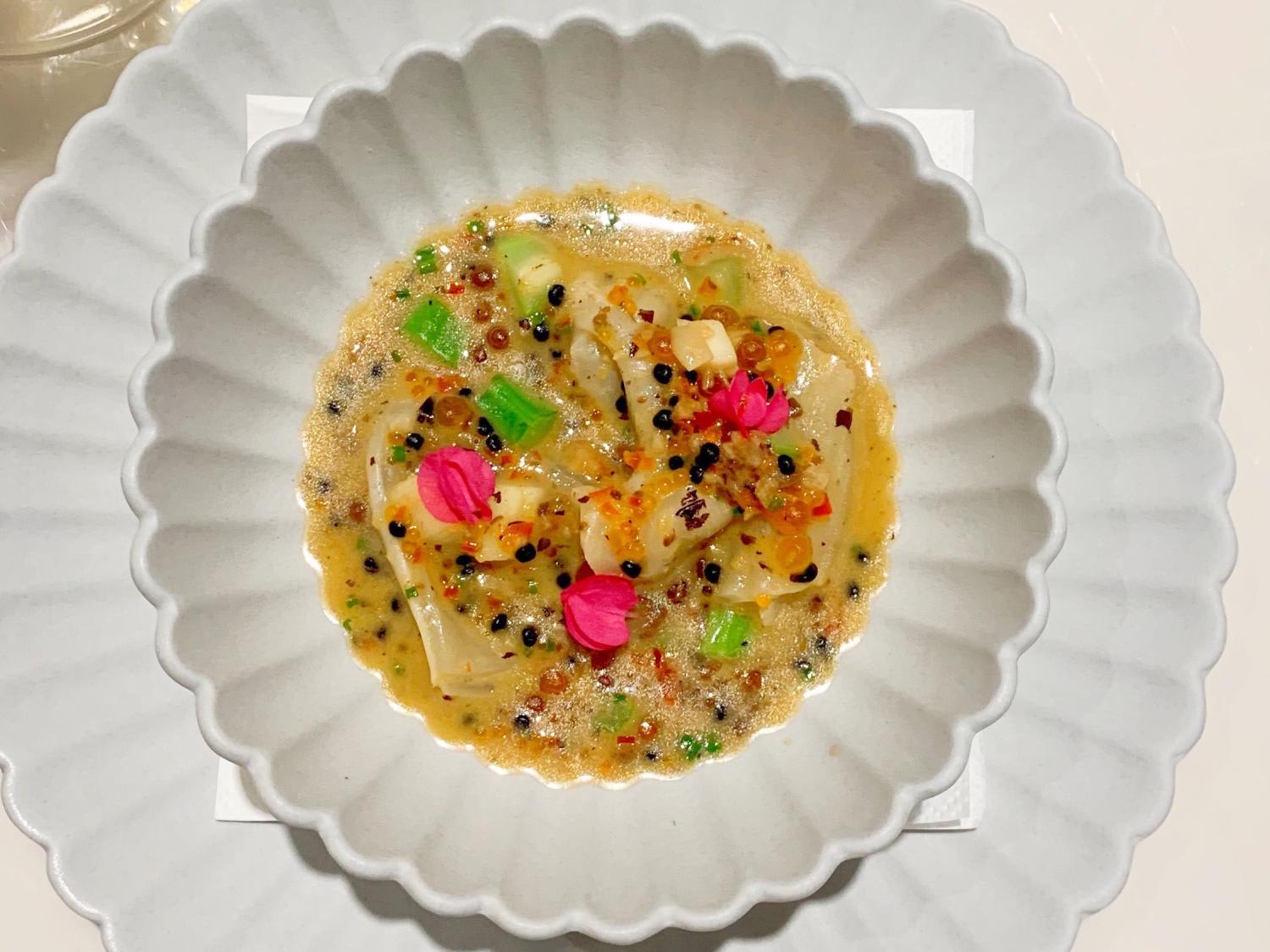 These are some of the dishes at Path, Ng's restaurant at Marina Bay Financial Centre, newly opened in partnership with 1855 F&B. The Modern Asian restaurant sits in the space previously occupied by Ola Cocina del Mar.
But he's not trying specifically to make – pardon the term – fusion food. Those are just the flavours and techniques that he would know with his eyes closed, and are very much a part of him, Ng said.
The cuisine is a result of 12 years of working with Singaporean chef Edward Voon and heading up his fine dining restaurants in Hong Kong as well as all over China, before coming home to join Ocean Restaurant at Resorts World Sentosa so that he wouldn't miss his young daughter's growing up years.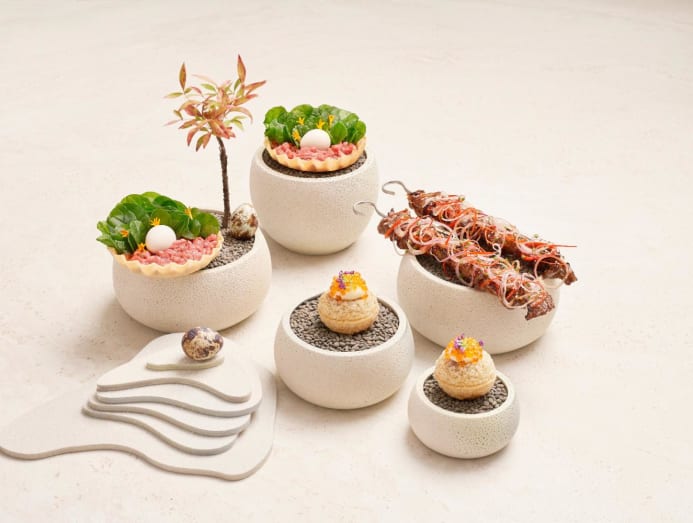 KAMPONG BOY MEETS WORLD  
You could say that Ng has taken the scenic route out of kampung living in Sembawang.
Growing up surrounded by dogs, cats, chickens, rabbits, guinea pigs and chiku trees, his affinity with kitchen life was first sparked by his grandmother, who put him to work at the age of four.
His job was to de-shell gingko nuts, peel garlic and all the work of a "commis chef" that his grandmother didn't enjoy doing, he quipped, while she whipped up comforting meals of claypot chicken and cabbage rice, rabbit stew and all the hearty dishes that his family enjoyed with whisky. By age six, Ng had learnt to skin and clean a rabbit. He had doubtless also earned himself the status of favourite grandchild.
"When I was young, I never thought about what I wanted to be," he recalled. "I just wanted to do something fun."
Studying wasn't fun – at school, "I ranked third – from the back" – but cooking was. And, nudged along by Korean dramas about chefs and hoteliers that were trendy at the time, he enrolled in SHATEC, which his parents were supportive of in spite of the fact that "back then, you only worked in the kitchen if you didn't get good grades. It's very different now".
After he completed his National Service, though, his parents, in conventional Asian fashion, persuaded him to pursue a degree, for backup. He went to Lucerne, Switzerland and earned a degree in culinary arts from the Manchester Metropolitan University. "The end result was not bad – the guy who didn't study became the first in the cohort," he laughed.
But thereafter, Ng stopped doing things the conventional way.
At Le Pan in Tianjin, while he was on garde manger, he also picked up skills from the pastry chef, out of interest. He became so adept that when the pastry chef left, he was asked to fill the place. "So, you were doing two jobs for the price of one?" we asked. "Yes," he said slowly, as if the realisation was just dawning on him.
He was then a pastry chef for three years, in spite of not having trained formally in pastry. But that lack was freeing, not constraining.
"Once, I was making choux pastry, and I underbaked it," he recalled. "It rose very high and then collapsed. But the guests were waiting. So, I just stuffed it with a lot of cream. The guests said, 'This is the first time we're eating choux with so much filling. How did you do it?'" He guffawed.
"When I did four-hands (collaboration events) with other pastry chefs, they always looked at my work and said, 'Why is your dish so strange?' Sometimes, the things I do are very terbalik."
In fact, he doesn't really believe in the canonicity of "classic recipes". "It's not that the technique is 'correct' – it's just that it was born earlier than me," he quipped.
BUTTER AND BAIJIU
Once they've mastered the foundations, chefs ought to be experimenting and adapting as the world around them changes, and according to their particular environment, Ng thinks.
For example, "When we make beurre blanc here, we don't use so much butter, but the effect and aroma are similar, maybe better; some people like it, some don't, but to me, it's still velvety and buttery, but much healthier."
After all, "We have so many years of difference from (19th century French culinary authority) Escoffier," he said.
And when it comes to caneles, the well-loved French sweets, Ng felt that while traditional copper moulds indeed give the best results, the sweetness of the time-honoured recipe is too cloying for his taste. So, he's experimented with using Chinese baijiu instead of rum and eschews adding loads of sugar, and the result is a crispier, less tacky canele that's assuredly delicious. (He also does a wonderful madeleine using Okinawan brown sugar.)
"I wanted to cook based on my forte, which is French fine dining, but I didn't want to cook 'fine dining' or tasting menus (any more)," he said. At Path, which seats 76 diners as well as a chef's table for four in a corner of the kitchen, "I wanted to do a la carte menus so that everyone has the freedom to choose what they want to eat." He also hopes the restaurant, with its location in the middle of the central business district, will be an everyday hangout not only for the business crowd but also for those who live in the residential buildings.
As Path evolves, Ng, who particularly loves vegetables, dreams that he'll one day be able to bring in unique vegetables from China that are rarely seen outside of the country. For now, the cost is prohibitively high while the perceived value of vegetables is low. But he knows that so much can be done with the produce he's worked with before.
For the present and the near future, he's busy preparing for the Culinary World Cup 2022, for which he will travel to Germany in October to compete as part of team Singapore. Since last month, he's been sacrificing his Sundays to attend training sessions.
 
Most days, though, you'll find him in the thick of the kitchen action at Path and interacting with guests.
Above all, "I want to cook things I like. Because, I think I see (my kitchen staff) more than I see my parents or my kid! I see them every day from 10am to 10pm." And during that time, he might as well enjoy himself.
Path is at 12 Marina Boulevard, Tower 3, #01-05/06, Marina Bay Financial Centre.