Singer Lisa Marie Presley will be laid to rest at Graceland, the Memphis mansion she inherited from her father Elvis Presley, the King of Rock 'n' Roll, a representative for her daughter said on Friday (Jan 13).
Presley died on Thursday at the age of 54 after being rushed to a Los Angeles area hospital after reportedly suffering cardiac arrest at her home.
Related: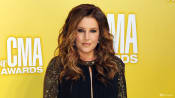 Lisa Marie Presley, daughter of Elvis, dies aged 54
Two days earlier, she had appeared with her mother Priscilla Presley at the Golden Globe Awards, where actor Austin Butler won the Best Actor award for portraying her father in the film Elvis and paid tribute to the two women.
"Lisa Marie's final resting place will be at Graceland, next to her beloved son Ben," a representative for her daughter Riley Keough said.
Benjamin Keough died in 2020 at age 27, a death ruled a suicide by the Los Angeles County coroner. Lisa Marie Presley remembered her son in an essay for People magazine earlier this year that she posted on Instagram, calling herself "destroyed" by his death.
As the only daughter of Elvis Presley, Lisa Marie became the owner of her father's Graceland mansion, a popular tourist attraction in the city. She was nine years old when Elvis died there of heart failure at the age of 42.
Elvis Presley and other members of his family are buried at Graceland's Meditation Garden.