If you don't know who Jeremy Monteiro is, please stop reading and Google him. You'll quickly discover that Jeremy is Singapore's king of jazz and its greatest local ambassador.
He's also a producer, musician, non-profit organisation head, and all around the single most important living person for the Singapore jazz scene. He's worked his butt off over the last five decades, playing more than 3,000 gigs and nurturing generations of local musicians. He earned the Cultural Medallion­ – the highest national honour an artist can receive – back in 2002 at the age of 42. And he is one of the nicest and most passionate people you'll ever meet.
Oh and he's now a club owner. Late last year, in partnership with Tinbox, Jeremy opened a new jazz club and restaurant simply called Simply Jazz. And while we still can't enjoy live music, Jeremy tells us the food is worth the visit.
HI JEREMY, EVERYONE KNOWS YOU AS A MUSICIAN. BUT NOT EVERYONE MIGHT REALISE YOU ARE A RESTAURATEUR AND CLUB OWNER. TELL ME WHY YOU OPENED SIMPLY JAZZ.
Actually, this is not my first rodeo as a club owner. I had opened Jeremy's Jazz & Blues Cafe in 1995 at Liang Court. It was a Japanese cafe in the day and jazz club at night. We closed down just over a year later. The scene was not yet ready for it. We didn't have the critical mass of jazz fans that we do nowadays. My partners and I lost a fair bit of money. But we had a lot of fun. We have no regrets.
I then reopened a second Jeremy's Jazz & Blues Cafe with the folks from the Europa Group at International House, which also lasted over a year. We didn't lose money on that attempt, but my majority partners felt that we were "not making enough money", so we shut it down and they then turned it into a pop music club. But they left the jazz photos up for a year before they renovated!
For Simply Jazz, Tinbox Group Chairman Adrian Leong, who already has four other outlets, approached me to do a jazz club together and after much thought, I agreed to partner with him to open Simply Jazz by Tinbox. It took me awhile to decide given the two previous attempts that were not successful. But I hope that I am third-time lucky!
So far, since our soft opening in November, we've been doing well even without live music so the future looks bright!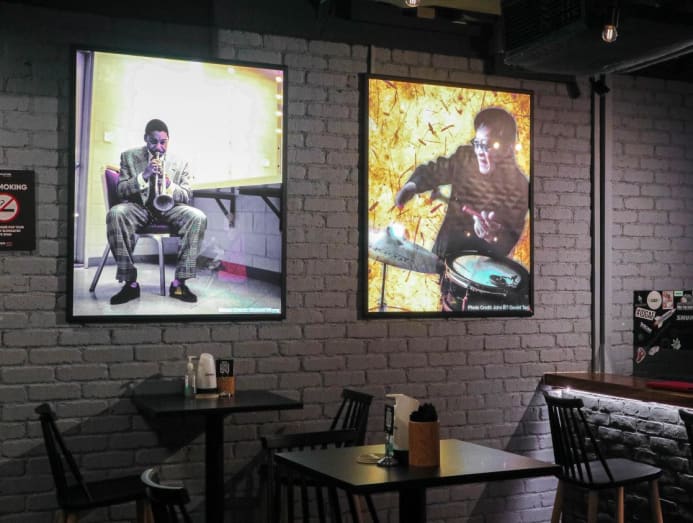 WAS IT DIFFICULT FINDING THE RIGHT LOCATION?
Tinbox already had Simply Live next door at CHIJMES so when Simply Live moved to NTUC Income building in Bras Basah, Adrian moved Simply Retro into that space and we set up Simply Jazz at the former Simply Retro location. A bit of "musical chairs".
WHEN I THINK OF GREAT JAZZ CLUBS I THINK OF THE ONES OVERSEAS LIKE BLUE NOTE, BIRDLAND AND RONNIE SCOTT'S. WHY DO YOU THINK SINGAPORE HASN'T HAD A GOOD JAZZ CLUB?
The Somerset's Bar at the former Westin Hotel was actually highly successful and profitable. But there is an American saying: "If it ain't broke don't fix it". Well … after great success from 1986 to 1999, they fixed it and everything collapsed. They fixed it by changing it from a true straight-ahead jazz lounge into a Buddha-Bar atmosphere and people just stopped coming.
Singapore actually also had the makings of a successful jazz club pre-COVID-19 in Maduro, over on Harding Road. I hope they can return to the scene once the pandemic winds down and we can have live music in clubs again. Right now live music is still not allowed in F&B establishments, only concert-type venues.
HAVING PLAYED IN GREAT JAZZ CLUBS AROUND THE WORLD, WHAT IS THE MAGIC FORMULA THAT EVERY GREAT JAZZ CLUB NEEDS TO GET RIGHT?
You have to look at the local clientele. If we went totally bebop, it would be empty. If you try to pander, like a famous jazz club in Taipei I played at, and start allowing Whitney Houston to be considered jazz, you will lose the aficionados.
So I will balance the repertoire of jazz in all its forms – straightahead and bebop, Latin and Brazilian jazz, fusion and contemporary jazz, and other forms of jazz – and will be careful to draw the line in the sand. So Al Jarreau, yes; Whitney Houston, no.
Related:
My hopes for 2022: Kit Chan, Jasmine Sokko, Linying and other women look ahead
Thank you notes, flowers, smiles: What drives Singapore's young buskers to play their hearts out
WHAT'S YOUR OWN FAVOURITE CLUB TO PLAY IN OVERSEAS?
Too many to list. I love PizzaExpress Jazz Club in London, maybe a little more than Ronnie Scott's where I've also played. PizzaExpress has a lovely Steinway and with 110 seats, it's intimate enough to connect with the audience.
WHAT WAS THE CRAZIEST THING THAT HAS EVER HAPPENED TO YOU IN A JAZZ CLUB?
Musically, someone coming up to me to ask me to play One Way Ticket by Boney M. And then, lo and behold, 10 years later, I got another request, on the stage of Harry's, for the same song! On that occasion, I didn't meet the person who requested it. If I did, I would have told him, "This is a jazz band and this is not a jazz song."
WAS THE PROCESS OF TRYING TO OPEN SIMPLY JAZZ DURING A PANDEMIC TOUGH?
Well Adrian and the Tinbox Group were ready to enter in this climate so that they would be ready and waiting for when things get better. They have good resources and are prepared to weather it out with me.
Having said that, Chef Jack Leong is amazing and people come and pack the place for our food which is basically designed for a Singaporean palate. So one moment a pizza, another beef medallions, and then seafood San Lou Bee Hoon. The busy Friday, Saturday and occasional busy weekday also helps us to cruise through and stay sustainable.
I KNOW YOU'RE A FOODIE. HOW INVOLVED HAVE YOU BEEN WITH THE MENU AT SIMPLY JAZZ?
I was involved with the food tasting sessions. Our chef is amazing. Occasionally I feed back to him or our outlet manager Charlene Chua about how we can improve the food or cocktails, but generally speaking, the team has gotten it right from the beginning so I really didn't have to kaypoh too much with the food & beverage.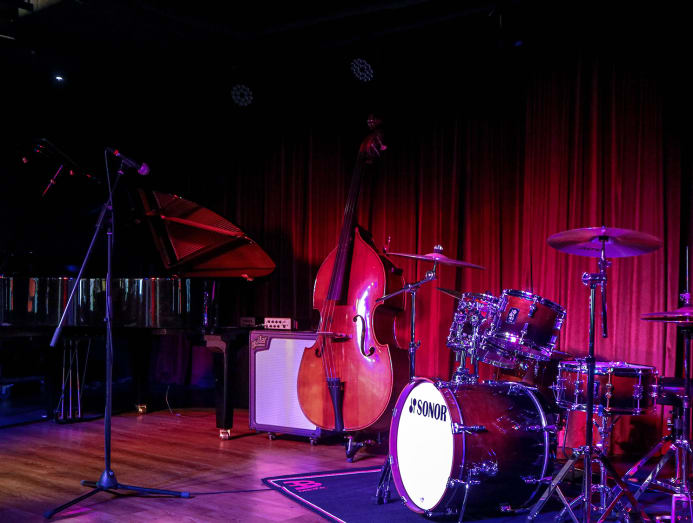 WHAT'S THE BEST THING ON THE MENU?
That's a hard question. I like so many items. I think the scallop and avocado ceviche served in kueh pie-ti cups is great. The rack of lamb has converted quite a few non-lamb eaters into lamb lovers and I love the capellini pasta with scallop and tobiko. Another must-have are the beef medallions, which are tasty and succulent when served medium-rare.
SOUNDS AWESOME. GETTING BACK TO THE MUSIC, DO YOU THINK JAZZ IS FINDING NEW AUDIENCES? WHAT CAN BE DONE TO GET YOUNGER GENERATIONS INTO THE GENRE?
Actually, a lot has been happening and the jazz audience has been steadily growing over the years. And Singaporean audiences are also becoming much more discerning. Jazz is now an O-Level elective subject in Singapore so many young people have started to seriously get into listening and also playing jazz. It's definitely on the up and up. Half of my audience are below 40 these days. So I see young people and older people in the audience. This is completely different from maybe 20 years ago when 80 per cent of my audience used to be people 40 and above.
WILL YOU BE PLAYING AT SIMPLY JAZZ?
I will play there two nights a week. I will also sometimes be there when my other activities are not so intense. And I will be hiring a good number of Singaporean jazz musicians, both young and old, to play there as well.
IS THERE AN AMATEUR NIGHT? CAN YOUNG PERFORMERS REACH OUT TO YOU TO GET GIGS THERE?
No. We won't have an amateur night, but we will hold a jam session night where young players will show off their stuff. For those who haven't being paying attention, some of the young jazz players in Singapore already rival some of the best in the region of any age.
HOW TOUGH HAS THE PANDEMIC BEEN ON THE JAZZ SCENE HERE? WITHOUT BEING ABLE TO PERFORM LIVE, HOW HAVE THE ARTISTS BEEN COPING?
It has been disastrous for musicians. Those of us who have been able to pivot to do things online or play concerts – since concerts are allowed – have been soldiering on. But more than 80 per cent of the musicians who used to play the clubs have had to take on other non-musician jobs. Some of the lucky ones have taken up teaching. It's really been hard for them. There has been some government help and the Jazz Association (Singapore) where I serve as executive director also has given some jazz musicians help with the JASS Crisis Fund, but honestly, it's heart-breaking for me to see the majority of club musicians struggle.
My partner Adrian who chairs the Tinbox Group had signed on a bunch of musicians to play at his Simply Live outlet and has kept them on full payroll all this time during (the pandemic). They do livestream shows for the group and sometimes they also back the artists at Capitol Theatre at their shows. Capitol Theatre is now managed by IMC Live Global where Adrian Leong is also executive vice-chairman.
ARE YOU PLANNING ANY SPECIAL GIGS THIS YEAR THAT WE SHOULD BE LOOKING OUT FOR?
Well, one of my peak experience gigs was just done on Jan 22 with re:Sound Collective. I was playing my orchestral symphonic jazz music. I have quite a lot of shows lined up these year but the Jazz Association (Singapore) charity gala on Apr 30 and my 45th Anniversary shows at Esplanade Concert Hall on Jul 1 and Jul 2 will be really special things to watch out for. I also hope to do a performing tour in Europe in July if the COVID-19 situation allows.