The third season of MasterChef Singapore is finally here and after the first episode aired on Sunday night (May 1), we now know who the top 12 contestants are who received the prized white aprons and who will be battling for the title.
The eventual winner will walk away with more than S$100,000 worth of cash and prizes.
The first of the 10-episode series started with 18 amateur home cooks fighting for their chance to proceed to the MasterChef kitchen.
Eight contestants automatically earned their place in the top 12 after acing the fish dish challenge, while the rest had to go through a second challenge. By the end of the episode, six hopefuls had been eliminated.
Now meet the 12 contestants who impressed judges Audra Morrice, Bjorn Shen and Damian D'Silva enough to make it to the next round.
Thomas Chong, 24, university student
Thomas learned a lot about food styling while interning at food photography and videography studios. And here's an interesting nugget: The business student is the boyfriend of Genevieve Lee, runner-up in the first season of MasterChef Singapore. Thomas hopes to open an F&B outlet with her in the future.
Best cooking memory: "My favourite cooking memory will always be the times when my girlfriend and I get to spend our entire weekend in the kitchen. We enjoy whipping up different recipes and cooking with unique and exotic ingredients! Now that we are all caught up with other commitments, we spend less time in the kitchen together."
Johnathan Chew, 23, dental student
Johnathan's dream is to write a cookbook and eventually open a cafe with his mother. Combining his love of science and of being hands-on, he promises to produce well-plated, Instagram-worthy food on the show. He has even taken up pottery to make his own serving dishes. 
Best cooking advice received: "My grandmother always tells me to use less salt when ingredients are fresh to bring out their natural flavours. Also, it prevents hypertension. I would know this – I spent hours studying about the condition."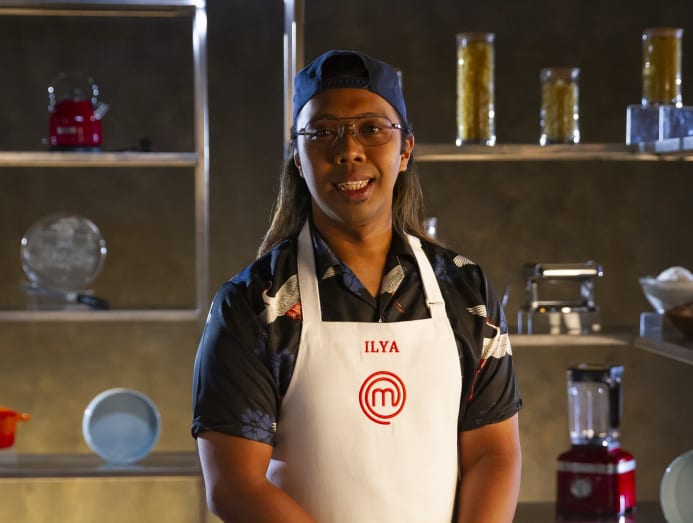 Ilya Nur Fadhly, 36, food delivery driver
This TikTok enthusiast and father of two signed up for MasterChef because he wanted to prove to his wife that he's ready to take the next step in his culinary career. He also runs a home-based business selling halal bak chang, started by his mother.
Best cooking memory: "My wife and I cooked for our small group of friends the night after our wedding and we had to fly off for our honeymoon early next morning.  Tiring, but so worth it."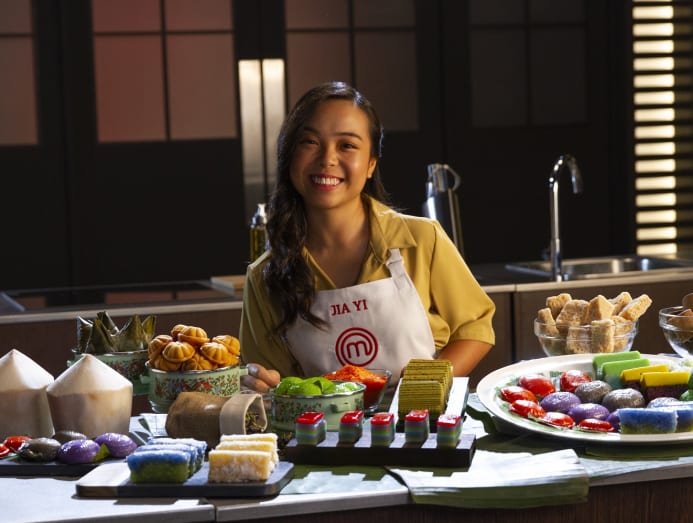 Gooi Jia Yi, 23, university student and wakeboarder
Jia Yi hopes to raise awareness around food sustainability by opening a sustainable food cafe in the future. Besides cooking, this sporty university student – she won an Individual Bronze medal at the 2017 SEA Games for wakeboarding – runs her own online business selling traditional snacks and kueh.
Best cooking memory: "Cooking wagyu in the Airbnb during a trip with my sister to Hokkaido in 2018. It was quite funny, because when I was cooking the first piece, there was so much smoke from the sizzling pan that it triggered the smoke alarm. We were panicking because it was so loud and we were scared the fire brigade or police would come knocking on our door.  I also hardly cooked then, and it was my first time cooking wagyu, or for that matter steak. And I was so worried the steak would be overcooked. I was also scared of the spluttering oil. It was a disaster!"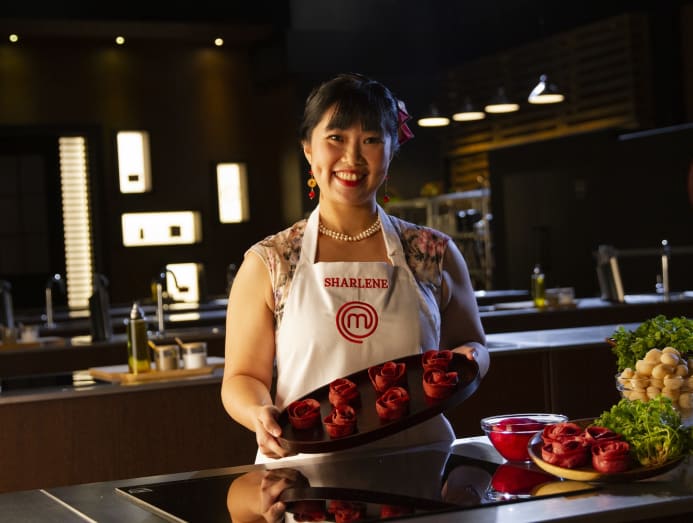 Sharlene Tan, 39, teacher
As a mother of three and a Food Science teacher in school, Sharlene has big dreams. She hopes to work in a top restaurant's kitchen before eventually opening her own omakase-style cafe, selling healthy and hearty food.
Best cooking advice received: "Taste and season each component as you cook. That is how you build layers of flavour."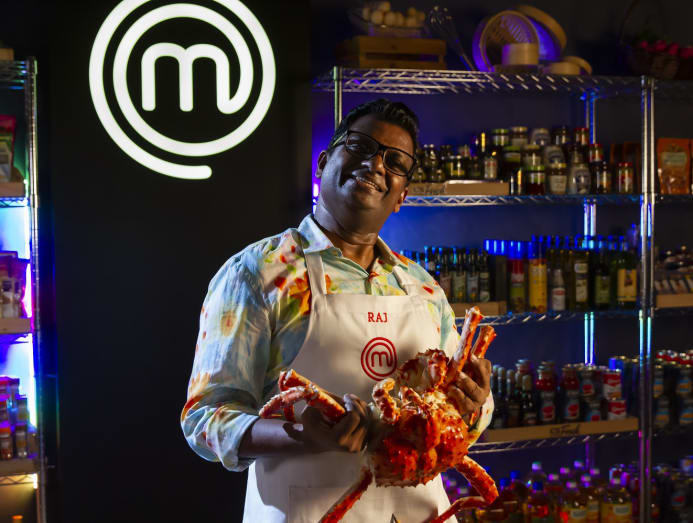 Raj Shagaran Mahalingam, 58, creative events producer
This grandfather is definitely still young at heart. His personality is reflected in the kitchen, where he comes up with quirky original dishes like Venom (black sugar pepper crab) and Assam Damn Pedas. His dream is to start his own food truck cafe by the beach someday.
Best cooking memory: "My favourite cooking memory involves cooking crocodile meat. Will this be on MasterChef? You will have to watch to find out!"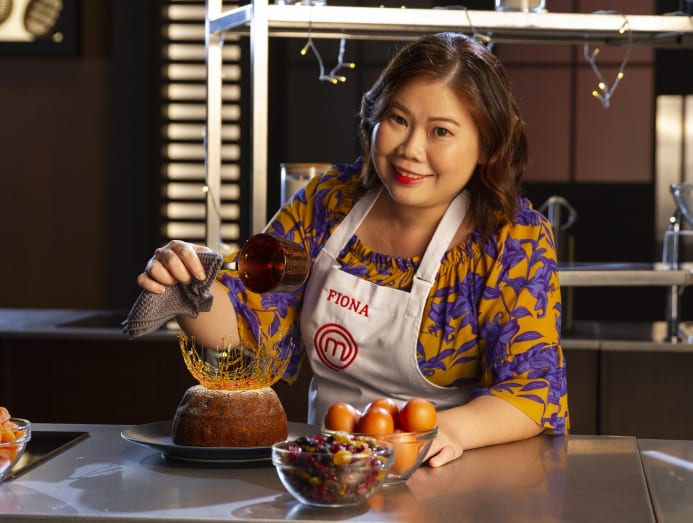 Fiona Celeste Sew, 38, stay-at-home mum and GroupBuy host
A self-proclaimed "Thermomix Queen", Fiona gets her inspiration from her Peranakan and Eurasian mother-in-law to experiment with bold flavours in the kitchen.
Best cooking advice received: "As a home cook, I don't really get a lot of advice other than from my mum, mother-in-law and some chef friends. But I will say 'taste as you cook along' is what both of them have been repeating unknowingly. When you taste and taste and taste, you will know what is missing and what needs to be added."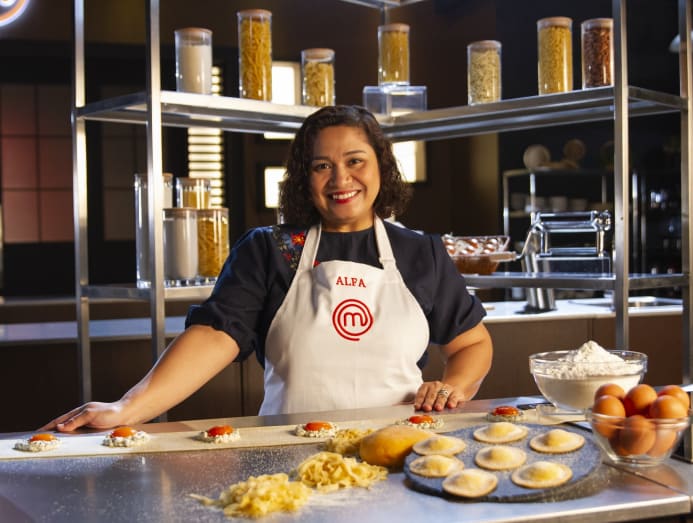 Alfa Matnoor, 48, corporate services manager
Alfa's interest in food stems back to when she used to help out at her parents' hawker stall when she was only three years old. A mother of two grown children, she loves to travel to various countries and visit their local markets to gain inspiration from their diverse flavours.
Best cooking advice received: "Always put the salt in last when cooking in a pot. That way, you know how well you've seasoned the food, and the salt does not get infused into the ingredients, making the dish too salty."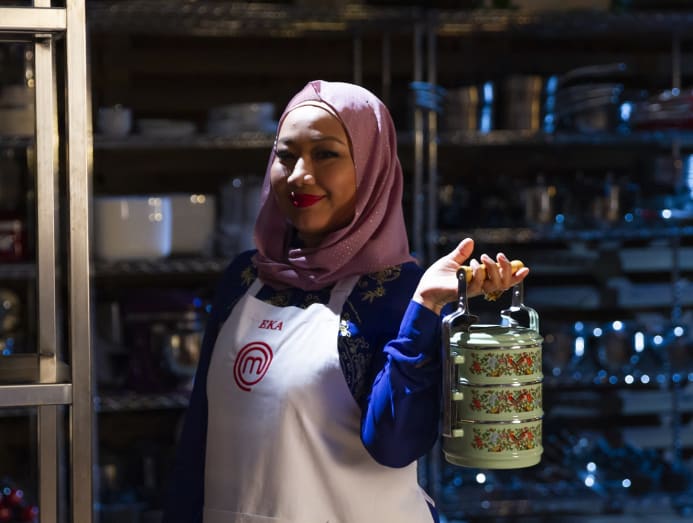 Eka Mairina, 43, singer and actress
Eka has made a name for herself in the entertainment industry and has won awards. Originally from Jakarta and having lived in Saudi Arabia for four years, she cooks authentic Indonesian cuisine and hopes to fulfil her dream of opening her own F&B franchise one day.
Best cooking memory: "The first time I sold food to the public. The response was unexpectedly amazing and I was over the moon."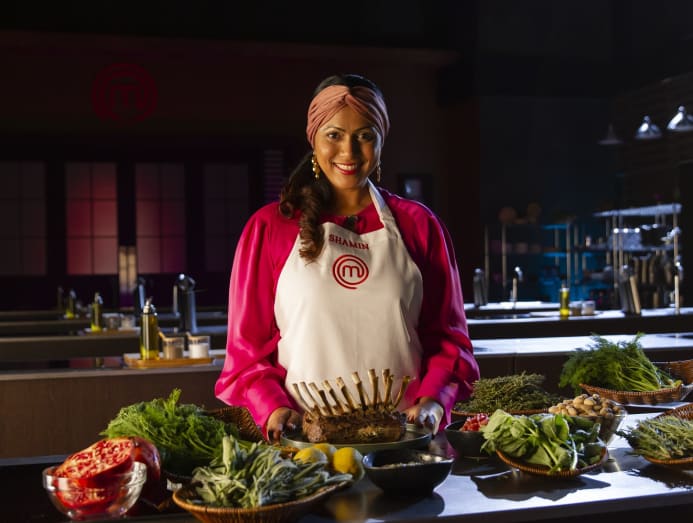 Shamin D'Souza, 46, former Singapore Airlines flight attendant
Shamin was a Miss India and Miss Mumbai finalist in the '90s and a former model who appeared in videos, fashion shows and press advertisements. She enjoys coming up with adventurous renditions of fusion food for her 11-year-old son, whom she calls her inspiration. 
Best cooking memory: "Ever Christmas season! It's when our family of eight get together to prepare large batches of mum's traditional fruit cake. From buying and chopping the ingredients to baking, each one of us had an assigned task. We would later share the fruit cake along with other traditional Christmas treats amongst neighbours, friends and relatives."
Azwandi "Andi" Robani, 41, visual arts instructor
Andi's job helps him bring an artistic flair to his dishes. In his free time, he enjoys kayaking and fishing. He would love to be a celebrity chef one day, with his own cooking show.
Best cooking advice received: "The best advice I ever got is to never cook when you are angry. Somehow, no matter how seasoned you are at cooking that particular dish, it would not taste the same as when you cook it with a smile."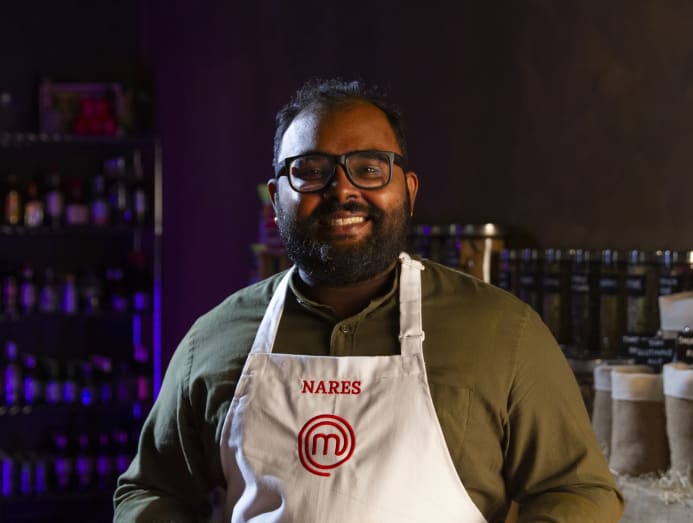 S "Nares" Nareskanna, 32, car sales advisor
Nares' passion for cooking goes back to his teenage days, where he would sneak into the kitchen while his parents were asleep to whip up a meal. He wants to make a name for himself in the culinary world, have his own cookbook and make his father proud.
Best cooking memory: "I think it's the times I cooked when I was staying in Switzerland during my studies. The food they offered at the school wasn't always appetising.  I recall heading to the supermarket to buy produce to cook in my tiny shared kitchen."
Catch Season 3 of MasterChef Singapore on meWATCH and Channel 5 every Sunday at 9.30pm from May 1, with episodes available on the same night via Mediacorp Entertainment YouTube channel. Click here for more information.