Anyone who'd been following MasterChef Singapore Season 3 would know the heat was on from day one. That continued all the way to the gruelling finale on Sunday (Jul 3), where 23-year-old Johnathan Chew narrowly got past his competitor S Nareskanna (also known as Nares), 32, to win the coveted title. 
For the finale, the final three contestants – including 41-year-old Azwandi 'Andi' Robani – were given free rein to come up with a three-course meal consisting of an appetiser, main course and dessert over three rounds.  
However, arts educator Azwandi's main course, Salmon In A Basket (laksa salmon noodles with sambal tumis and acar) didn't floor the judges – Audra Morrice, Bjorn Shen and Damian D'Silva – stopping his journey just short of the dessert round. 
A sweet finish was nonetheless expected for the episode, and so, the remaining two finalists duked it out with their desserts. The final round was just as, if not more, intense than the first two, with pressure building for the two contestants.
Nares, in line with his frequent nods to his Indian heritage throughout the competition, planned to make a pudding. However, it didn't set in time and ended up becoming a Deconstructed Mango Tart made with vanilla creme Anglaise, sable crumbs, caramel sauce and spiced mango.
On the other hand, dental student Chew, who had struggled with his main course Seared Grouper With Lemongrass Beurre Blanc And Charred Kailan in the previous round, served up a Lemongrass Meringue Tart topped with a kumquat compote. His meringue set just in time as the clock counted down and he even had to put out a fire he accidentally started while using a blowtorch on his tarts.
While the judges had positive reviews for both desserts, Chew's tart ultimately got the higher score. His three dishes scored him an overall 76.5 points against Nares' 75, granting him the MasterChef Singapore title by just 1.5 points.
In addition to bragging rights as the new MasterChef Singapore, Chew won more than S$100,000 worth of prizes. This includes S$17,000 in cash, a book publishing deal with Marshall Cavendish and an internship opportunity with celebrity chef Gaggan Anand's team. 
Chew said in a statement: "I am so proud to be Singapore's next MasterChef! My confidence in my abilities has grown so much, and I have picked up so many skills throughout my MasterChef journey.  Clinching the trophy will motivate me to chase after all my other food dreams – like opening a bakery with my mum, which I feel is now within reach. 
"Food is not just about what you see on your plate or taste in your mouth. It's the chef's effort, attention to detail, communication skills and teamwork with fellow staff and food suppliers. As Singapore's new MasterChef, I hope I will be able to emulate the qualities that these chefs embody, and make mouth-watering food for the people." 
Said Angeline Poh, Chief Customer & Corporate Development Officer, Mediacorp: "Our heartiest congratulations to Johnathan on your MasterChef Singapore win! Your craft was on dazzling display tonight, and you are an inspiration to all aspiring amateur chefs. To Andi and Nares, you put up a formidable fight, and should be very proud of yourselves. This is only the beginning of a new chapter in your culinary careers for all of you! To our judges, sponsors, and partners, thank you for joining us in bringing such a spectacular season to our audiences."
Watch the MasterChef Singapore Season 3 finale here.
Related: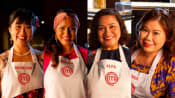 What do you do if a dish fails? We've got cooking tips from these MasterChef Singapore contestants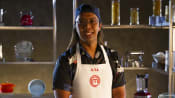 Are you guilty of food waste? Get tips on how to minimise it from this MasterChef Singapore contestant