If you were to mention the name Jackson Tan to any designer or design buff in Singapore, you would almost certainly hear a healthy amount of reverence when they described his works or projects.
Tan, along with three friends – Alvin Tan, Melvin Chee and William Chan – founded the art and design collective known as PHUNK back in December 1994. Jackson was 22 years old at the time, and fresh from LASALLE College of the Arts.
PHUNK was the rock and roll agency every cool kid wanted to be a part of. They worked with MTV. They had art exhibitions overseas. They were the youngest recipients ever of the Presidents Design Award Designer of the Year award back in 2007. They worked with The Rolling Stones! Over the last three decades, they've inspired a generation of creatives here in Singapore.
In addition to PHUNK, Tan has also founded two additional practices, BLACK and METHODOLOGY. And in 2017, he unveiled ART-ZOO, an interactive art piece that has been visited by almost a million people.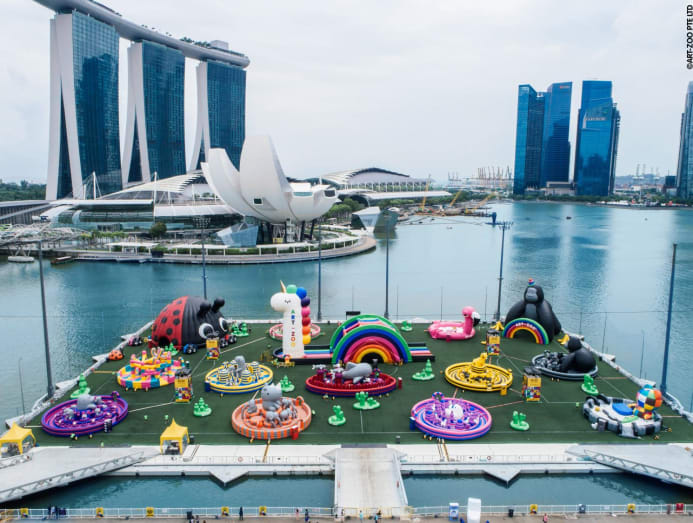 HI JACKSON. EVEN FROM YOUNG, WERE YOU ALWAYS INTO ART AND DESIGN?
When I was a young child, I lived in an old shophouse in the Bugis area. My dad used to bring me to the Malay barber at the street side alley for a haircut. I was always fidgety and hated sitting still and getting my hair cut. Luckily, the Malay barber uncle had a stack of American superheroes and Hong Kong kung fu comic books on his shelf. I was so engrossed in reading the comic books that I could sit still through the session. I was crazy about the Superfriends and spent many hours drawing them in my exercise books.
When I was in kindergarten, the teacher asked us to go outdoors to draw the garden. I was so obsessed about drawing the Superfriends, I disregarded her brief and drew that instead. When the teacher saw my drawings, she did not reprimand or punish me for disobeying her orders, she praised me for my beautiful artwork and pinned it on the classroom wall. At that moment, it felt like I was like Peter Parker, bitten by the radioactive spider for the first time. It made me feel powerful! It was a wonderful feeling. I'd found my "superpower"!
Related:
The former ad agency owner and creative director who's now a food influencer
I started to draw even more, on any surface I could find – on my exercise book, text books, school tables and even the wood partition wall in our home. Later on, I realised that I was not so keen about drawing the physical bodies of the superheroes, I got the most joy from drawing the symbols on their chests. They were easy to remember and draw – I could draw them in a few seconds.
They are iconic, meaningful and powerful. I realised that my "superpower" was the ability to create simple symbols that can communicate complex stories and messages. That obsession grew to authoring and designing my own role-playing game book and comic books in primary school and my own brand and band logos in secondary school.
I did not know that there was a profession called graphic designer or visual artist then. I just really enjoyed doing it. Now that I look back at it, I was lucky that I found my "superpower" very early as a child.
I UNDERSTAND YOU WENT TO LASALLE  COLLEGE OF THE ARTS FOR YOUR FIRST DEGREE?
In secondary school, besides comic books, I was obsessed with pop and rock music. I spent a lot of time drawing band logos and designing my own mix tape album covers. I did badly for my O-Level exams. But I was lucky that on the day to submit my application for courses, I visited the then new Temasek Polytechnic and they had an exhibition to promote a new course called Visual Communications. I was excited that I was seeing what I have always wanted to do.
Unfortunately, I could not apply for it because of my poor results. When I was working part time as a waiter in a hotel cafe, I learned from a fellow colleague that he was studying Interior Design in an arts college called LASALLE. He encouraged me to apply. At that point, the choice was between going to NS or apply for LASALLE.
I applied for LASALLE and was really happy to be accepted for the diploma course. I did art foundation for the first year before majoring in visual communications. We were the first batch that learned to use the Mac to design and make art digitally. Arts education has grown a lot since those times. It was pivotal that art and design was transformed from been taught as a technical course in vocational institutions to a tertiary and professional level.
I went back to LASALLEa few years ago to pursue my MFA in Fine Arts. The college has grown and developed so much.
Related:
The Singaporean artist who broke 4 Guinness World Records and created 2 of the cutest stars on Giphy
WHAT WAS THE BEST THING YOU TOOK AWAY FROM YOUR TIME AT LASALLE?
When I first went to LASALLE, it felt like I stepped into Professor X's School for Gifted Youngsters, where all the talented "misfits" were being trained.
I instantly felt at home. The spirit was raw, liberating, and stimulating. We were taught how to creatively express and critique our ideas and works with passion and finesse. Sculpture lessons could turn into performance art exercises where your body becomes the form. I had never experienced that before. It blew my mind away.
The best things I took away from my time at LASALLE are that there is not just one single way to see and express our world and that it is fun to collaborate with others.
YOU AND YOUR CO-FOUNDERS STARTED PHUNK PRETTY MUCH FRESH OUT OF SCHOOL? HOW DID THAT COME ABOUT?
I have known my partner Melvin since primary school; he was my classmate until secondary school. We shared a love for comic books and created our first comic book together for our religious knowledge class.
I met William and Alvin in LASALLE when we were classmates. Melvin joined LASALLE a year later. We shared a common passion for comic books, pop culture, indie music and anime. We considered starting a band and went to jam at the studio, but decided to trade the electric guitar for a Mac and start a "visual rock band" instead.
It was the 90s, when MTV, club culture, style bibles from the West like i-D, Face, Interview, Ray Gun and streetwear labels such as Stussy, X-Large and FUCT were rising in influence. Just after our graduation, we wanted to start our own streetwear label. We chose the name PHUNK and started to design and print our own T-shirts.
We did not know how to sell the T-shirts and ended up wearing them to party at Zouk ourselves. The business did not take off, but the name stuck. We were enlisted to the army after that and continued to hang out and create works together during the weekends. There was no client or ambition to start a studio at that point. We just enjoyed hanging out together to play and create things together.
After NS, we worked for different design companies to learn the trade and earn some money while we rented a small space in a Chinatown shophouse – two tables four chairs – to meet and create together as PHUNK. We resigned from our individual jobs after a few years and went full time to build the studio when we got our first client project from MTV.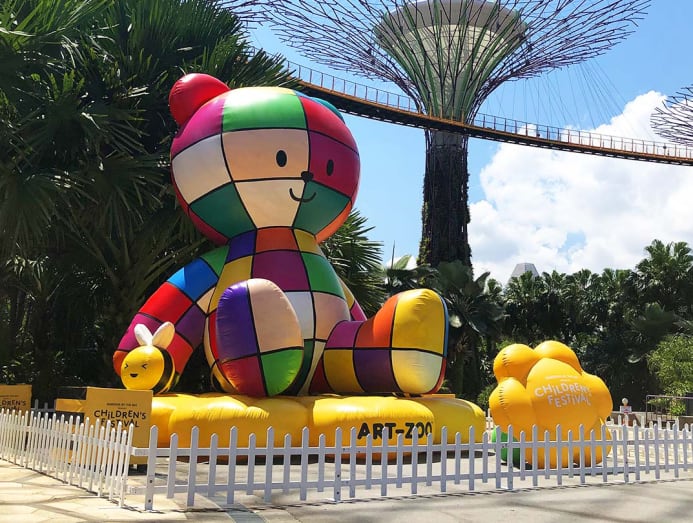 WHAT WAS IT LIKE ESTABLISHING PHUNK BACK IN THE MID-90S?
It was a really interesting time as Singapore and the world was changing very quickly. The internet had started and that made the world connected overnight. Singapore was also transforming from a "culture desert" to become more open and creative.
When we first started PHUNK, most of the projects available in Singapore were corporate – designing annual reports and corporate brochures. We wanted to work with brands that was part of our youth lifestyle instead, from the music we listened to, drinks we consumed, and the jeans and sneakers we wore. Many of those brands were based outside Singapore.
We realised very early on that we were different from our peers and the only way to work with those brands was to reach out directly to them. The internet enabled us to send our own designed fonts to Garage Fonts, a type foundry co-founded by David Carson, the famous designer of Ray Gun magazine.
They began to license and distribute our designs. We also got our works to international publications in Japan and UK. We got our first break when MTV started their regional office in Singapore. They spotted us from our Trigger magazine and parties. We worked with them on branding their programs and designing animated spots. The works with MTV were aired across Asia-Pacific. And that got us noticed and invited to collaborate by other brands outside Singapore.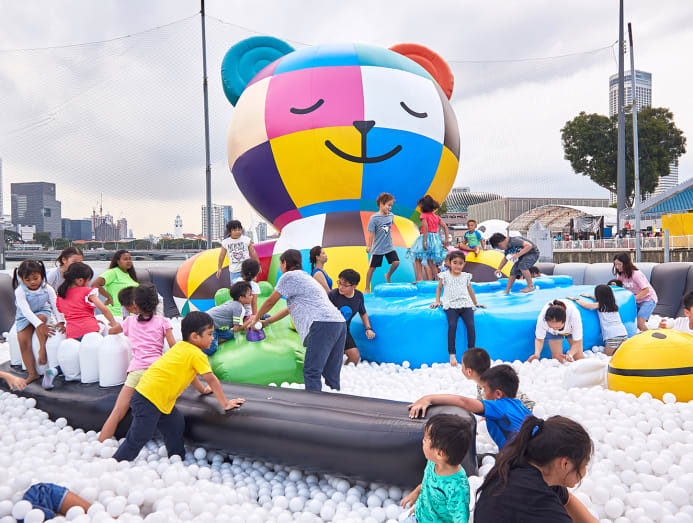 WHAT ARE SOME OF YOUR BEST MEMORIES OF PHUNK?
Too many to mention. We did so many things together as a collective and as friends. Especially the travels together where we worked and partied hard. Probably one of the most memorable ones was when we launched Control Chaos in New York in 2003.
The series was inspired by our collective memories of Haw Par Villa and our response to 9/11, dot-com busts and SARS. It was our first solo gallery exhibition overseas. We did not know what to expect. We were overwhelmed by the warm response from the audience. There was a long queue outside the gallery on opening night and all the works were sold out that night.
That was the start of PHUNK's foray into the contemporary art world. Last year, the original Control Chaos (2003) was collected by M+ Hong Kong into their permanent collection. We also created an updated animated Control Chaos (2000) for the museum's opening show in response to the recent conflicts and ongoing pandemic happening in the world.
Related:
The General Co's Colin Chen on creativity, sustainability and serial entrepreneurship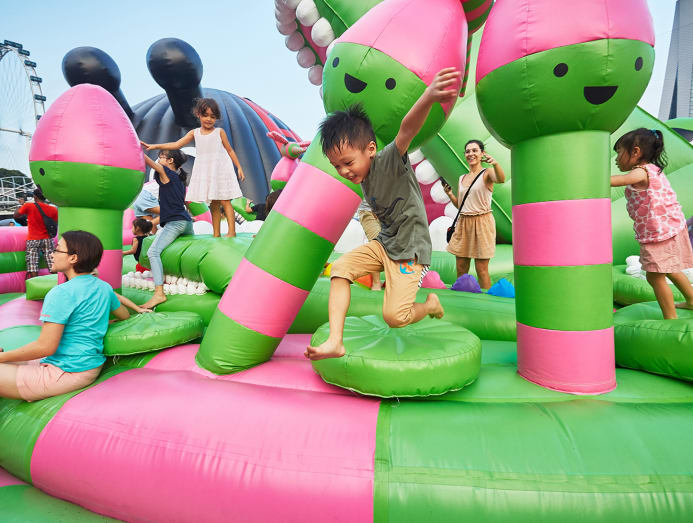 LET'S TALK ABOUT ONE OF YOUR CURRENT PROJECTS. HOW DID ART-ZOO COME ABOUT?
ART-ZOO is inspired by my childhood memories of visiting the animals and winning a prize in an art competition at the Singapore Zoo; playing at the animal-themed neighbourhood playground with my cousins at my maternal grandparents' HDB estate at Dakota Crescent; and watching Sesame Street on television.
ART-ZOO inspires curiosity, creativity and empathy through art and play. It is an imaginative world on the other side of the rainbow filled with colourful creatures and landscapes. The ART-ZOO is an adventure to be embarked on by children of all ages.
It is a personal dream project for me to create my own imaginary world filled with endearing characters and amazing stories. Inspired by creators such as George Lucas, Osamu Tezuka, Jim Henson and Walt Disney. I hope to build it into a global brand that is timeless and can bring joy to many.
HOW LONG DID IT TAKE TO GO FROM IDEA TO ACTUALLY LAUNCHING IT?
The idea for ART-ZOO was already brewing in my mind for many years. It was in my drawer of ideas, waiting for an opportunity to make it happen. The chance came in 2016 when I was invited to create an art installation at the Marina Bay floating platform for the iLight Marina Bay festival.
I shared with URA, the festival organisers, my vision and concept for ART-ZOO. The concept was to create giant inflatable art sculptures and playgrounds that the audience could not only look at but actually interact and play on. I also shared with them that I wished to grow it beyond a one-off public art installation.
They were very supportive. It took us almost a year from the initial concept development to character design, design and production of the inflatable art playgrounds and sculptures till the launch.
WHAT HAS BEEN THE HARDEST CHALLENGE IN LAUNCHING ART-ZOO?
The hardest challenge was creating something that had never been done before, with a medium that we had limited experience on. We designed all the inflatable art sculptures and playgrounds from scratch. We scaled them differently from the usual inflatable installation in the market. We also had to learn and overcome the physical challenges of the inflatable, such as managing the safety and weather factors.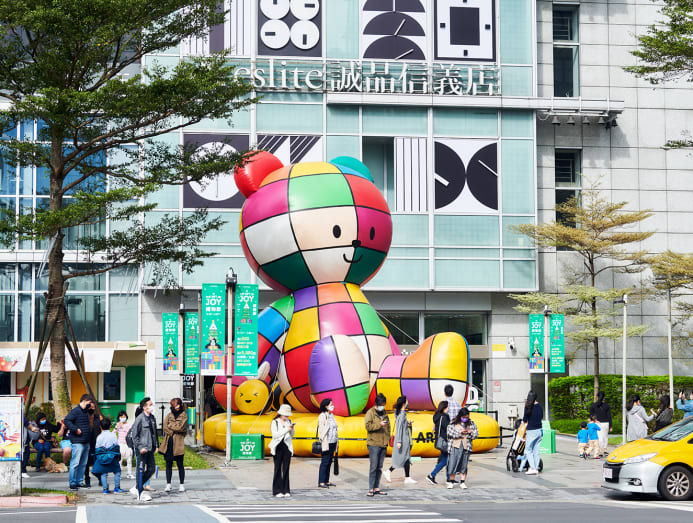 AND WHAT HAS BEEN THE HIGHLIGHT OF RUNNING IT SO FAR?
When we launched the ART-ZOO Inflatable Park back in 2017 at Marina Bay, 70,000 people visited during the 22-day event. We were overwhelmed by the audience response and media coverage it received. We started to receive invitations to tour and present it in other cities. To date, we have presented the ART-ZOO events to almost a million people.
WHAT ARE THE FUTURE PLANS FOR ART-ZOO?
We are planning to build the ART-ZOO brand experience further. Expand the events and touch points worldwide, as well as creating new content, stories and programs based on the characters. We will also explore developing new products and merchandise thru creative collaborations.
Last year, ART-ZOO embarked on a design research project supported by DesignSingapore's Good Design Research programme. We interviewed families from different cities to understand their daily experiences.
We also invited a group of design thinkers, artists, designers, storytellers, child educators, psychologists, and art therapists to collaborate with us, as we ideated, prototyped, and tested some of the ideas generated from the research. We will be incorporating the insights learned and concepts created into our upcoming events, content and products.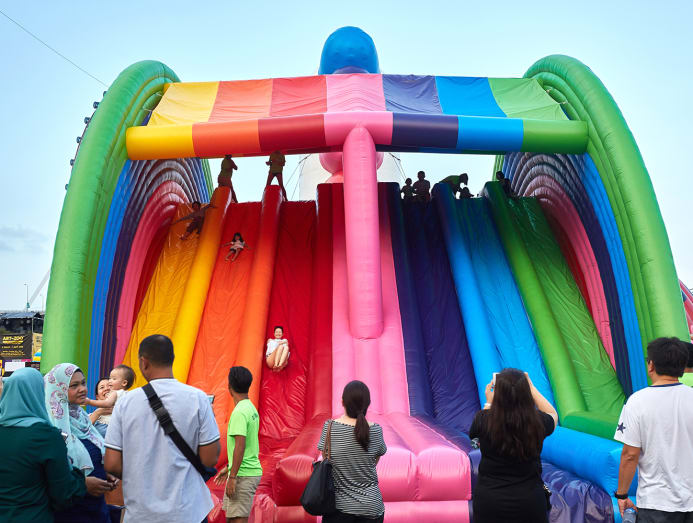 YOU'VE ALSO CREATED TWO MORE BUSINESSES – BLACK AND METHODOLOGY. CAN YOU WALK ME THROUGH HOW EACH ORGANISATION IS DIFFERENT?
BLACK is a creative agency specialising in branding, design and curation. We work with brands, organisations and communities from Asia and beyond.
METHODOLOGY is a creative education company that curates and shares the world's best creative ideas and design processes. We collaborate with global leaders at the forefront of design, craft and innovation to develop education programs, workshops, conferences and media.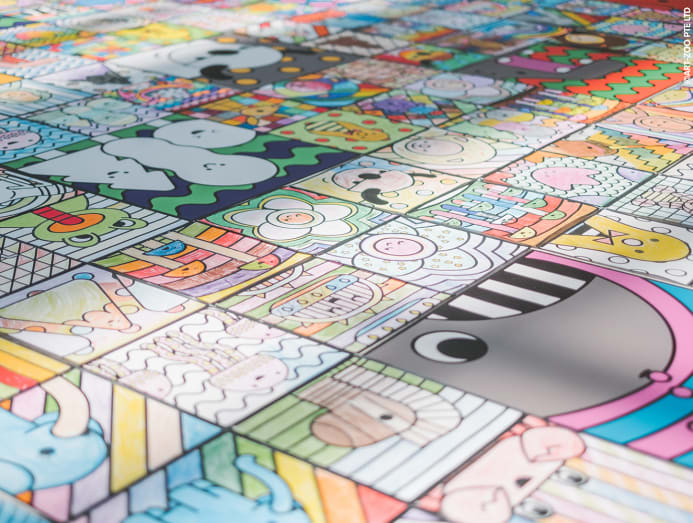 HOW DO YOU JUGGLE ALL THESE? WHICH DO YOU SPEND THE MOST TIME ON?
I have learned to work on different things at the same time. Most of the time is spent working with the teams. It also helps that we still work from the same studio space together in Singapore. We have grown the collective further into a family.
We also share resources, and the teams sometimes collaborate on projects together. In a way, it's like the Avengers. We have our own individual identities and missions as well as the collective ones.
ARE THERE ANY REALLY SPECIAL PROJECTS FROM BLACK AND METHODOLOGY THAT STAND OUT TO YOU?
The branding of SG50 was really special for BLACK as the logo became ubiquitous and continues to be relevant and influential till now.
For METHODOLOGY, we presented a masterclass series called The Future of Design where we invited international designers such as Japanese packaging design master Fumi Sasada and Juan Velasco, the former lead designer of National Geographic, to teach infographics.
HOW DO YOU FEEL THE ART AND DESIGN SCENES HERE HAVE EVOLVED OVER THE LAST 20 TO 30 YEARS?
The art and design scenes have evolved a lot in the last 20 to 30 years. It has grown to become more international in scale and profile, but at the same time the local creatives and audience has also started to embrace our own unique culture and identity. It will be interesting to see how we can project it outside Singapore.
DesignSingapore Council's Good Design Research empowers designers to design for impact through research and experimentation, supported by funding and a wide network of knowledge partners. Read more.