YG Entertainment's newest K-pop girl group, Baby Monster – the music label's first since Blackpink in 2016 – is gearing up for its debut with the launch on Wednesday (Feb 8) of official social media accounts on several platforms like TikTok, YouTube, Instagram, Facebook and Twitter.
YG Entertainment first teased the group on Dec 31 and had been introducing each member over the past weeks through clips of their live singing and dance performances.
The group, also known as Baemon, is made up of seven members who range in age from 13 to 20.
Similar to Blackpink, Baby Monster's members hail from several countries: Haram (15), Ahyeon (15) and Rora (14) are from South Korea; Chiquita (13) and Pharita (17) are from Thailand; and Asa (16) and Ruka (20) are from Japan.
The group's debut date hasn't been announced yet although it appears to be close. Here's where you can find them on social media: 
Twitter: https://twitter.com/YGBABYMONSTER_
Instagram: https://www.instagram.com/babymonster_ygofficial/
Facebook: https://www.facebook.com/BABYMONSTER.ygofficial
TikTok: https://www.tiktok.com/@babymonster_yg_tiktok
Weibo: https://www.weibo.com/u/7811488144
Here's a quick look at the members:
Haram, 15 years old, South Korea
Haram began her training at YG in 2017. She has been described by the label as having "the essence of a YG vocalist". 
Ahyeon, 15 years old, South Korea
Ahyeon was the second member to be unveiled and in her video, she sang Saweetie & Galxara's Sway With Me. 
Chiquita, 13 years old, Thailand
She is the youngest K-pop idol to debut. And in a Singapore connection, her introductory video had her singing Singaporean Mandopop singer JJ Lin's song, Bedroom, featuring Anne-Marie. 
Asa, 16 years old, Japan
The fourth member of the group to be unveiled, Asa is said to have joined YG in late 2016. She showed off her rap and hip hop skills in a video, performing to Joyner Lucas' Look Alive (Remix).
Rora, 14 years old, South Korea
Rora already has some experience in the industry, having been a member of the kids' group U.SSO Girl. 
Pharita, 17 years old, Thailand
Pharita is one of three Thai idols under YG, alongside fellow Baby Monster Chiquita and labelmate Lisa of Blackpink. 
Ruka, 20 years old, Japan
The oldest member of the group has been a YG trainee for five years, the longest among all the members of the group. 
Meanwhile, labelmates Blackpink will be performing in Singapore in May for two nights. General sales for the group's second night on May 14 start on Thursday. 
Related: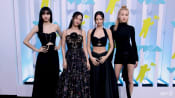 Ticketing details for Blackpink's 2nd concert in Singapore out now
Lisa of Blackpink has designed a limited edition watch with Bvlgari