Handing me a glass, Simon Zhao, owner and distiller of homegrown distillery Compendium Spirits, invites me to tap a small portion of arrack from a four-litre barrel in his cellar. It has spent about a month in the barrel – as the chalked words '4 February 2022' on the oak indicate – so the liquid that emerges from the small tap has a slight amber hue in what would otherwise be a colourless spirit.
As a spirit, arrack is as Southeast Asian as they come. Distilled from fermented gula melaka or coconut sugar, it has a sweet fragrance and a dry finish. Zhao's aged arrack, albeit a very young one, has a hint of oiliness and vanilla to it, the result of its interaction with the oak. Zhao plans to let it age in the barrel for a few more months.
The aged arrack is part of Compendium Spirits' new Chartered programme, a bespoke barrel-ageing service that lets customers age their own barrel of spirit from scratch, the first of its kind here in Singapore.
The programme lets the customer pick from four base spirits – arrack, rum, honey spirit, and rice whiskey, which are all fermented and distilled at the distillery – for the ageing process. This personal customisation differentiates it from other barrel-ageing services offered elsewhere in the world, where the customer would pick from casks that already hold spirits selected instead by the distillery or producer.
Related: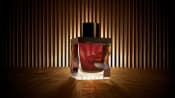 In Singapore, the world's oldest whiskies are making their debut
 "The Chartered programme is a journey for the client to explore craft spirits with us," said Zhao, 37, who hails from China and has since become a permanent resident here after living here for more than 25 years. He started Rachelle The Rabbit Meadery, Singapore's first meadery, in Tuas in 2015 after dabbling with home brews.   
He moved his facility to Mandai Foodlink, an industrial food building, in 2018, occupying a modest 200 sq m space that is now home to fermentation tanks, distillation pot stills, a cellar, and a small bar and tasting room on the second floor. The company was then rebranded to Compendium Spirits.     
Zhao's wife, Joey Wang, who's also the co-founder, assists him in the distillery in what is largely a husband-and-wife production team. They have a staff overseeing the sales.       
The distillery focuses on producing spirits made from Southeast Asian ingredients to "showcase what the region has to offer and bring out the uniqueness of those ingredients".     
Some of the spirits in the product range come with very Singaporean flavours. For example, the Chendol Gin is distilled from gula melaka and re-distilled with juniper berries, pandan leaves and coconut in a pot still. There's also the Kopi-O Liqueur, a rum cold-brewed with ground coffee powder, filtered with traditional kopi "socks", and lightly sweetened with black sugar to create an alcoholic version of the heartland brew.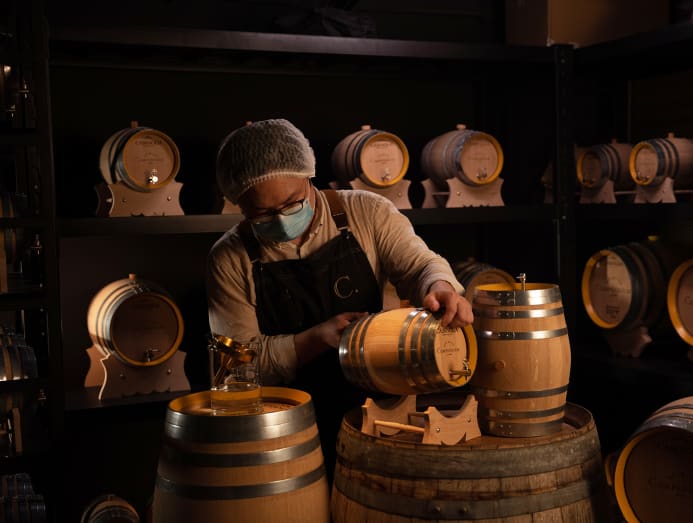 Related: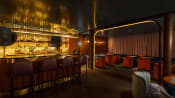 What's next for Singapore bars after dominating the World's 50 Best Bars 2021?
BARREL-AGEING IN HUMID SINGAPORE
The ingredients for the four base spirits in the Chartered programme come from neighbouring countries: Gula melaka from Indonesia for the arrack; molasses from Malaysia for the rum; honey from Thailand for the honey spirit; and Thai Hom Mali rice for the rice whiskey.
While the rice whiskey seems like a local variant of the Japanese shochu, Zhao claims its production actually leans towards conventional whisky-making: Amylase, instead of koji mould used in shochu production, is added to the steamed rice grains for saccharification, after which the mash undergoes fermentation and distillation.
For those new to spirits or looking for a crowd-pleasing tipple to start their barrel-ageing project with the distillery, Zhao recommends going for either the arrack or the rum. The rice whiskey "takes a little while to understand as it's quite different from a Scotch".     
Once you have chosen your base spirit, you pick from four barrel sizes that come with corresponding minimum ageing periods: four-litre (three months), eight-litre (six months), 16-litre (nine months), 32-litre (12 months).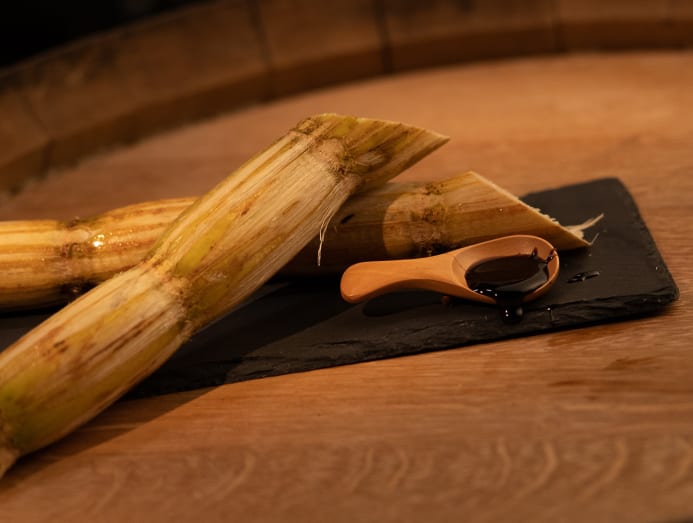 The minimum ageing periods for the barrels, with their precise multiples of three, are not lifted from some industry textbook. They are based on Zhao's own research and experimentation over the past few years. Each minimum ageing period represents "a sweet spot in the ageing process".
The smaller barrels, with their shorter ageing periods, don't imply a less qualitative ageing process. Zhao emphasised that smaller barrels have a shorter ageing period because of their higher surface area to liquid ratio – a greater volume of the liquid comes into contact with the barrel interior, accelerating the ageing process.   
 
The barrels are made of American oak and produced by Casknolia, a cooperage in Montilla, Spain.     
Prices for the Chartered service differ depending on the base spirit and barrel size. A four-litre barrel of rum, which would produce 13 bottles (500ml each), costs S$1,188, while a barrel of arrack in the same category is priced at S$1,288.     
The 32-litre barrel, which offers the longest maturation of a year, will fill up to 103 bottles. All the barrel-aged spirits, regardless of ageing duration, will be bottled at 68 per cent ABV or cask strength.
Related: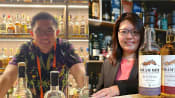 Who are Singapore's very own independent whisky bottlers?
According to Zhao, a couple of corporate clients have already expressed interest in the Chartered programme, even though the service is largely targeted at private customers.     
Zhao also anticipates that people will ask why his barrel-ageing programme is so short when compared with the regimens of whisky producers in Europe. For example, Scotch whisky must, by law, be aged for a minimum of three years in casks.     
Hot and humid Singapore is the reason why he prefers to keep barrel maturation to just a year. He has to consider the Angel's Share, a term that refers to the amount of spirit lost to evaporation during barrel-ageing, which is decidedly higher here than in Scotland, and the fact that hotter climates speed up the maturation process.   
 
"The Angel's Share in Scotland is about two per cent per year; in Taiwan it's six per cent. In Singapore it'd be about 10 per cent, so after a year, you'd have 90 per cent of the spirit left, and after three years, you'd have 70 per cent – or less – of it remaining in the barrel," explained Zhao. He added that a bigger Angel's Share also means the spirit would become more concentrated.     
He is willing to accommodate customers' requests to age their spirit beyond a year, though.   
 
"To us, over-ageing is as bad as under-ageing. So if somebody wants to go beyond 12 months for the ageing, we will discuss it with them. We'll let them taste and decide whether they want to extend the maturation," he said. If customers feel that the eventual Angel's Share is too much, they may choose to top up the barrel with new spirit, he added.     
"At a certain point, we will recommend that they try to slow down the ageing. One way to do this is to wrap the barrel with cling wrap to slow down the evaporation," he said.     
Zhao said those willing to experiment a little further can also reuse their barrel and age a different base spirit in it, for example, a rice whiskey in their ex-rum or ex-arrack cask. There are no rules or limitations regarding what can be filled into a used cask. "The combination [depends on] the client's personal preference," he said.   
 
"We prefer not to say, 'Do this and don't do that'. Let's learn about the possibilities of craft spirits together. It's a joint effort."
Related: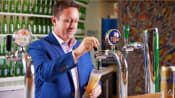 Tiger Beer chief: Soon you can tap your own draft beer at home