Actor Pierre Png has revealed more information about Andrea De Cruz's health scare last year, which involved her second COVID-19 jab.
On Dec 30, the 48-year-old actor shared on Instagram how his wife's health "took a turn for the worst".
And in a recent interview with 8days.sg, the actor, who's starring in the new drama Home Again, elaborated that it had to do with De Cruz having a "not so good reaction" to the jab; she subsequently ran a fever, which they then suspected was something more serious than just a usual side effect.
"We were worried about her, so we brought her to the clinic," shared Png, who initially thought she had either contracted COVID-19 or, the "worst case scenario", malaria.
"She was cleared of both," he said. "But then came the third reason she might have a fever, and it's because of a rejection of the liver. It turned out to be the worst of the three options." De Cruz was then put on steroids and received a higher dosage of medication.
In 2002, the 47-year-old De Cruz had suffered liver failure after taking Slim 10 pills, with Png, who was then her boyfriend, donating part of his liver to save her life. She has since been on immunosuppressants to prevent her body from rejecting the new liver. 
Immunocompromised individual are advised to consult with doctors before getting vaccinated; Png shared that they decided to get her jabbed because of the new COVID-19 variants cropping up.
From the looks of De Cruz's recent social media post, she's doing better, although Png shared: "It doesn't look like they're going to lower the medication anytime soon… she will not be going for her booster shot, so… we don't know what to do, but as far as we're concerned, the numbers are coming down."
Png was referring to the liver function tests to monitor how the medication is working to "calm down the liver". 
He added: "Her next blood test is in about two weeks' time, so we will just keep our fingers crossed…Right now it's just me wanting to be safe, (and) wanting to take all necessary precautions. I will only be happy when all the numbers are black."
Related: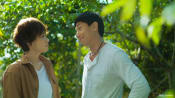 Ya Hui, Desmond Tan, Pierre Png experience farm life in Sungei Tengah for new TV drama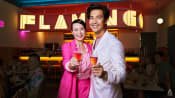 Who's more fun when they're tipsy – Pierre Png or Andrea De Cruz?