Rihanna was pregnant with her second child as she performed her Super Bowl halftime show on Sunday (Feb 12).
The singer's representative confirmed the pregnancy shortly after she ended her 13-minute set at Super Bowl 57. The 34-year-old hovered high at times as she performed a number of hits including We Found Love, Diamonds and Work during a halftime break between the Kansas City Chiefs and Philadelphia Eagles at the State Farm Stadium in Glendale, Arizona.
The performance lacked the surprise guests stars included in many previous Super Bowl halftimes, save one – her representative revealed afterward that the singer is pregnant with her second child.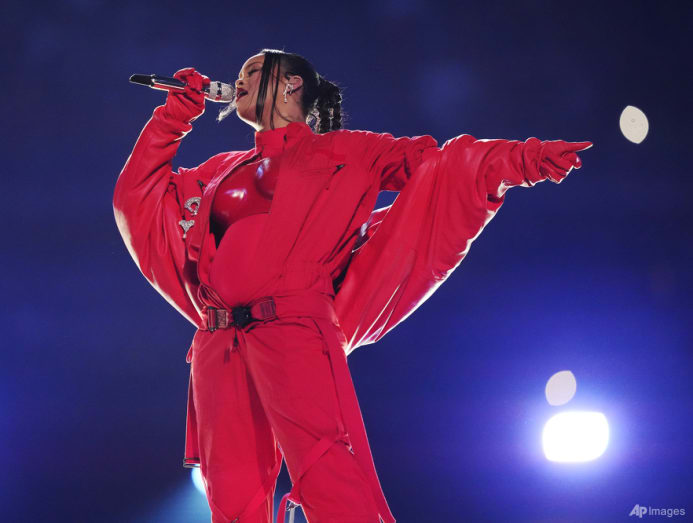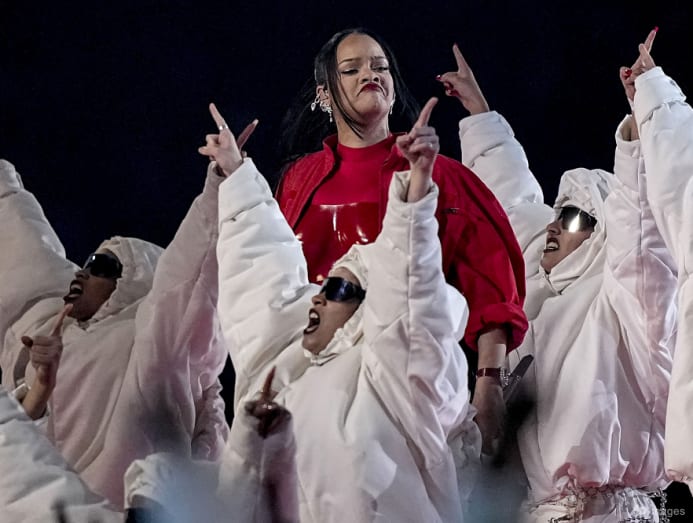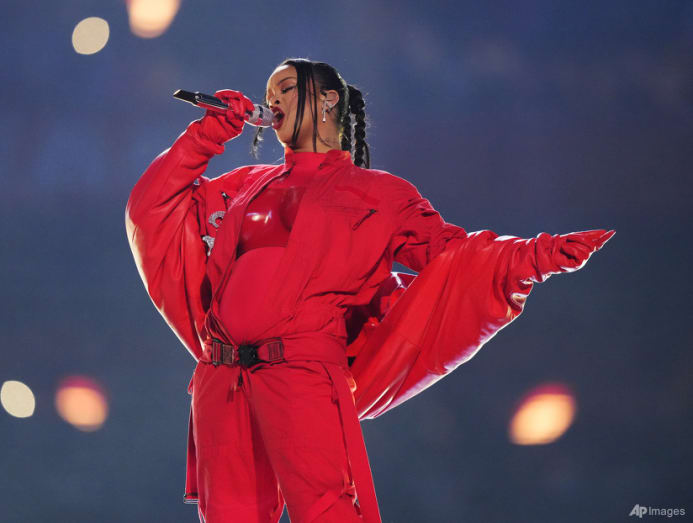 Rihanna wore a puffy, bright red jumpsuit with tight, rubbery garb underneath that showed a baby bump that fuelled a wave of social media speculation until the big revelation. She stood on a transparent rectangular platform that raised and lowered as she belted out the lyrics to Bitch Better Have My Money over the turf where the Philadelphia Eagles and Kansas City Chiefs were battling moments earlier.
Dancers wearing white ski-style suits and shaded goggles had their own suspended platforms that moved in concert with hers.
She and the dancers were lowered to a long stage that matched her outfit as she sped through hits including Work, Where Have You Been, and Only Girl, belting out "Want you to make me feel like I'm the only girl in the world".
There were also none of the constant costume changes and scene shifts from previous years. The theme – and the color scheme – stayed the same throughout the 13-minute show, with red lights bathing the stage at times and golden fireworks exploding in the air above her.
The long stage allowed for extended pull-away shots as she stared down the camera and overhead tracking shots of Rihanna and her dancers.
At one point she powdered her face and checked it in a mirror before getting back on the mic.
Lights sparkled from the stands as she was hoisted alone back into the air and sang Diamonds – with its refrain of "shine bright like a diamond" – as the set closed.
Rihanna's performance was her first solo performance event in seven years, and her first since becoming a mother for the first time nine months ago.
During her media preview on Thursday, Rihanna said she was initially unsure about taking on the challenge of performing during a time when she was three months postpartum and wondered "should I be making major decisions like this right now? I might regret this".
"But when you become a mom, there's something that just happens where you feel like you can take on the world, you can do anything," Rihanna said. "The Super Bowl is one of the biggest stages of the world. As scary as that was, because I hadn't been on stage in seven years, there's something exhilarating about the challenge of it all."
A nine-time Grammy Award-winner, Rihanna has 14 No 1 Billboard Hot 100 hits, including We Found Love, Work, Umbrella and Disturbia. She has a nine-month-old son with rapper A$AP Rocky.