Cairns is an adventure and nature lover's dream. With the Great Barrier Reef off the coast and UNESCO World Heritage tropical rainforests inland, this city north of Queensland is the perfect place for excitement in the water and on land.
With VTLs open now for Singaporeans to visit Australia, you can fly direct to Cairns and kick off your expedition. Alternatively, intrepid travellers may take the road less travelled and fly into Brisbane, rent a car and take a road trip across the exciting coastal towns of Queensland.
Our list of must-see stops and must-do activities will help you build your travel itinerary for your epic adventure to Cairns and beyond.
Time to mix-and-match – and maybe even extend that holiday even longer?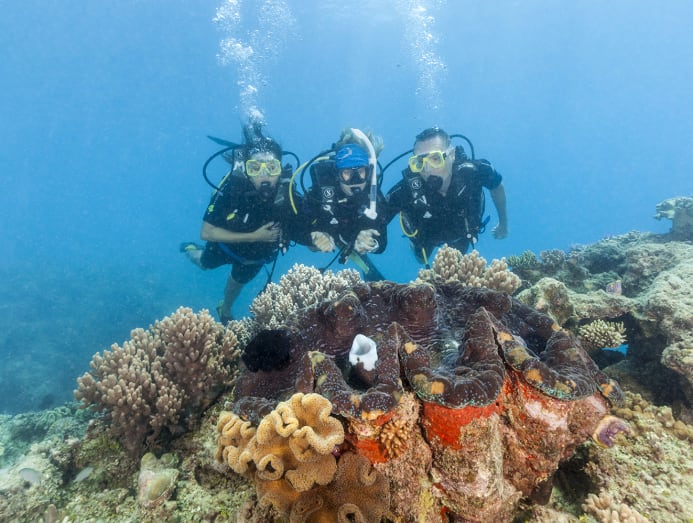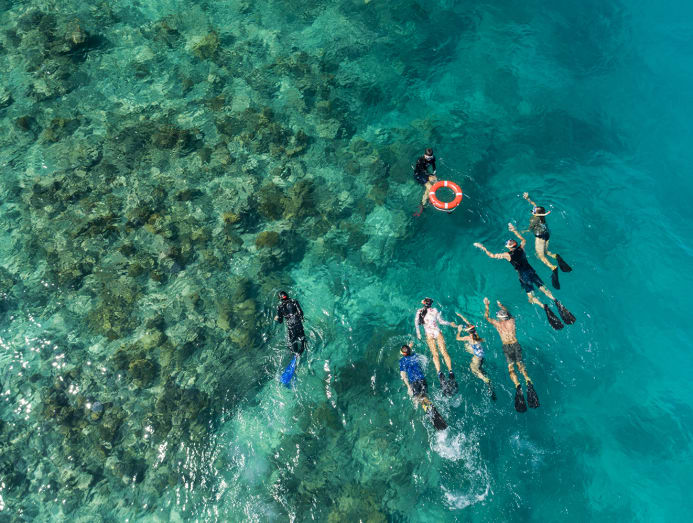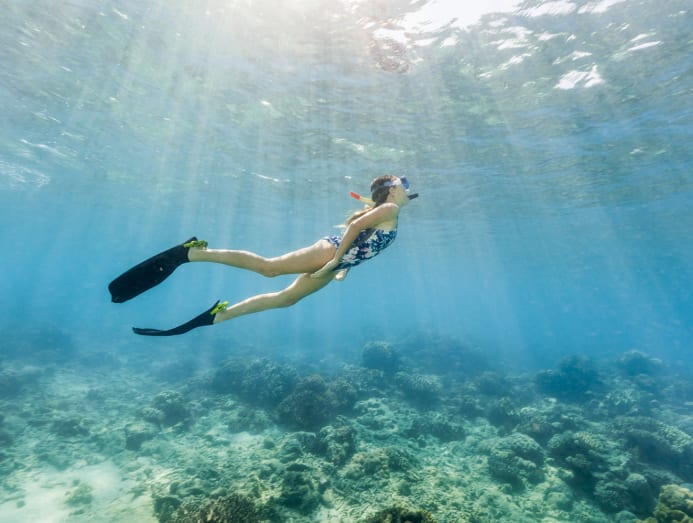 Related:
The ultimate road trip guide to exploring Australia's Sunshine Coast on a self-drive holiday
PLACES EN ROUTE TO CAIRNS
PITSTOP #1: NOOSA FOR THE EVERGLADES AND NATIONAL PARK
Off the Sunshine Coast, this beautiful town is your kick off for the drive towards Cairns. Noosa is nestled between the rolling waves of its pristine beaches that are perfect for surfing, a UNESCO Biosphere Reserve in its Noosa Everglades and its own Hinterland, plus the Noosa National Park.
The Noosa Everglades are one of two in the world and you'll explore it best by its waters on a cruise, or kayak to glide by the native banksias, reeds, melaleucas and tea trees. Its diverse ecosystem also features 40 per cent of the country's bird species so you'll see pelicans, ducks, the eastern ground parrot, eagles and even a rare jabiru.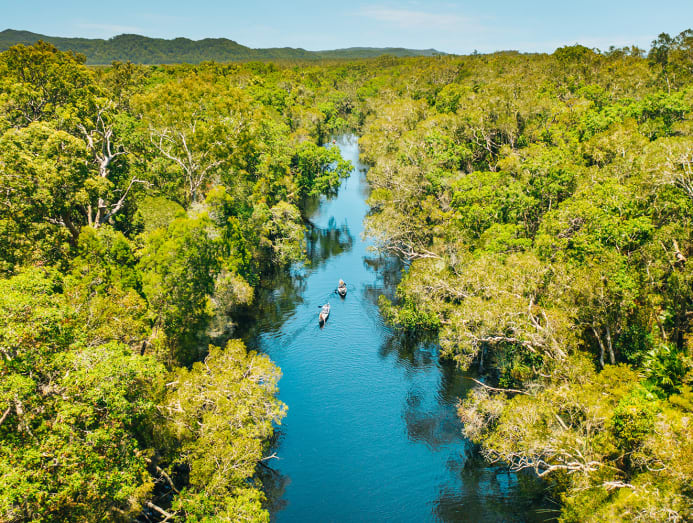 For an adrenaline rush amid the lush tropical parks, take a quad bike tour for a heart thumping ride through the nearby Woondum National Park. Then, take in the sights at the rock pools.
Noosa is also a food lover's haven with cafes, notable restaurants plus local craft breweries and distilleries. You also don't miss the markets while there. Check out Belmondos Organic Market which is open Mondays to Saturdays featuring the best of local organic wholefoods like bakes, cold-pressed juices, jams, meats and wellness products. On Sundays, the Noosa Farmers Market provides a bustle of activity where you can indulge in the best of Noosa's fresh produce, cheese, and even handicrafts.
For more ideas in and around Noosa, see here.
PITSTOP #2: HERVEY BAY, FRASER ISLAND (K'GARI), 1770 AND AGNES WATERS
Head further north, you'll hit Hervey Bay, a favourite spot for watching humpback whales and the launch pad for your travels to Fraser Island, another World Heritage Listing. Hervey Bay features 14 km of golden beaches and is perfect for a quiet day as you relax.
Fraser Island, on the other hand, provides an itinerary of its own for adventure-seekers on both land and sea. The indigenous Australian Butchulla community have had a long history with the island and last year, Fraser Island was renamed K'gari (pronounced "gurri), which means paradise to the Butchalla community. And paradise it is. This is one of the only places in the world where the sand supports rainforest growth.
Take a 4WD to explore all 122 km of the island and explore the island's natural wonder Lake Mackenzie and swim in its crystalline blue waters. Or simply relax and take a floatie down Eli Creek. For more ideas on how to explore this paradise, see here.
Agnes Water and the town of 1770 is a quiet and secluded community seaside area which is also known for its rolling surf breaks. Pick up surfing here in a small group and enjoy the ocean's rhythm as you learn to ride the waves. Finally, watch the sunset from your paddle board or kayak to round off the day.
PITSTOP #3: BUNDABERG FOR SEA TURTLES, THE BUNDABERG RUM DISTILLERY AND SOUTHERN GREAT BARRIER REEF
Known as sea turtle HQ, Bundaberg is where the Mon Repos Turtle Centre is, and the centre supports the largest group of nesting sea turtles on Australia's east coast. During the nesting season from November to March, Mon Repos' expert park rangers will share their experiences with these endangered turtles. If you're lucky, you can also watch these eggs hatch. Find more ways to see turtles in their underwater homes here.
Thanks to the volcanic red soil surrounding the town, Bundaberg is also called Australia's food bowl. Its paddock-to-plate experience is something to remember and enjoy berry picking or the off-road stalls or markets that bring produce straight from the local farms. While in Bundaberg, set aside some time for the Bundaberg Rum Distillery which gives visitors a glimpse of how its 130-year distillery works.
What's more, you can use Bundaberg as a base for your visits to the Southern Great Barrier Reef, making it the perfect launchpad to check out islands like Lady Musgrave Island. Take a Glass Bottom Boat tour and see colourful parrotfish or see the hawksbill turtles swim alongside the boat. For those keen on snorkelling, in two hours from the Bundaberg Port Marina, you'll be able to snorkel in clear waters over stunning coral reefs.
Lady Elliot Island is a 30-minute flight from Bundaberg or a two-hour drive using the Bruce Highway. The island is originally a coral cay which grew towards the sun thousands of years ago. Better known for its manta rays, Lady Elliot is also a sanctuary for 1,200 different types of marine life. What's more, you will find 105 species of birds on the island, the second highest diversity of bird species on the Great Barrier Reef, after Lady Musgrave Island. Check out this award-winning eco-resort which lives and breathes sustainability as a resort on the pristine coral cay this side of the Reef.
PITSTOP #4: MACKAY FOR EUNGELLA NATIONAL PARK AND KANGAROOS AT SUNRISE ON CAPE HILLSBOROUGH BEACH
The city of Mackay, historically known for having Australia's largest sugarcane farming regions, it is also home to two famous national parks.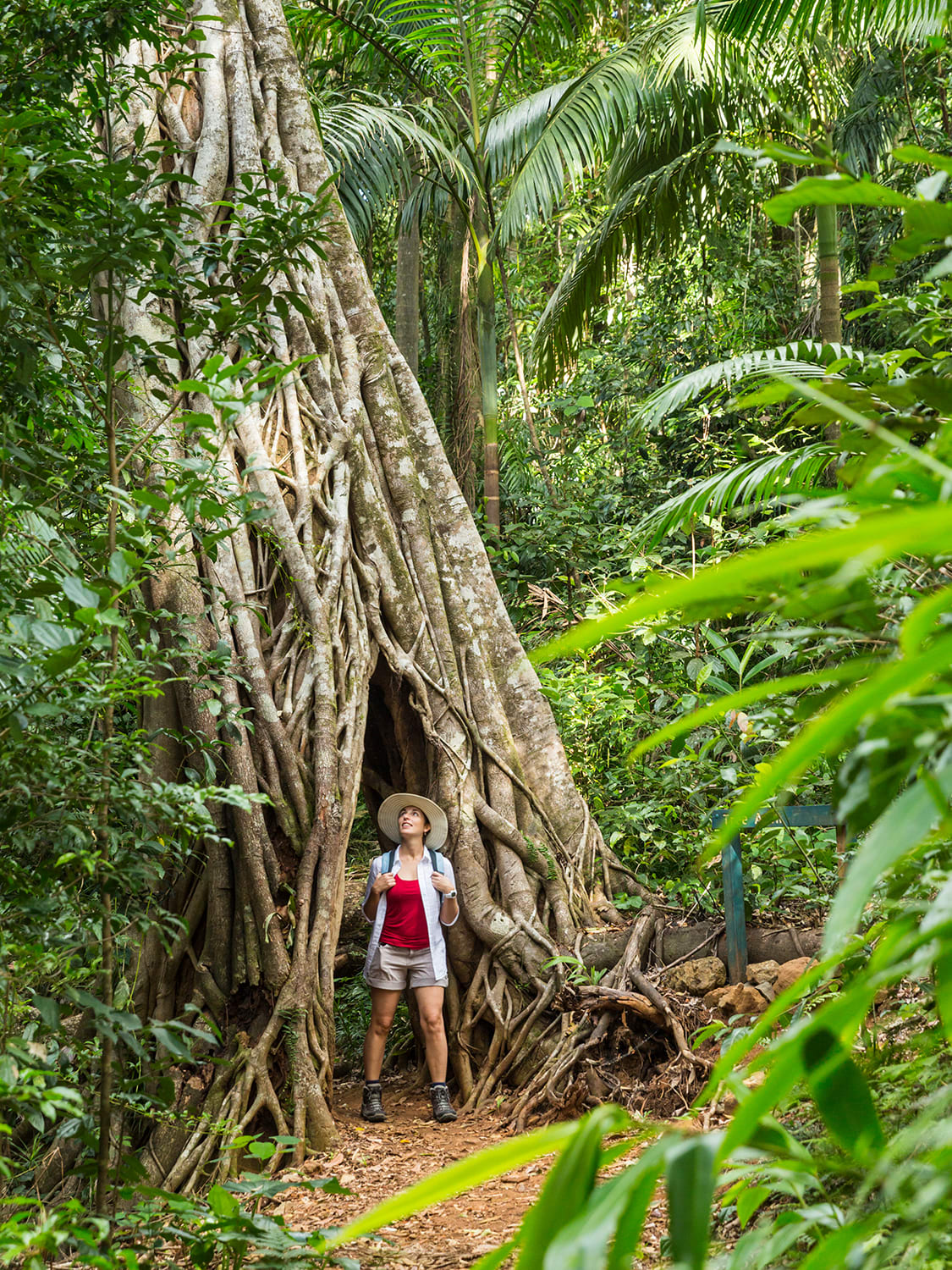 Eungella National Park sits 686m above sea level and features 22km of bushwalking tracks within its sub-tropical rainforest. It is the result of millions of years of granite over fertile red soils. It also has sections which meet parts of the 56km Mackay Highlands Great Walk. Eungella is an Aboriginal name meaning "land of the cloud" and it describes the park's mist-covered trees and surroundings. Don't miss Pioneer Valley for its astounding views of the gorges that make up the park, alongside the park's gullies and rivers.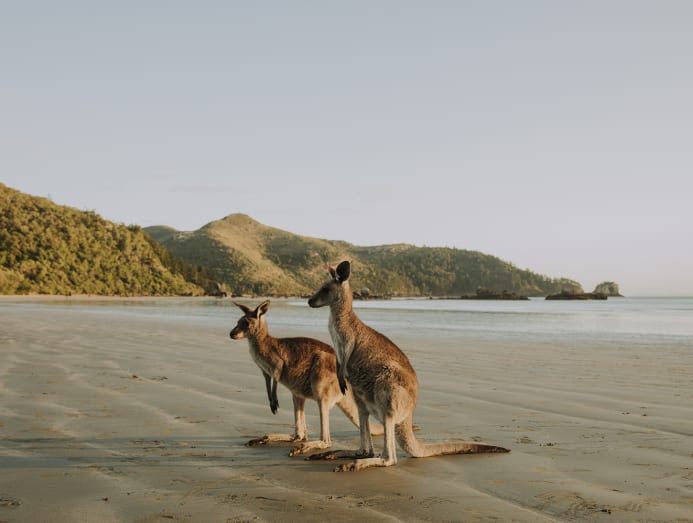 Wake up with the wallabies on Casuarina Beach at the Cape Hillsborough National Park. It's worth the early wakeup call as these marsupials love the morning sun and are friendly creatures too. A word of caution: Even if they are friendly creatures, capture your memories without flash photography or making loud noises as these wild creatures can get spooked.
PITSTOP #5: AIRLIE BEACH AND THE WHITSUNDAYS
Make a stop at Airlie Beach as it's the gateway to The Whitsundays. The Whitsundays has 74 sandy isles, the most popular ones being Hamilton, Hayman and Daydream island. Take a speedy tour of the islands with a jetski or get on a Stand-Up Paddleboard (SUP) and glide across the calm waters to explore the isles and beaches.
The Whitsundays are best discovered by water so sailing is a popular but pricey option. Some companies look for volunteers so if you have a day free and don't mind on-the-job learning, it's a great way to explore. Here are some ways to enjoy it without overspending.
Spot crocs at the Proserpine River at the Croc Safari which is the only crocodile tour at the Whitsundays.
PITSTOP #6: TOWNSVILLE FOR DIVING AT THE SS YONGALA
Although it's known for being one of Australia's largest army barracks, Townsville has no lack of things to do in and outside of the urban areas.
Start with a dive at one of the world's best dive sites, the SS Yongala, a ship that sank off the coast in 1911 due to a tropical cyclone. Today it sees almost 10,000 open-water certified divers annually who are keen on its thriving marine life of manta rays, turtles, Maori wrasse as well as olive sea snakes.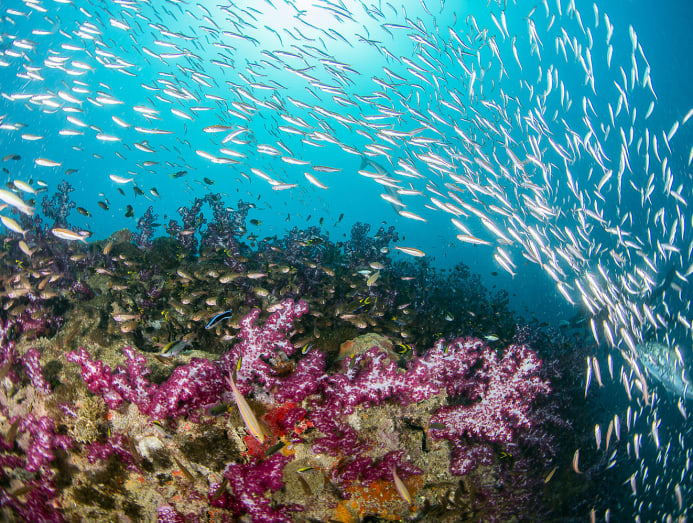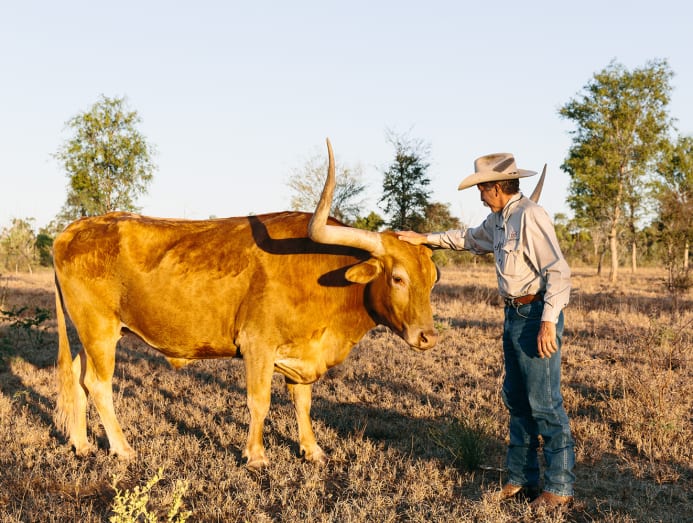 Take a trip to the Outback for the Texas Longhorn. These magnificent cattle can only be seen by one of the last horse-drawn wagon rides in all of Australia while on the Texas Longhorn Safari. This iconic breed has the longest horns in the world and are descendants of the Longhorns that were walking the great trails of Texas in the 1800s.
PITSTOP #7: MISSION BEACH FOR BEACH LIFE
This is a 235km stretch far into the north of Queensland and Mission Beach is a stunner with 14km of white sandy beaches. The Mission Beach Drive allows you to rest and plan for what happens when you finally descend upon the city of Cairns the next day.
However, if you're up for some excitement, go whitewater rafting at the Tully Gorge National Park where you'll raft through an incredible gorge that offers both tranquil water within the rainforest and exhilarating rapids.  
ON THE FINAL STRETCH TO CAIRNS
From Mission Beach to Cairns, this drive is short compared to the 1,700km you just took from Brisbane.
This drive will give you an amazing city view of Cairns, much welcomed after traipsing through the coastal and inland rainforests. Don't forget to drive by Innisfail to see the Art Deco architecture and for the active, check out the Misty Mountains Trail – here you get to do long-distance hikes with walking trails amid a high-altitude forest.
And just like that, within a two-hour drive, you have arrived in Cairns.
PLACES TO SEE FROM CAIRNS – ADVENTURE CENTRAL AND BEYOND
This city in Queensland isn't called the adventure city of Australia for nothing. With the Great Barrier Reef off its coast and UNESCO World Heritage sites where 80 per cent of its land is protected under a World Heritage listing, Cairns is just bursting with things to do and places to see.
PITSTOP #8: THE GREAT BARRIER REEF
No one makes a trip to Cairns without visiting the Great Barrier Reef. The biggest attraction in Cairns and undoubtedly one to behold, it's the world's largest reef system and home to 10 per cent of the world's fish species. It is spread across 2,600km along the coast of Queensland where you can explore 900 islands, with 2,900 individual reefs.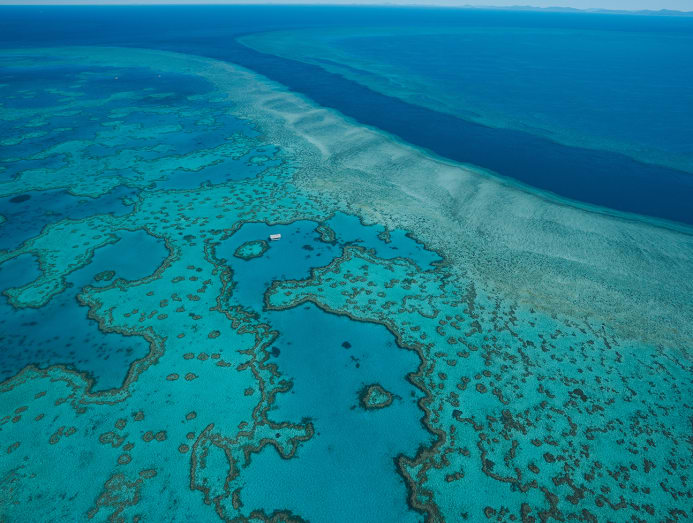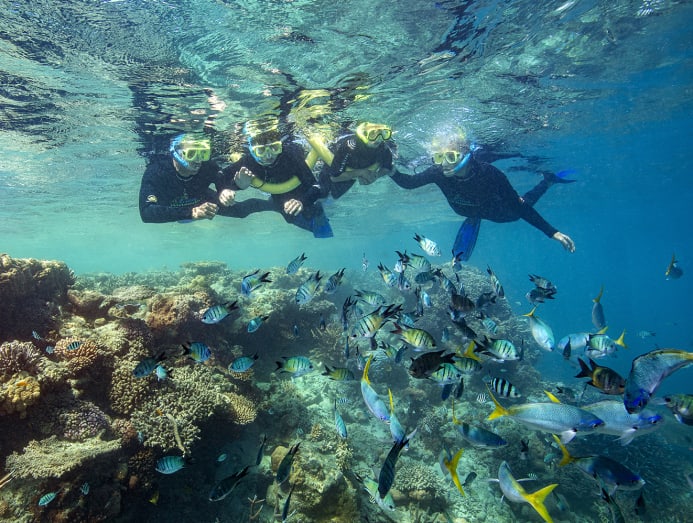 Since 1981, it has been a UNESCO World Heritage Site, and due to Queensland's favourable weather conditions all year long, there's never a bad time to visit. Being at risk of balancing the underwater ecosystem with climate change and tourism, visitors are asked to be eco-mindful as they visit.
Underwater wildlife lovers will enjoy visiting anytime of the year and here's a quick guide on what to see and when:
| | | |
| --- | --- | --- |
| WHEN YOU TRAVEL | WHAT YOU'LL SEE | WHERE TO SEE |
| January – March | Turtle hatching | Mon Repos, Heron Island, Fitzroy Island and Lady Musgrave Island |
| June – July | Dwarf minke whales | Port Douglas and Lizard Island |
| July – August | Manta Rays | Lady Elliott Island and North Stradbroke Island, south of Great Barrier Reef |
| July – October | Humpback whales | Hervey Bay, Heron Island, Lady Elliott Island and Lady Musgrave Island |
| November – December | Turtle nesting | Fitzroy Island, Wilson Island |
The list doesn't stop there. You get to feast your eyes on clown fish, giant clams, Maori wrasse, the potato cod and check out six of the world's seven marine turtles that are found at the reef. Maybe you can even check out the turtles which are rescued and rehabilitated at Fitzroy Island's Turtle Rehabilitation Centre.
You can explore the reef in many ways: Keen divers can take a day or two to explore the expansive reefs, or if you prefer to see things on the surface, take a tour to enjoy snorkelling. For families with young children, take an eco-certified reef tour to full immerse yourself in the colourful corals and marine life.
Check out a full listing of diving, snorkelling or sailing tours here.
PITSTOP #9: SKYRAIL RAINFOREST CABLEWAY
Just 15 minutes north of Cairns is the Skyrail Rainforest Cableway, a scenic tourist cableway spanning 7.5km above the Barron Gorge National Park. The National Park is 10,000 years old and a Wet Tropics of Queensland World Heritage Site, which is recognised internationally to have plant and animal species unique only to the Wet Tropics. This area also has the oldest continuously surviving rainforests on earth.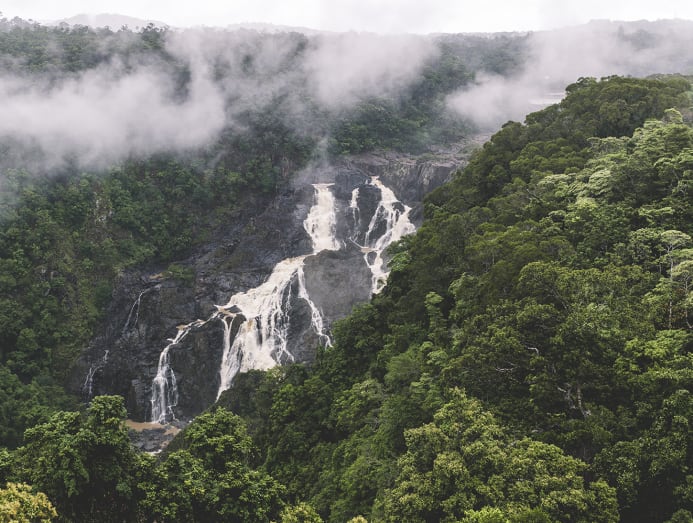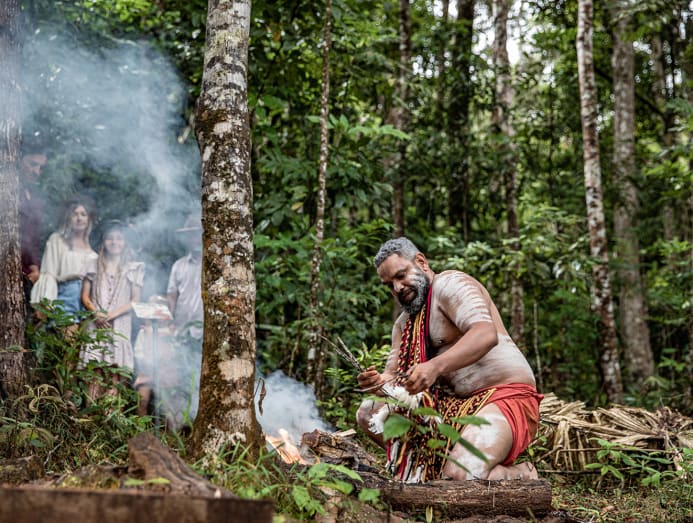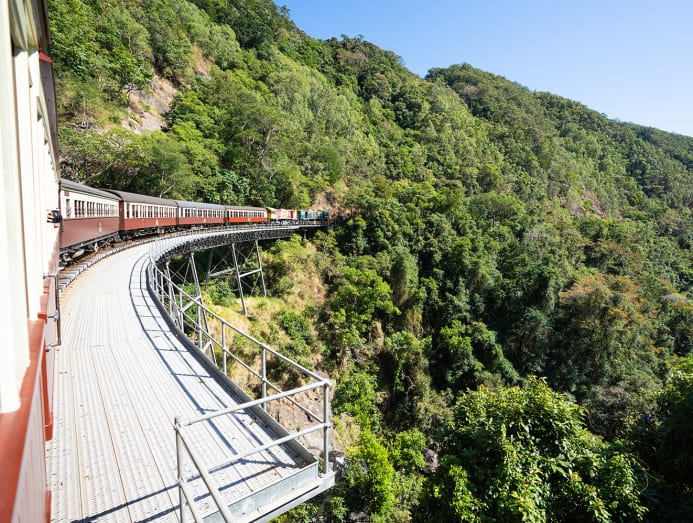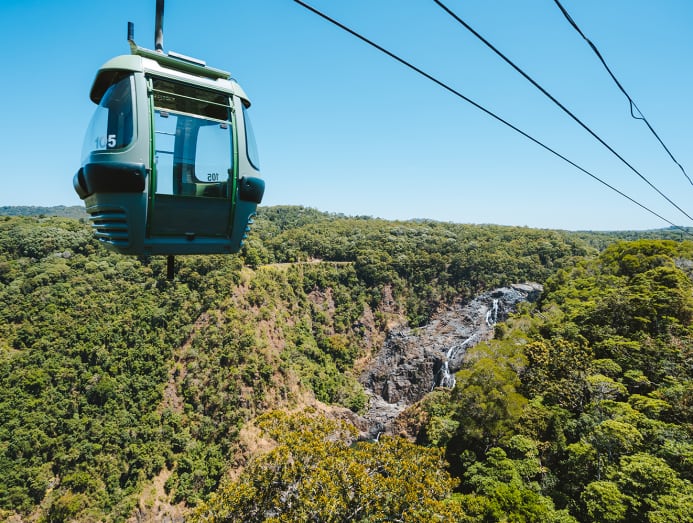 So it's no wonder the Skyrail Rainforest Cableway is the best way to take a look at the Barron Falls, stop at The Edge Lookout and incredible waterfall views. Round off the trip with the Kuranda Scenic Railway that goes 328m above sea level to the Kuranda village, where you'll stop to learn about the heritage of the Australian Indigenous of the area.
Prepare to spend at least half a day here and soak in the sights from the lookout, enveloped by a cloud of mist as the falls rush down the Gorge.
PITSTOP #10: SKYPARK CAIRNS
Thrill-seekers must not miss out at Skypark Cairns by AJ Hackett, Australia's one and only bungy jump. Perched 50m above a natural lagoon and you'll find 16 jump styles, plus a Giant Swing that gets up to 120km/h in 3.5 seconds (gasp!).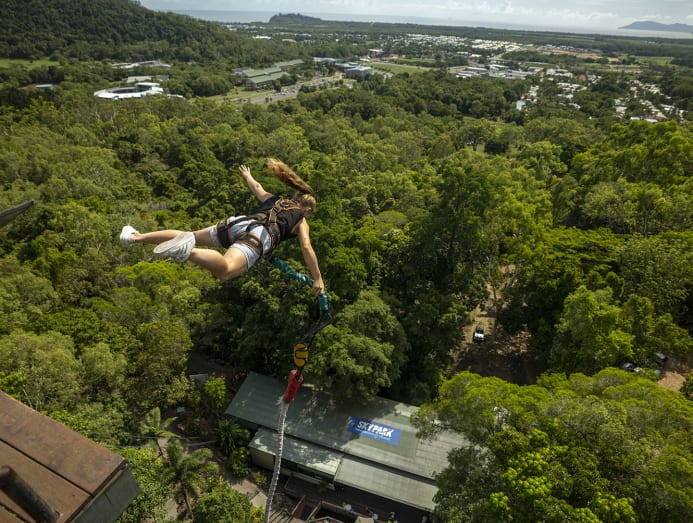 A new feature at the Skypark, Walk The Plank suspends you 140m above sea level as you walk and take in panoramic views of the GBR and the surrounding World Heritage rainforests.
PITSTOP #11: CAPE TRIBULATION
Cape Tribulation is a significant UNESCO World Heritage listed area where Australia's oldest and largest rainforest meets the only living organism that can be seen from space.
Cape Tribulation offer a cultural insight to Aboriginal history, the life and heritage of Australia's indigenous people, especially of the Kuku Yalanji people who have lived there for 50,000 years. Learn about their history, their way of life around their traditional homeland, the Mossman Gorge.
Find out more about visiting the Mossman Gorge and learning its heritage here.
PITSTOP #12: DAINTREE FOREST
Just an hour's drive from Cairns and you'll reach Port Douglas. A thriving town towards the north of Queensland, this area is popular for its off-the-road adventures.
The Daintree Forest is the oldest surviving rainforest in the world and is believed to be 180 million years old. Its animal and plant diversity thrives in the Queensland climate and recent studies have found them to be 10 million years older than the Amazon.
Sir David Attenborough himself has called it "the most extraordinary place on earth" and it is worth spending more time there in the eco-friendly accommodations built within the rainforest.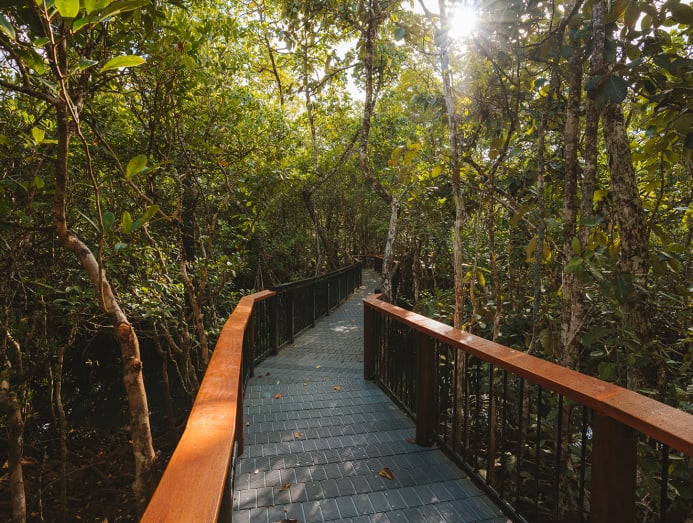 For those who prefer a unique experience, stay in an eco-lodge to have a full-on experience of living in the Wet Tropics World Heritage Rainforest. Immerse yourself fully and take hikes to go farther inland for a different type of adventure.
An ideal location is the Silky Oaks Lodge. It puts you in the heart of the region's spectacular natural sights: the Daintree Forest, the Great Barrier Reef, the Mossman Gorge within the Cape Tribulation. The Silky Oaks grants you views of the crystal-clear waters of the Mossman River while enveloping you in the lush rainforest within one of the forty private treehouses.
Another place to take in the rainforest sustainably is the Daintree Ecolodge. A luxury boutique resort with 15 eco-friendly bayans (or treehouse accommodations) where you wake up to the rainforest's sounds amid its lush surroundings.
Laze on the daybed or simply relax after a day's hiking in the bath, enclosed in glass, facing the forest's greenery. All water is recycled and toxic-free cleaners are used, what's more, all organic waste from the kitchens are used for composting or as feed for local livestock. When you're staying in a rainforest wonderland, you'll definitely want to preserve this for years to come.