Romeo Tan, Denise Camillia Tan, Desmond Ng, Fang Rong and other actors took a break from air-conditioned studio film sets to step into the shoes of emergency frontliners in a new, action-packed drama.
In Safe Hands is a 10-episode series that follows the lives of Singapore Civil Defence Force (SCDF) personnel as they handle emergency situations and save lives while juggling their own personal lives. The drama also stars Nick Teo, Tyler Ten and Jarrell Huang.  
For many of the cast members, getting to train under and learn from SCDF professionals made their filming experience really memorable.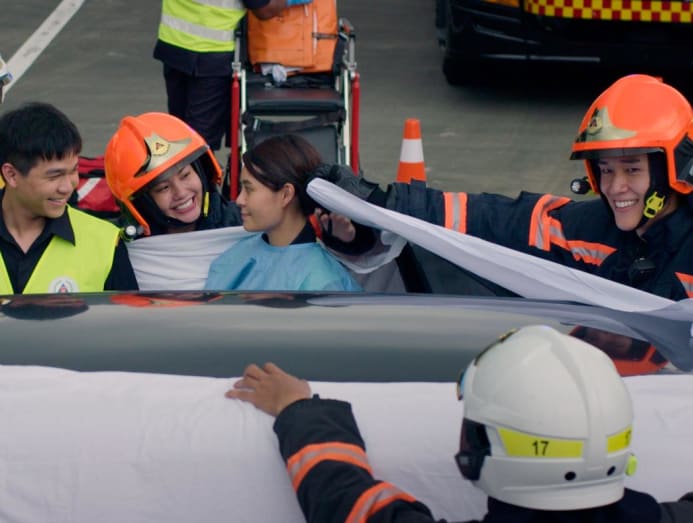 "I always wanted to play a character in uniform," confessed Denise, who plays a paramedic. "It feels like my dream has finally come true."
To prepare for their roles, each of the actors was assigned a mentor from the SCDF, she disclosed, and she personally underwent training in things like how to dress a wound. "It was an honour to be able to learn closely from them," she said.
One thing that became clear to her was that while people have the impression that being a first responder requires  physical strength, "it also calls for many soft skills like empathy and remaining calm in all situations,"  she said. "When I listen to them share their stories, I feel a lot of respect for them. They're very noble."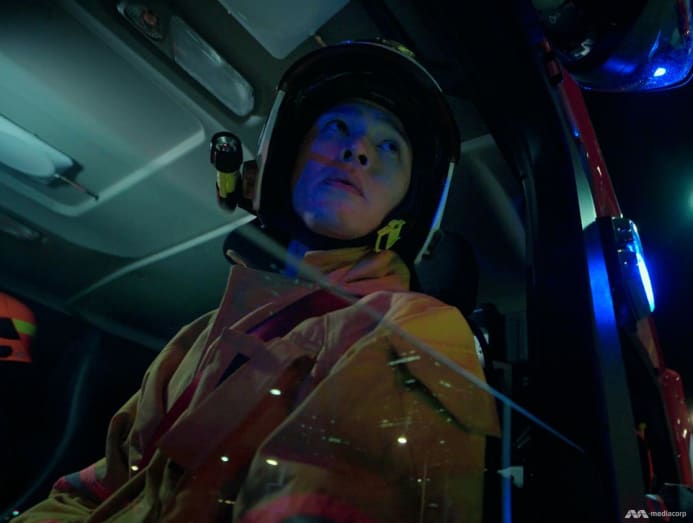 Meanwhile, Romeo spent a lot of effort acclimatising to how physically demanding it was in his role as a Commander. In the first place, the firefighting gear he wore was nearly 20kg in weight – not to mention the heat.
Fighting fires "requires a lot of mental strength – you can't even stop to think about being tired," he said.
For Ten in particular, the hot, heavy uniform was especially challenging because "my sweat glands are a bit more developed," he quipped.
"Occasionally, we would slip in a puddle of his sweat," Romeo chimed in.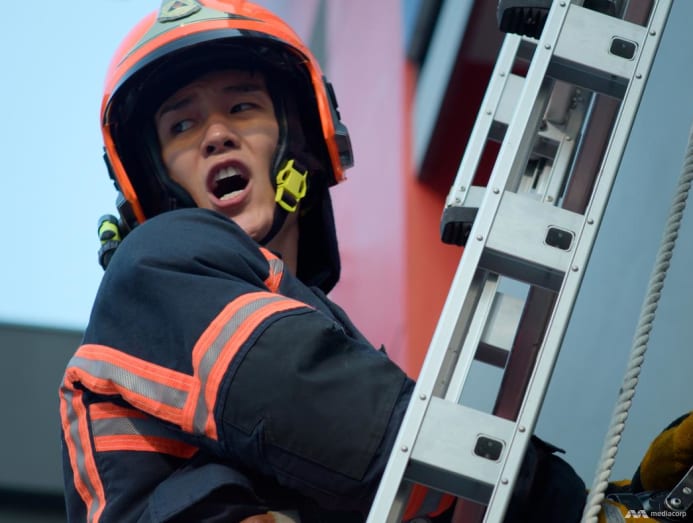 Romeo's and Denise's characters share some romantic chemistry, which is a first for Denise: "This is the most intimate I have ever been with a male actor in my career," she said with a laugh, explaining that her previous characters had only gone as far as friendly hugs with the opposite sex.
The sparks of young love balance out the action-packed fire fighting in the drama, which the cast say they hope will shed light on what our first responders do to protect and serve the community.
"We always hear the sirens of vehicles passing by, but we don't usually know where they're heading or what they do when they get there," Denise said. "There's a lot to learn from watching this show."
Catch In Safe Hands starting Mar 7 on demand for free on meWATCH and at 7.30pm, weekdays on Channel 8.
Related: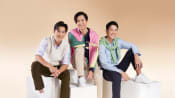 Meet Herman Keh, Zhai Siming and Tyler Ten: Star Search's new celeb trio is ready for the big time