SINGAPORE: As someone who can count on one hand the number of times she's been on a bicycle over the past decade, I was a little apprehensive when my editor asked me to check out Singapore's newest cycling route with my fellow journalist Jeremy Long.
Stretching from Rower's Bay Park in Seletar to Berlayer Creek near Labrador Park, the recently opened 75km-long green corridor is Singapore's longest recreational connection to date.
But having been starved of travel for so long, I was eager to get back into exploration mode and hopefully discover new things along the way.
To make it more manageable, Jeremy and I gave ourselves two days to complete the route, instead of trying to finish it within a day.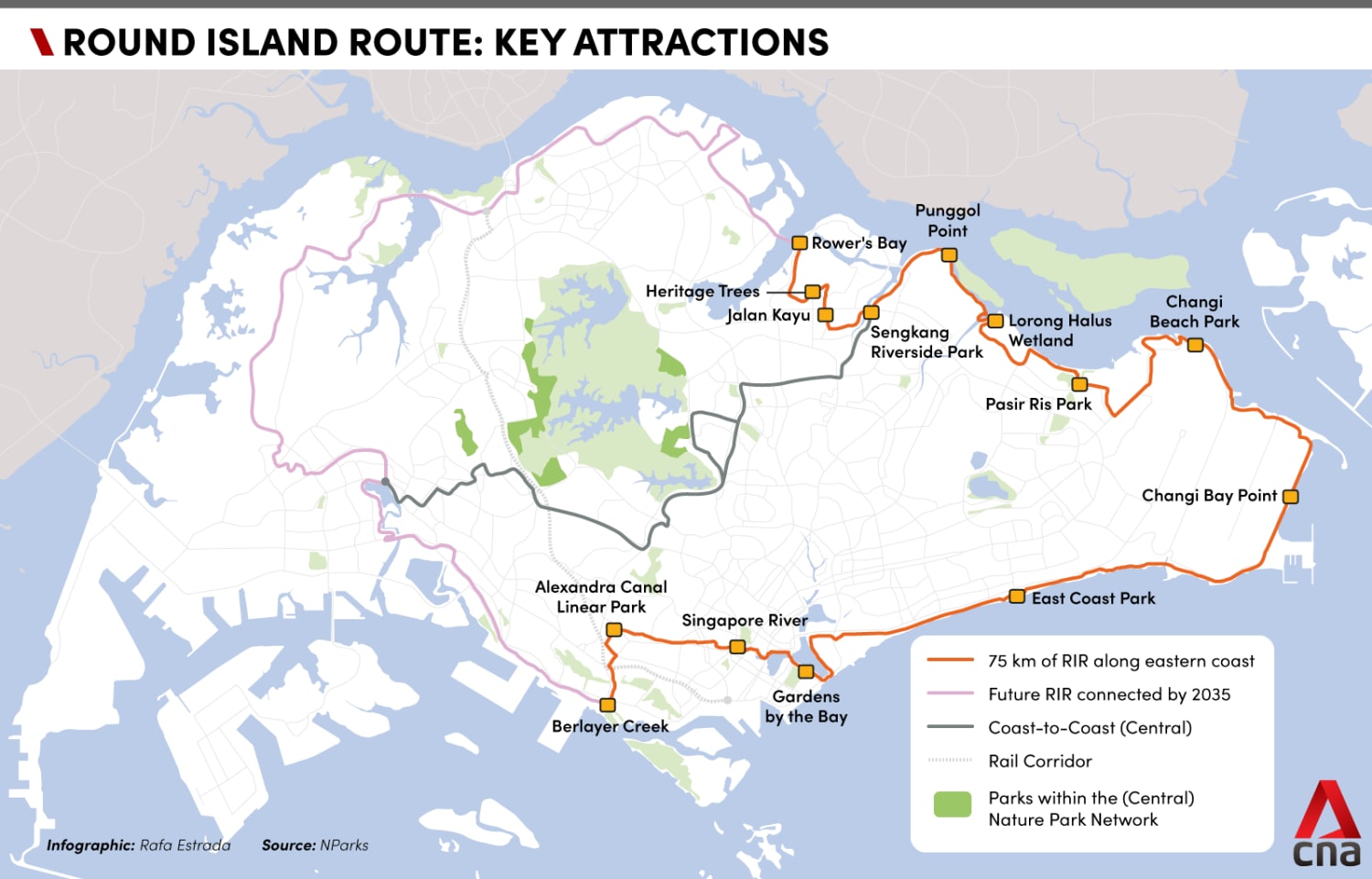 DAY 1: STARTING THE JOURNEY
It was sunny and slightly breezy when we began our journey at Rower's Bay Park in Seletar at 10am.
Nestled at the far end of Lower Seletar Reservoir, the park offered stunning waterfront views with picturesque skies. There's also a beautiful boardwalk that extends out to the water, letting us get a better look.
As we pedalled towards the Seletar Aerospace area, the pastoral surroundings of trees and greenery were slowly replaced with the grey buildings of an industrial landscape.
The loud noise from traffic was continuous, except when it was being drowned out by the sound of planes taking off at Seletar Airport.
But the spectacular view of the tarmac, as well as a rare sighting of a helicopter circling, quickly distracted me from the less pleasant aspects of this part of the route.
After a few twists and turns, the factories disappeared and were replaced with colonial-era houses.
The quiet and peaceful atmosphere was a sharp contrast to the one before, and I was grateful for the shade provided by the large trees lining the path.
Cycling beneath the thick canopy of trees, it was hard not to be in awe of the Broad-leafed Mahogany heritage tree, which stood at about 30m tall. The stately sentinel, which is estimated to be at least 94 years old, was one of several heritage trees that had been painstakingly conserved during developmental works in the area.
At Piccadilly Road, we stumbled upon a hidden gem: A kampung-style canteen that dates back to the 1960s.
While it does not have a proper name or signboard, the place is known to those who frequent it as Canteen 398.
Concealed by a row of plants and trees, it would have been easy to miss if not for the blue parasols providing shelter to the people eating outside.
Stepping inside, it felt like I had been transported back in time. Mismatched tables and chairs on old-school mosaic floor tiles filled the interior of the humble coffee shop.
There were only two or three stalls inside, including a drink stall and a cai fan (economic rice) stall.
With "no photography" signs at nearly every corner of the coffee shop, we decided to follow the instructions and soak in the atmosphere instead.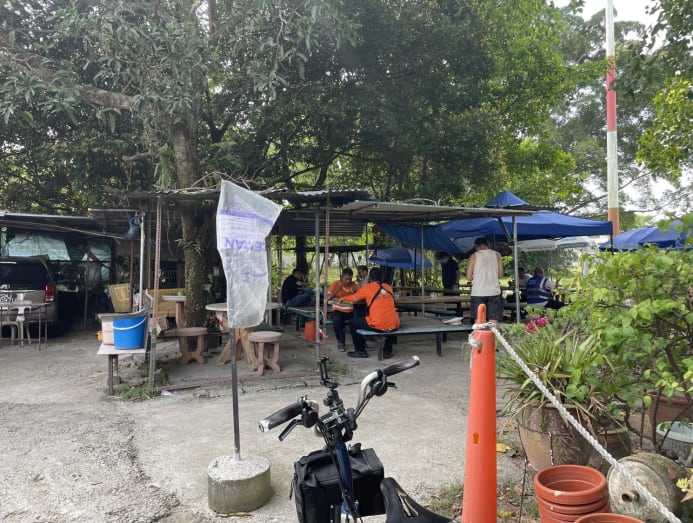 After a short while, we were back on the road with the noon sun beating down on our backs.
Having already cycled for nearly one-and-a-half hours, I was looking forward to a water fountain and toilets. Unfortunately, the Jalan Kayu node, which is supposed to serve as a rest stop along the route, wasn't quite ready yet.
Amenities are planned for the area, including a food and beverage outlet and seats for visitors, according to the National Parks Board (NParks).
Unlike the wide cycling paths we had been on earlier, the journey from Jalan Kayu to Sengkang Riverside Park was mostly made up of shared paths with pedestrians and food delivery riders.
Lining the roads were old shophouses and hardware stores, which added a captivating nostalgic charm to the area. 
At times, the path was a little too narrow, which meant we had to slow down or stop on one side to allow others to pass through.
When we started seeing wooden boards on some sections of the route to level the bumpy ground, we began to question whether we were lost.
With no signs to point us in the right direction towards Sengkang Riverside Park, we had to rely on NParks' map of the Round Island Route and check it against the Google Maps app. But even then, we found ourselves on the wrong side of the park and had to carry our bikes across the road to get back on course.
From there, it was an enjoyable and seamless ride from Sengkang to Punggol, with the cycling route taking us past varied landscapes and places in the northeast of Singapore.
It seemed like there was something interesting to see at every turn on the stretch between Sengkang to Punggol, like the Jewel Bridge at Punggol Waterway Park or the Lorong Halus Red Bridge at the scenic Punggol Serangoon Reservoir..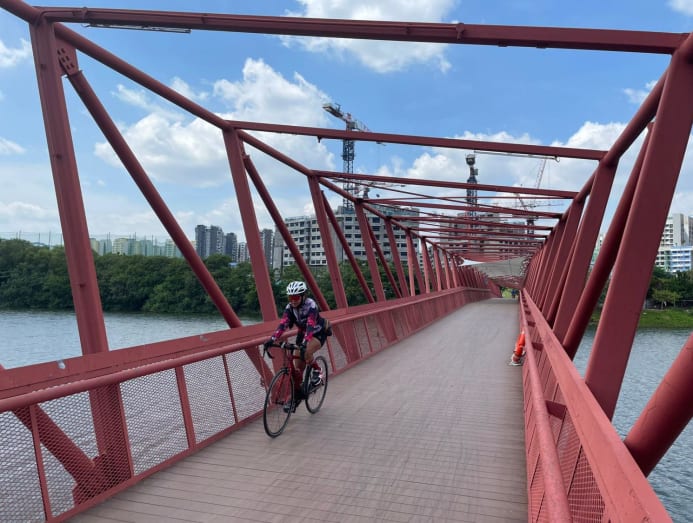 But as we entered the industrial area of Pasir Ris, gone were the rustic boardwalks and smooth paths which made it so easy to cycle. In their place was a dusty pavement covered in sand and leaf litter.
There were signs warning of heavy vehicles in the area due to construction, reminding cyclists not to go on the roads.
With no shade from the relentless sun and only construction sites around us, the 10-minute ride felt like an eternity.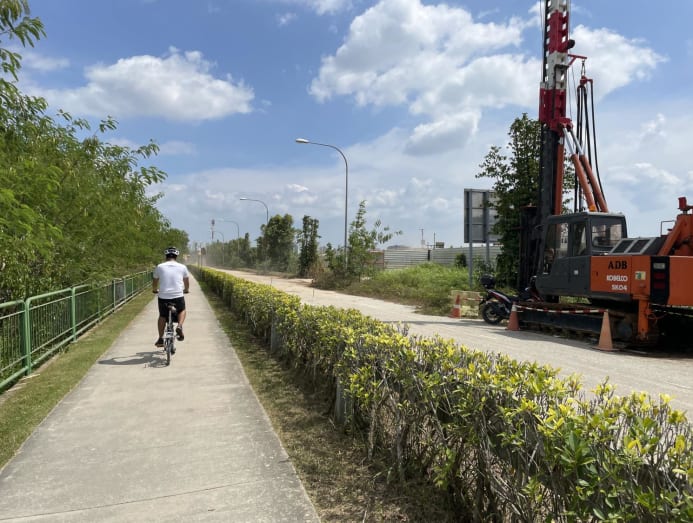 Once past the factories and construction sites, we spotted a sprawling old-school aquarium shop at Pasir Ris Farmway road. Surrounded by luscious plants and greenery, it had multiple outdoor ponds and tanks filled with colourful fish.
After making a mental note to check it out some other time, we continued on our journey towards Pasir Ris Park, before entering the hustle and bustle of Pasir Ris town centre.
With another 7km to go and the sun beginning to set, we decided to pick up the pace. But it was a challenging stretch that involved cycling uphill on certain parts.
By the time we reached Changi Beach Park, it was nearly 6pm and we were more than ready to head home for a good night's rest.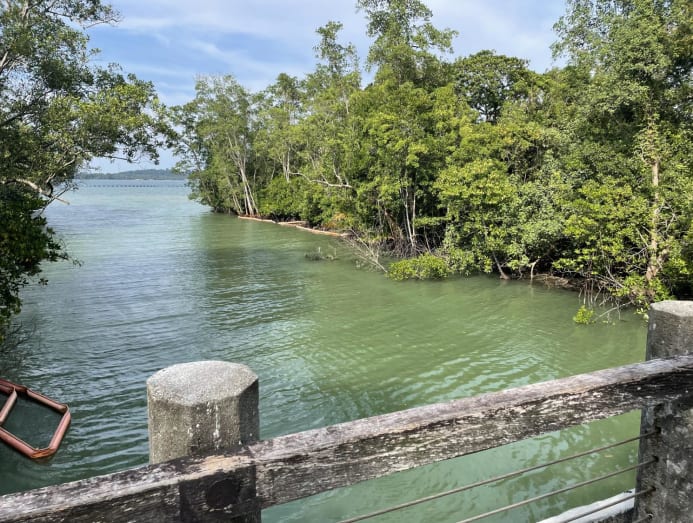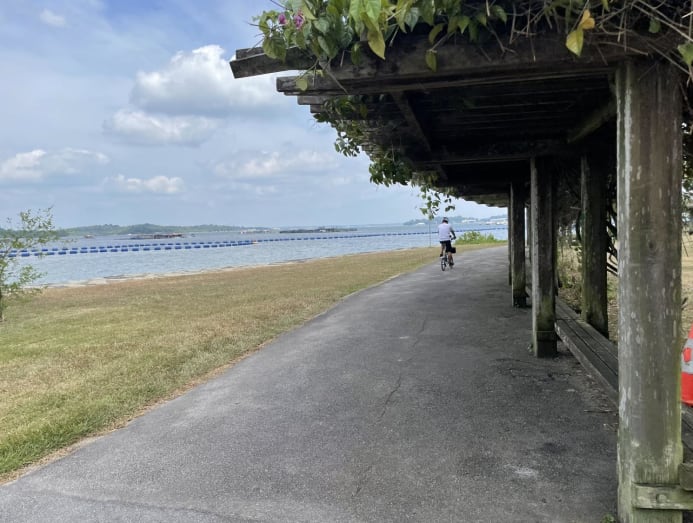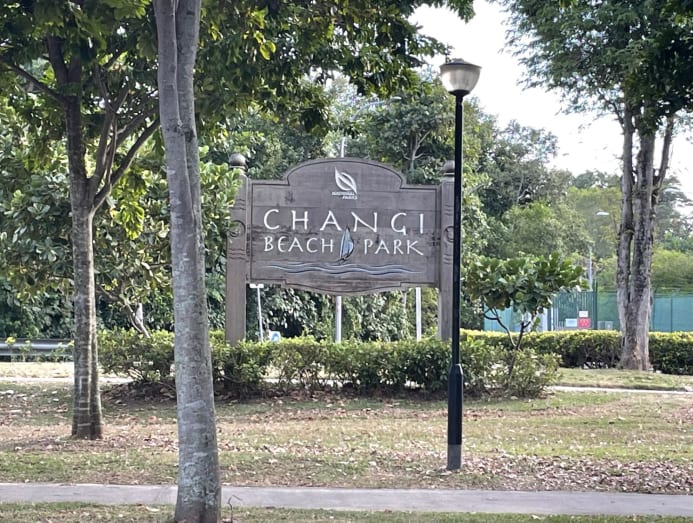 DAY 2: EAST TO SOUTH-EAST
After being subjected to the full brunt of the sun on the first day, Jeremy and I decided to start the second half of our journey the next day at 4pm.
Picking up where we left off, we cycled along the coast of Changi Beach.
With rustic boardwalks, lalang grass and sweeping views of the East Johor Strait, Changi Bay Point is a beautiful pitstop that helps to break up the monotony of the journey between Changi Beach Park and East Coast Park.
Above, white-bellied sea eagles soared high in the sky and hovered, before swooping in fast to snatch their dinner out of the water.
On the shores of the beach, a couple of smooth-coated otters frolicked in the water, oblivious to our captivated stares.
HEADING TO THE CITY
Cycling from East Coast Park towards the Marina Bay area, it felt almost romantic with the sunset painting the blue sky with streaks of pink and orange, and glass-fronted buildings shimmering along the city skyline.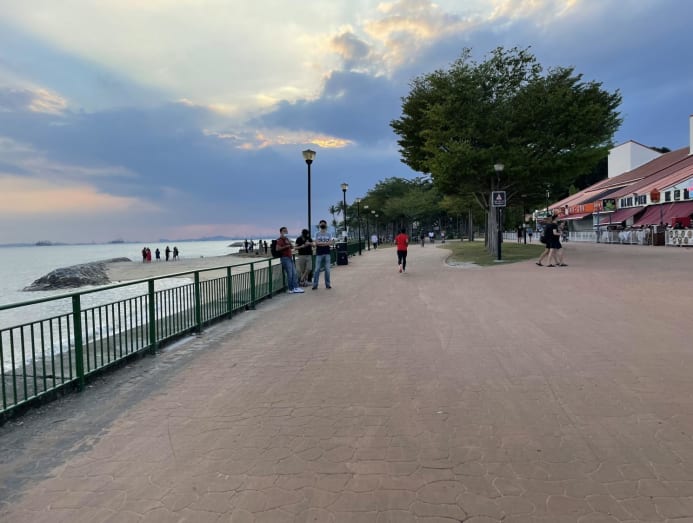 The route took us through the city, along the winding Singapore River. By then, night had descended, transforming buildings and roads into a dazzling display of lights. I could feel the cool night breeze gently soothing my sunburnt skin.
Along the river, a busker strummed his guitar, with his case open at his feet, sending out soulful notes as people walked past him. Just across him, the steps leading into the river were filled with people enjoying the tranquillity, watching brightly coloured bumboats passing by.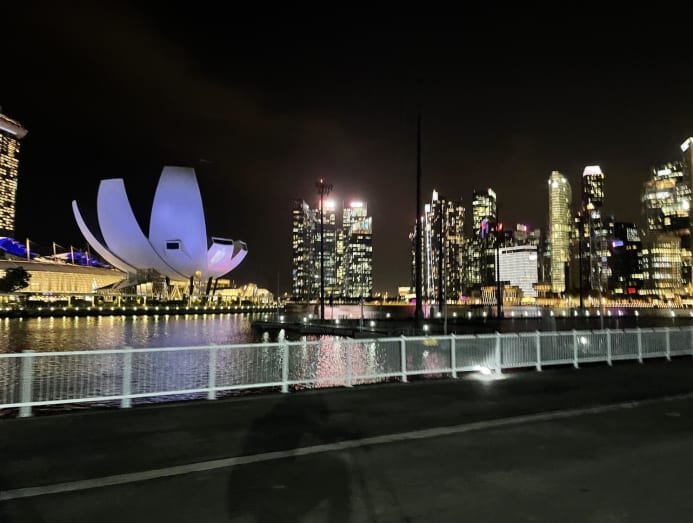 THE FINAL STRETCH
With the city behind us, the night grew quieter as we pedalled through Alexandra Canal Linear Park. Except for the occasional cyclist on the road, we were alone most of the time, cycling through dimly lit stretches that felt almost eerie.
It was the familiar buzzing noise of cicadas that kept us company, distracting us from the dark and deserted path.
Tired and aching from two long days of cycling, it was difficult to appreciate the final leg of our journey when all we could focus on was counting down the distance to our last stop.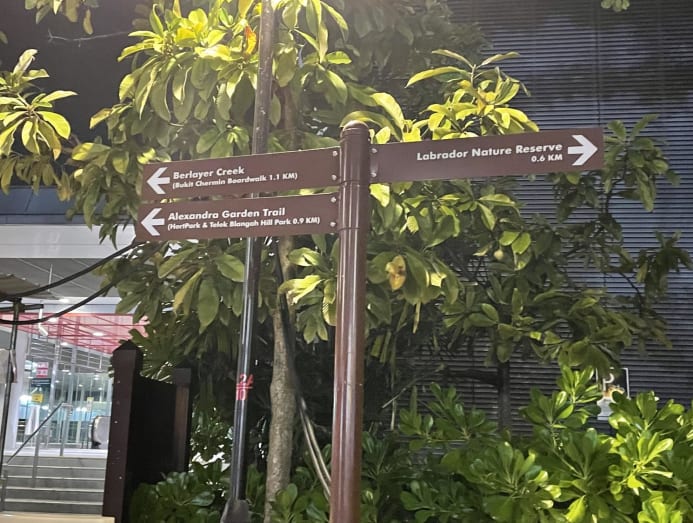 Muscles tight and body weary, we slowed down considerably during the final leg of our journey. But when we spotted the shiny silver sign at 10.15pm announcing we had arrived at Belayer Creek, feelings of elation and relief erupted within us.
With a new burst of energy, we sped towards the entrance of the creek, cheering and pumping our fists into the air.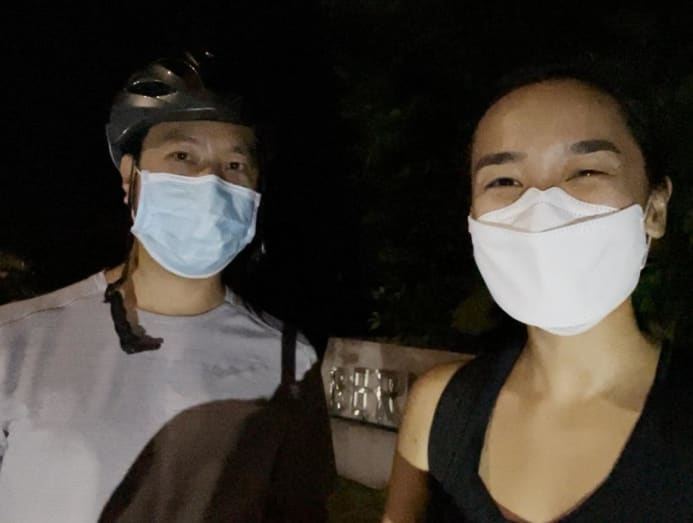 WAS IT WORTH IT?
As average cyclists, we found that it could be quite physically challenging at times, especially along stretches that required uphill cycling or where the ground was bumpy. Navigation was also an issue because the route had not yet been updated on Google Maps when we tried it, and we lost our way a few times.
But overall, it was worth it. We discovered new places we had never been to or heard about before, and saw areas we were familiar with from a different perspective.
It's easy to take things for granted, but being able to go to so many different towns and areas in Singapore on just a bicycle made us appreciate how the island is becoming more connected and accessible.
Personally, I'd try it again – but maybe not so soon and not while on a deadline.