Singaporean director Anthony Chen sure is keeping busy these days. After the recent news regarding his upcoming project Secret Daughter, which will star actresses Priyanka Chopra and Sienna Miller, comes another one that he's currently filming in Greece.
Titled Drift, it's the Golden Horse Award and Cannes' Camera d'Or-winning Chen's English-language film debut, which stars Cynthia Erivo (Bad Times At The El Royale) and Alia Shawkat (Arrested Development).
Also attached to the movie are Call Me By Your Name producers Emilie Georges and Peter Spears and executive producer Naima Abed. Spears, by the way, is also the Oscar-winning producer of Chloe Zhao's Nomadland, while Georges previously worked with Chen to sell his films Ilo Ilo and Wet Season.
Drift is based on A Marker To Measure Drift, a 2013 novel by author Alexander Maksik. The story follows a young Liberian woman (played by Erivo) who flees her home amidst civil war and finds herself on a Greek island, where she tries to forget her past and struggles for survival before meeting a tour guide (Shawkat).
Related: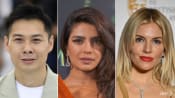 Singaporean director Anthony Chen set to direct Priyanka Chopra, Sienna Miller in new film
According to Deadline, Chen described Drift as "a compelling and deeply affecting story about the strength of the human spirit during the worst of times. It has been an emotional experience developing this film in the past few years, particularly during the challenging days of the pandemic."
Chen most recently finished working on his mainland Chinese feature debut The Breaking Ice, which stars Zhou Dongyu, Liu Haoran and Qu Chuxiao. He also worked with Zhou on The Break Away, as part of pandemic short film anthology The Year Of The Everlasting Storm last year.
Aside from Drift and Secret Daughter, Chen will also set to conclude his Growing Up trilogy, which started with Ilo Ilo and Wet Season, with We Are All Strangers, collaborating with his regulars Yeo Yann Yann and Koh Jia Ler – who starred in both previous films – one more time.