If a hotel is a "home away from home", then hotel penthouses are the ultimate residence. Perched atop gleaming skyscrapers and historical buildings, penthouses combine the opulence of presidential suites but have a more residential quality making them the ideal place to nest as a family or throw a private party. From wraparound terraces with panoramic views to expansive kitchens equipped with the latest culinary gadgets, here are a variety of penthouses around the world to suit travellers of all stripes.
PENTHOUSE POOL SUITE

AT

 THE FULLERTON OCEAN PARK HOTEL, HONG KONG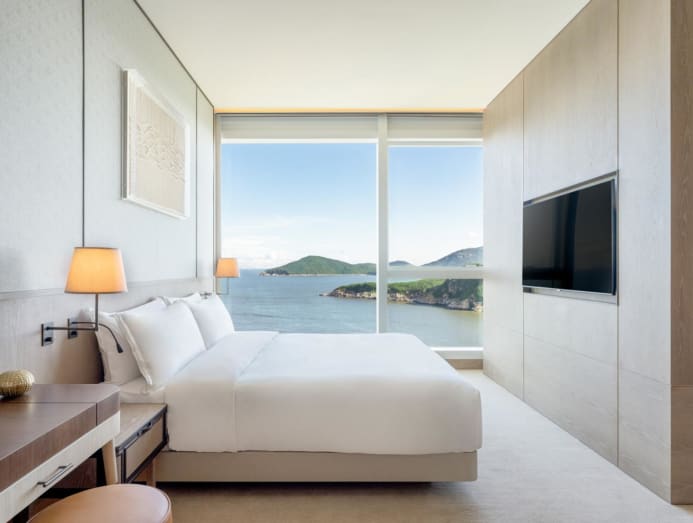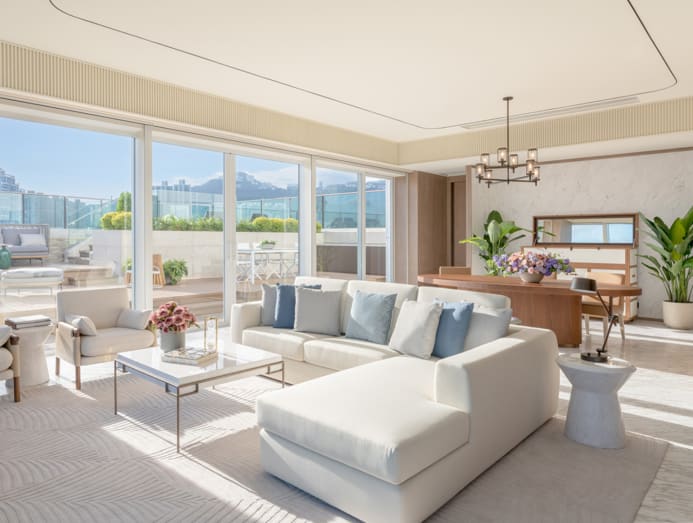 When it comes to Hong Kong, most travellers look for a room with a wonderful view of Victoria Harbour. It's iconic for a reason but there are other vistas worth perusing on your next visit to the Fragrant Harbour. Case in point: The azure waters and islets of the Southside, beautifully showcased by the recently opened Fullerton Ocean Park Hotel. Check into their Penthouse Pool Suite, which looks and feels more like a tropical villa than an urban suite. Measuring 120 sq m and with an almost equally sized terrace, the suite has its own private pool, 270-degree sea views, and every conceivable amenity. There's no better place to start discovering a new side of Hong Kong than here.
Related: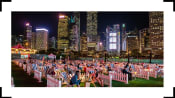 Here's everything new you'll want to experience when you're in Hong Kong
BIGGER PENTHOUSE

 AT THE STANDARD, BANGKOK MAHANAKHON, BANGKOK, THAILAND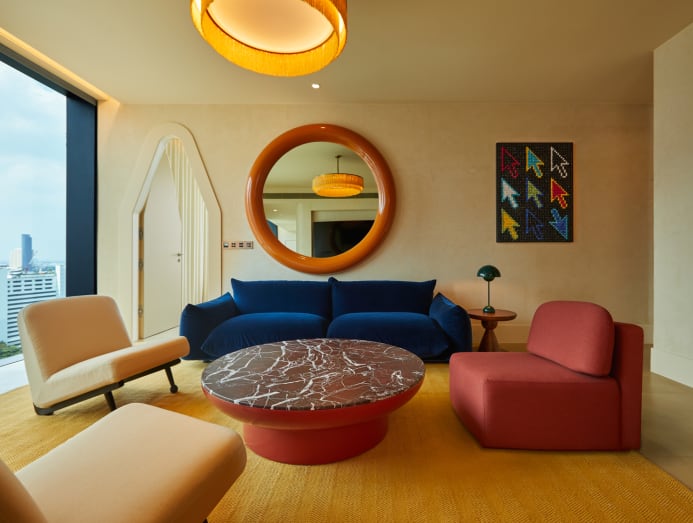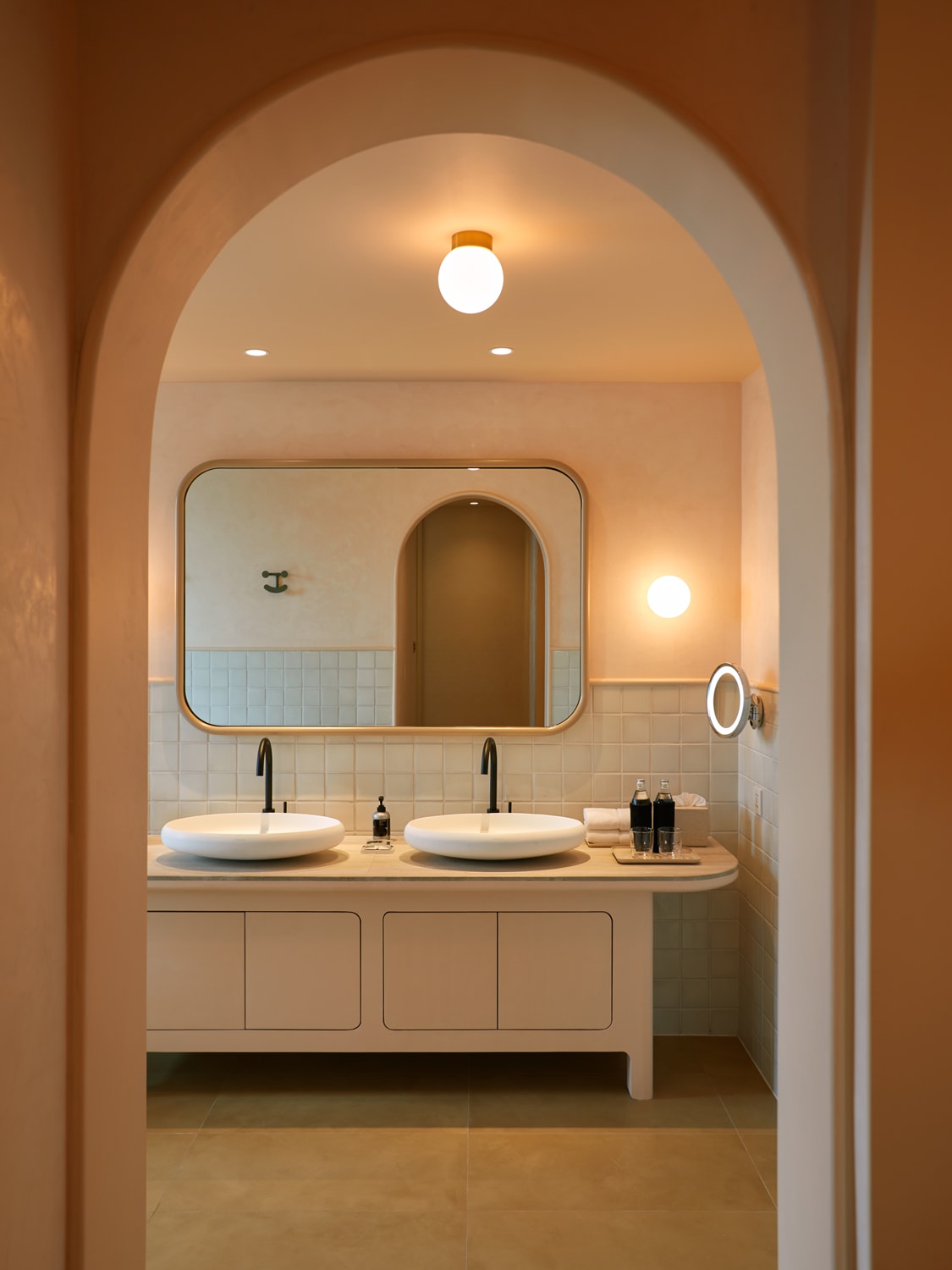 The flagship property of The Standard in Asia is set within the futuristic King Power Mahanakhon, widely considered Bangkok's most iconic modern building. Indoors, one will find snazzy spaces by renowned designer Jaime Hayon, who infused the 155-room hotel with equal parts sophistication and whimsy best experienced in the Bigger Penthouse. The 144 s qm suite has dining and living areas made for group entertaining, including an array of Gaggenau appliances in the kitchen. If you don't feel like cooking, you can always order delectable Chinese food from Mott 32 or a succulent steak from The Standard Grill. Post-party, retreat to the master bedroom and enjoy some me-time in the ensuite bathroom's giant soaking tub.
Related:
Check in to the Standard Bangkok Mahanakhon the next time you're in the Thai city
PENTHOUSE SUITE
 AT LE BRISTOL PARIS, PARIS, FRANCE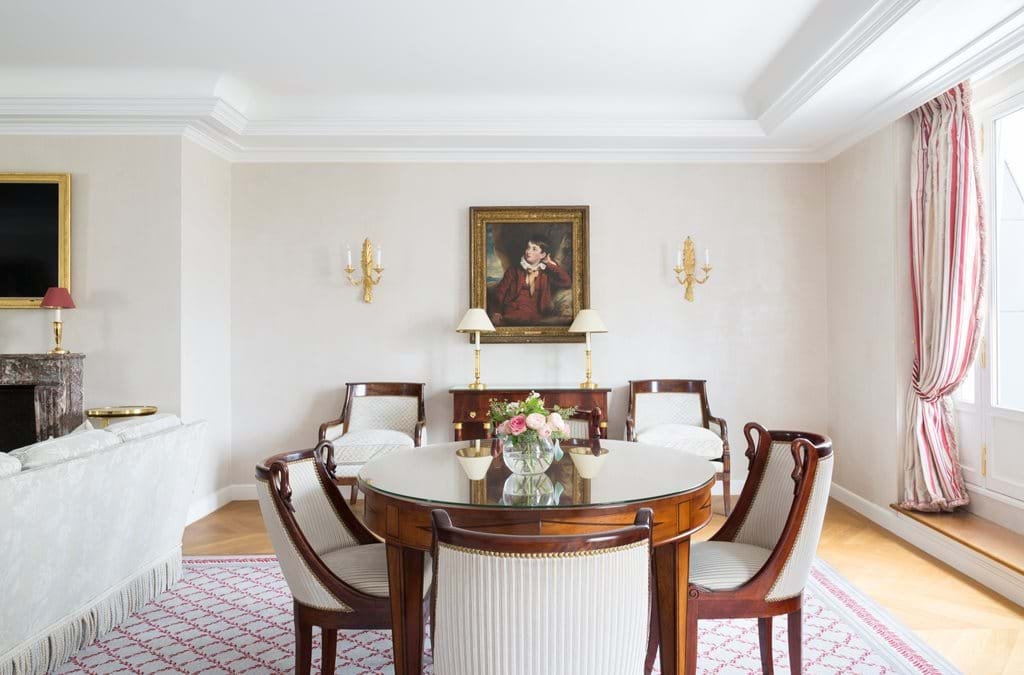 You may assume there isn't much to see given that it's on the 7th floor, but this penthouse offers views of Sacré Cœur, the Church of Saint-Augustin as well as Le Bristol's perfectly manicured gardens. Decked with a grand marble fireplace and sumptuous interior touches such as herringbone parquet, it would be easy to imagine this as your Parisian abode — one with access to the talent of three-starred Michelin chef Eric Frechon, who can whip up delicious dishes in the comfort of your palatial suite. The best feature, however, is that you can connect up to three additional bedrooms (two of which are duplexes) to create an unparalleled 3,765 sq ft sanctuary in the City of Light.
THE PENTHOUSES

 AT MANDARIN ORIENTAL HYDE PARK, LONDON, UNITED KINGDOM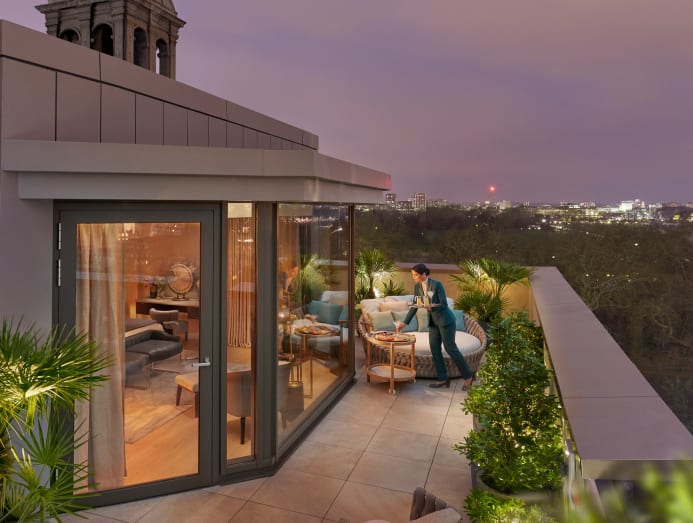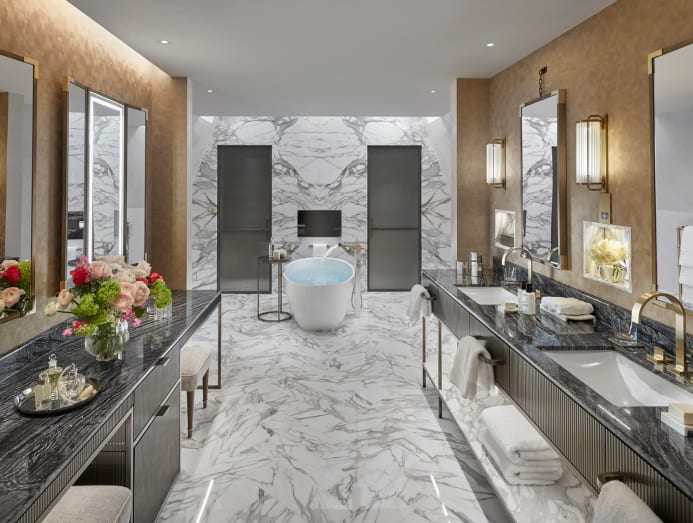 Known as the "hotel of two addresses", the Mandarin Oriental straddles swish Knightsbridge and stunning Hyde Park showcasing the best of London at its doorstep. Housed in a handsome brick building, designer Joyce Wang refreshed the interiors in 2018 and the penthouses are a testament to its elegant refurb with muted tones, cocooning furniture, and rich materials. Even the most discerning guests would be impressed with their Three Bedroom Mandarin Oriental Penthouse, featuring two salons, a dining area that seats up to eight, two kitchens and bedrooms with terraces overlooking Hyde Park.
Related: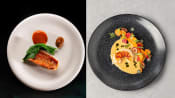 London's most exciting chef's table restaurants: Where fine dining meets immersive theatre
TOWER PENTHOUSE APARTMENT

 

AT BADRUTT'S PALACE HOTEL, ST MORITZ, SWITZERLAND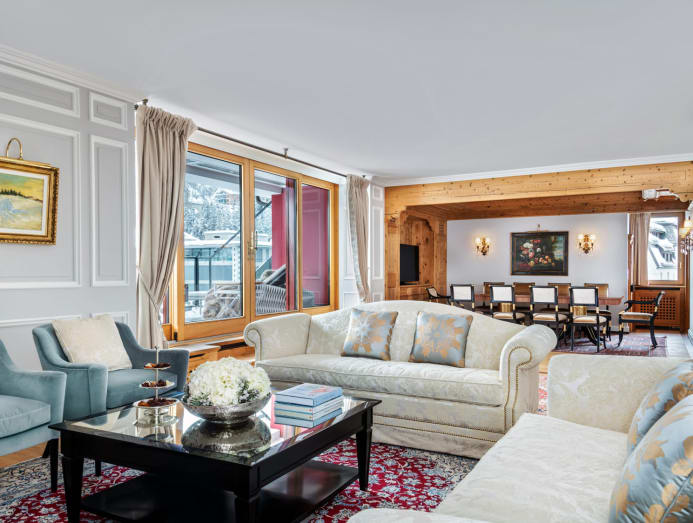 When you think of Alpine architecture, a pine-clad chalet naturally comes to mind. The Tower Penthouse Apartment at the legendary Badrutt's Palace Hotel is an elevated version of that. Offering four bedrooms, a plush living room and separate dining area, a fully equipped kitchen and two tower balconies from which you can take in the snowy landscape, it has everything one desires for a luxury ski holiday. And while it has a large footprint, it still has that cosy alpine atmosphere perpetuated by the lovely wooden panelling and Engadin pinewood furniture.
LOFT PENTHOUSES

 AT HOTEL ARTS BARCELONA, BARCELONA, SPAIN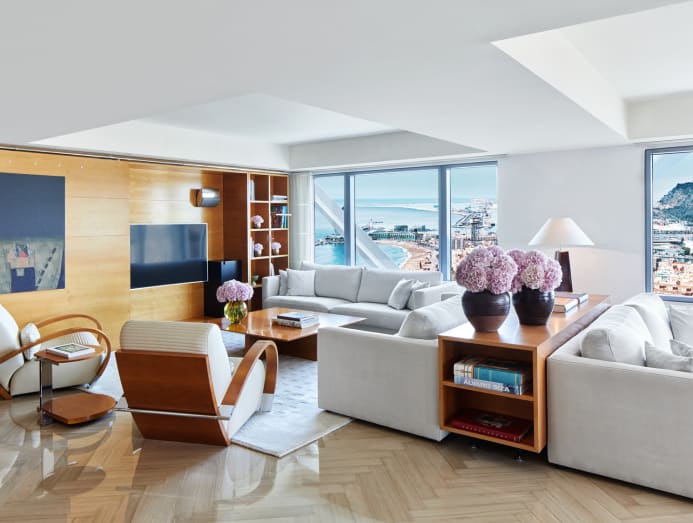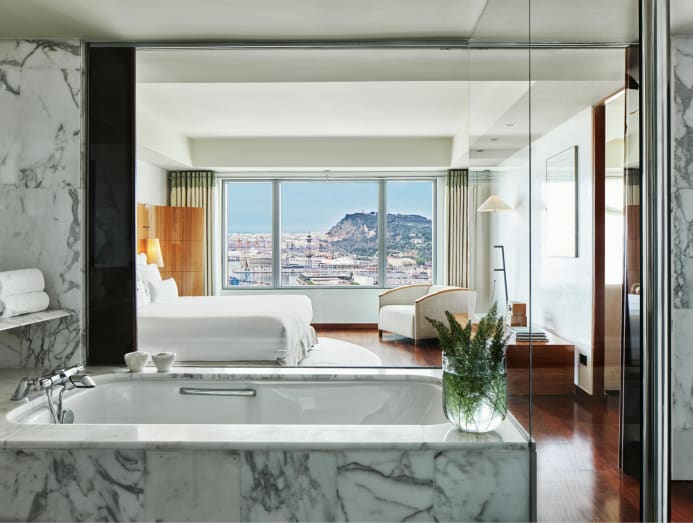 Originally conceived as luxury residences, the duplex penthouses atop the iconic Hotel Arts Barcelona is the grandest accommodation in the city's buzzing beach district. Swathed in neutral hues, the extremely spacious penthouses feature wraparound windows that frame a unique view of the city — you can spot Gaudi's Sagrada Familia on one side and take in the sparkling Mediterranean Sea on the other. You'd be hard pressed to find a better view and location for an urban seaside escape. If you're in the mood for a splurge, book the Barcelona Penthouse, which spans 270 sq m and has three bedrooms, more than enough room for a multigenerational holiday.
Related:
How to not look like a clueless tourist in Madrid, Spain
PENTHOUSES

 AT WUNDERLOCKE, MUNICH, GERMANY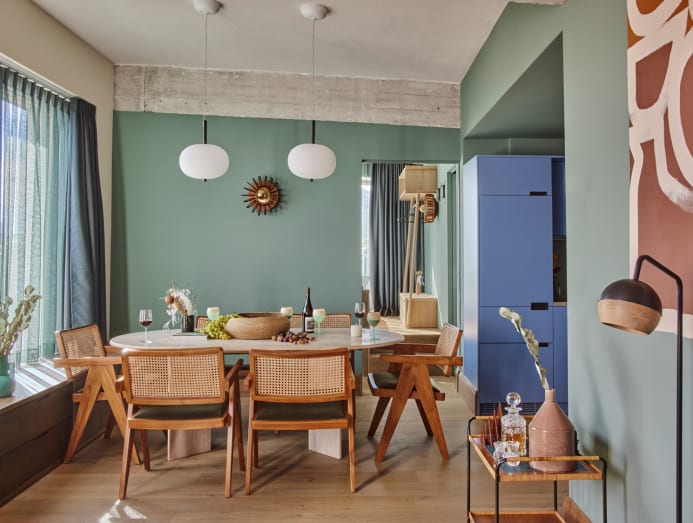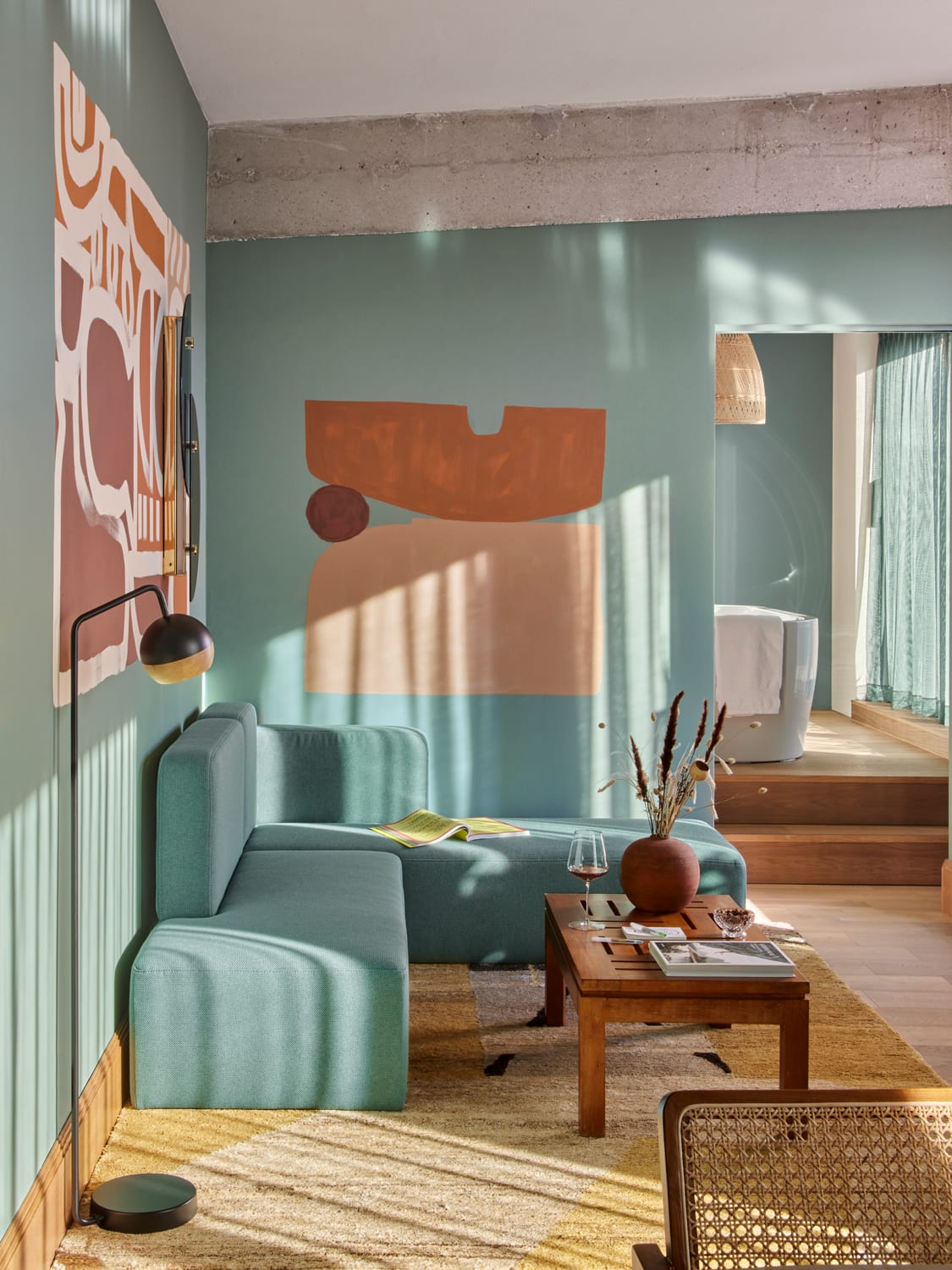 The pandemic has fuelled a demand for self-contained accommodation, a boon to design-led aparthotel brand Locke. Its latest addition is WunderLocke in Munich, nestled in the up-and-coming district of Sendling. Its members' club-style interiors draw in the creative types, and this was taken a step further by Holloway Li who oversaw the design of the recently unveiled Penthouse Suites. The designers sought to create a feeling of serenity with its natural colour and material palette, referencing the views of the Alps. The homely yet trendy spaces work well for young families looking for an independent space with luxurious flourishes like terraces or Jacuzzis. A real plus is the property's experimental dining offering "Mural Farmhouse" — five food and drink outlets across seven floors curated by the founders of local Michelin-starred restaurant, Mural.
Related: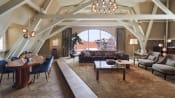 At S$1.78 million, this is possibly the world's most luxurious hotel package
Why are luxury cruises so popular among the well-heeled?
At private resort Ani Thailand, the magical experiences extend far beyond its grounds