This year's Star Awards is set to take place three weekends from now, on Apr 24. And in addition to featuring some of the brightest talents in the local Mandarin entertainment scene, some very familiar international celebrities will also be presenting awards virtually.
Viewers will be treated to a "visually spectacular showcase" featuring "life-sized, three-dimensional holograms" of the likes of Aaron Kwok, Jacky Wu, Carol Cheng and more. All in real-time thanks to a "holoportation" device called Proto.
RELATED: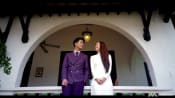 Star Awards 2022: Chantalle Ng, Xu Bin, Jeremy Chan score first Best Actress, Actor nominations
Star Awards Top 10 Popular Artistes nominees revealed, Brandon Wong bags his first nom
Joining the show's virtual international guests on-site are familiar faces in the local entertainment scene: Guo Liang, Irene Ang, Jaspers Lai, Marcus Chin and SGAG co-founder Adrian Ang, aka Xiao Ming.
It looks set to be a pretty high tech Star Awards. Aside from the celebrity holograms, there will also be The LeoBot, a robot trophy presenter. During the Walk Of Fame segment, a couple of state-of-the-art cameras – the SDE's Bolt High-Speed Camera Robot and Phantom Flex4k – while the main award ceremony led by show host Chen Hanwei will open with a segment that will feature some Extended Reality (XR) technology that will mix real and virtual worlds.
Catch the Star Awards 2022 Awards Ceremony "live" on Apr 24 at 7pm, with Backstage Live at 3.30pm and Walk of Fame at 5pm. Available on Channel 8 and U, with simulcast on meWATCH and Mediacorp Entertainment YouTube channel. For more information go here.