There are only a few days left to the Star Awards, which takes place on Sunday (Apr 24) at The Theatre at Mediacorp.
Public voting for the Top 10 Most Popular Male and Female artistes has been heating up, and some names have emerged as strong contenders, while others have slipped below the Top 15 list for now. However, there's still time to vote.
Related: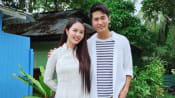 Star Awards 2022: Chantalle Ng, Xu Bin, Jeremy Chan score first Best Actress, Actor nominations
The 15 artistes currently leading in the polls (through public voting as of Apr 18) include Chantalle Ng, Felicia Chin, Ya Hui, Pornsak, Marcus Chin and – phew! – Brandon Wong. It's the first time Wong has been nominated for a popularity award in his entire 20-odd-year career, so we're rooting for him to take a trophy home.
Related:
Star Awards Top 10 Popular Artistes nominees revealed, Brandon Wong bags his first nom
Names that have slipped off the list include Chua Enlai, Sheila Sim, Michelle Chia, Zhu Hou Ren, Priscelia Chan and Darren Lim.
If your favourite celebrity isn't currently on the list, it's time to get cracking. There will be a special 20-hour unlimited voting available from Apr 24, from 12am until 8pm. Voting can be done via https://www.mewatch.sg/sa2022, and is open to those with a valid meCONNECT account.
Public voting will count for 70 per cent of the final result, while a previous Popularity Survey, conducted to determine the top 40 Most Popular artistes, will make up the remaining 30 per cent. The results will be verified by professional auditors.
Related: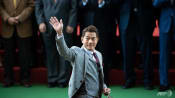 Star Awards 2022: Aaron Kwok, Jacky Wu, Carol Cheng among 'virtual' award presenters
Here's the full list of the current pack leaders.
TOP 15 MOST POPULAR FEMALE ARTISTES
Aileen Tan
Carrie Wong
Chantalle Ng
Cynthia Koh
Felicia Chin
Hong Hui Fang
Hong Ling
Jesseca Liu
Jin Yin Ji
Liu Ling Ling
Paige Chua
Pan Ling Ling
Rebecca Lim
Ya Hui
Yvonne Lim
TOP 15 MOST POPULAR MALE ARTISTES
Ben Yeo
Brandon Wong
Chen Shu Cheng
Chen Tian Wen
Desmond Tan
Guo Liang
Lee Teng
Marcus Chin
Pierre Png
Pornsak
Richard Low
Romeo Tan
Shaun Chen
Xu Bin
Zhang Yao Dong
Catch the Star Awards 2022 Awards Ceremony "live" on Apr 24 at 7pm, with Backstage Live at 3.30pm and Walk of Fame at 5pm. Available on Channel 8 and U, with simulcast on meWATCH and Mediacorp Entertainment YouTube channel.
For the full list of nominees and more information, go here.
Related:
Remember Elvin Ng's 'bandung' suit? We tried to find out what he'll wear next at Star Awards 2022