Singer-songwriter Tanya Chua won big with her latest album at this year's Golden Melody Awards, which was held at Kaohsiung Arena in Taiwan on Saturday (Jul 2).
The Mandopop star bagged four awards for her 2021 album Depart last night: Best Mandarin Female Singer, Album of the Year, Best Mandarin Album and Best Vocal Album Recording. 
"I think I won't be able to forget this moment. Before I had the time to react, I came on stage again… Why did I not prepare an acceptance speech?" Chua wrote in Mandarin on Instagram today.
Chua, 47, won Best Female Mandarin Singer for the fourth time – surpassing Taiwanese singer A-Mei's three-time wins in the same category. She, too, has previously won the Best Female Mandarin Singer award thrice in 2006, 2008 and 2012 for her albums Amphibian, Goodbye & Hello and Sing It Out of Love. 
"After all the photo-taking and interviews, I just wanted to hug my team and… ugly cry," she added, before likening the momentous team celebration to a past intimate moment shared with her mother. "I saw her kind face and thought to myself: 'I must win many awards for you, and make you proud!"
Her album Depart, which was produced during the pandemic and released in August last year, has earned eight nominations at the Awards, including Song of the Year, Best Composer and Best Album Producer. 
RELATED: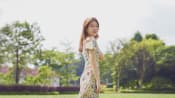 NDP 2021 composer Linying shares life choices, favourite food and The Road Ahead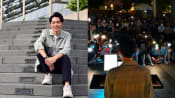 Big crowds, big dreams: Meet Jeff Ng, the 'Cathay busker' who became a TikTok phenomenon
Since her debut album in 1997, the homegrown Mandopop star has since produced more than 10 English and Mandarin albums. She's also known for her 2001 hit single Where I Belong, which continues to be one of the most popular National Day songs of all time. 
"Fortunately at this stage (of my life), I'm willing to stop chasing the pace of the world, and enjoy the beautiful people and things around me."