Watching his wife pick a juicy slice of freshly-made kong bak (three-layer braised pork) out of its aromatic thick sauce and sandwich it in-between a pillowy soft steamed flat bun reminds Moses Lim of a story.
"Long before your time, in the southern province of Singapore…" cheekily deadpanned the 71-year-old Singapore actor-host, riffing off his iconic Under One Roof character Tan Ah Teck.
"I was dreaming of marrying someone who can make kong bak pau this delicious and this tender. My wife's kong bak pau is melt-in-your-mouth good!"
Braised pork buns, 'coin' dumplings and Peranakan noodles – CNA Lifestyle visited Under One Roof's Moses Lim and two other households to sample their once-a-year homemade dishes keeping family traditions alive.
READ: Whip up a feast this Chinese New Year with recipes from Singapore's society ladies
THE LIM FAMILY'S KONG BAK PAU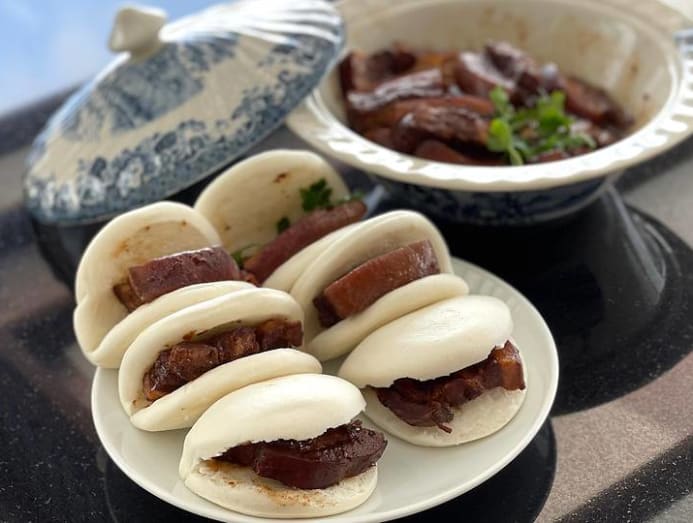 Which is exactly why 65-year-old Monica Lim's home-cooked Taiwan-style kong bak pau is a must-have on the dinner table during Chinese New Year.
"This is a very typical Hokkien dish," explained Moses. "And because my wife is from Taiwan, whenever I have this particular dish, it simply reminds me of the taste of two different countries (coming together)."
The kong bak pau in Taiwan (or gua bao – "cut" bun – as the Taiwanese call it) tastes slightly different from its Singapore cousins.
"There's a very special dark sauce that is very, very concentrated. Just one spoonful can enhance the flavour of the entire dish," explained the actor. "This dark sauce used to be only found in Taiwan and my wife had to buy it when we went back to visit. But now, I believe you can find it in Singapore."
So why is kong bak pau so special to Lim and his family during Chinese New Year? For the grandfather of four, the special dish has always been associated with a big occasion to celebrate.
He remembers attending Hokkien family weddings or birthday dinners with his father during his childhood days where even after nine or 10 courses, the last course would still be the hefty kong bak pau.
"To me it's like, wah, we are all so full. Yet people will still eat it all up and finish, because it's kong bak pau!" he recalled with a laugh. "You can imagine how important this dish is. To people who love to eat – especially the Hokkien people. It's unique and special to most Hokkien families."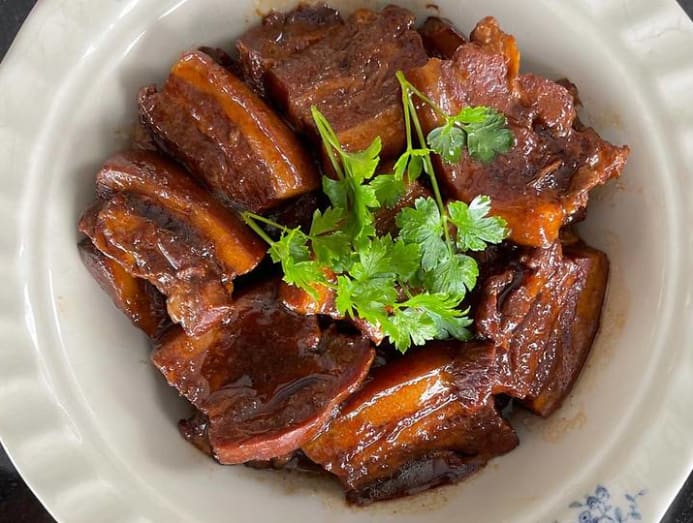 Lim believes that for most Hokkien families, it's one of the must-have dishes during the festive season, especially for reunion dinner on the eve of Chinese New Year.
"Because when we home-make kong bak pau, we make a lot of it. A lot, a lot of it," he said. "The more you cook, the more we eat. And no matter how much we manage to eat on Chinese New Year's Eve, there will always be leftovers. Which is perfect for the following day – the first day of Chinese New Year – when you can heat it up and serve your guests.  And guess what? It tastes even better!"
He continued with a knowing laugh: "The moral of the story is this: When you see kong bak pau, that means you must eat. When you don't see kong bak pau, you must request for it to be made and then you can indulge and enjoy!"
READ: Love letters and plain bak kwa too boring? Try these unique Chinese New Year treats
THE TAN FAMILY'S NYONYA NOODLES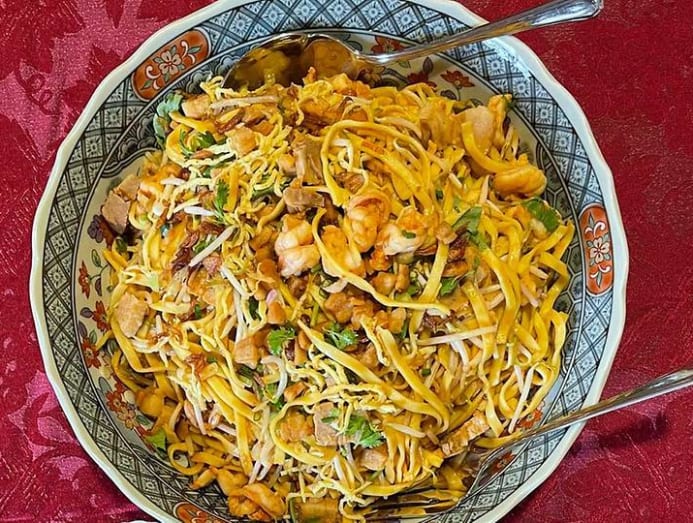 It's pretty much the same story over at Richeal Tan's household – her self-styled "Nyonya noodles" is the most requested dish all year round from her large family (including me – full disclosure, she's my aunt).
But the 75-year-old grandmother of three, who is legendary for being the official "feeder" of the family with her cunning culinary skills and multi-cuisine repertoire, insists on only making her special Nyonya noodles during Chinese New Year.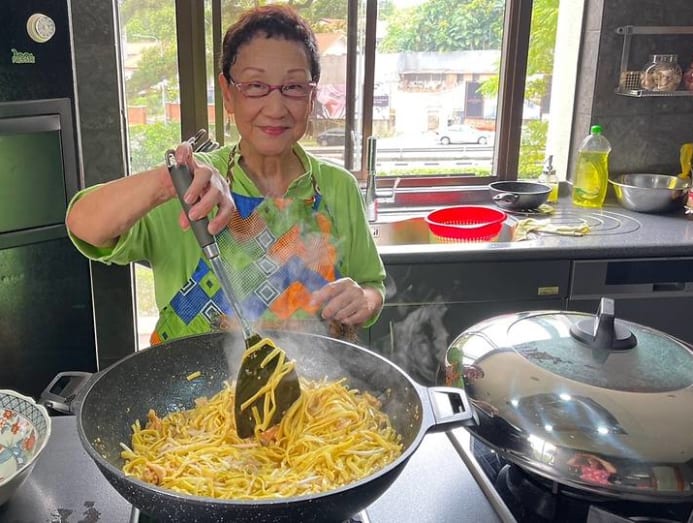 "I really love cooking for my family, especially when I see so many happy faces when they eat my food. But this particular dish is just very labour-intensive and painstakingly arduous even if it's not very difficult to execute," she shared.
"The stock alone takes days to prepare, as well as the sambal belacan. I am so grateful to my helper who has been with me for more than 20 years who has become quite the Nyonya cook herself!"
Indeed, when it comes to Peranakan food, it's all about the way it is prepared. And the guardians of these beloved recipes are exceptionally persnickety when it comes to the entire process and there will be no cutting of corners.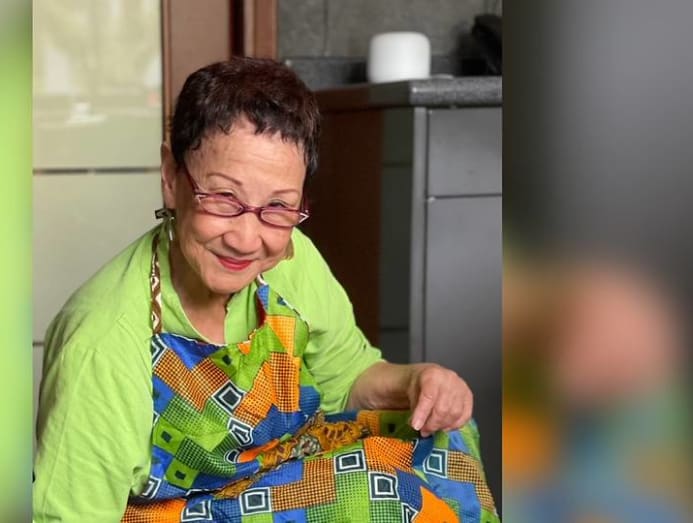 From the two-day simmering of the prawn heads to create stock to fry the noodles in, to the pestle-and-mortar pounding of the chillis to make rempah (paste) for the sambal belacan, it's truly a tedious process. But the toil is more than worthwhile. The proof, as they say, is in the pudding. In this case, erm, the noodles.
"The way I cook Peranakan food is exactly the way I was taught by my mother. She always said we have to be meticulous and follow each and every step," she explained. "And because my family craves for this dish all the other times of the year, I make sure we prepare everything in big portions so that there is enough to go around."
She added, with a smile: "More than a few times."
But what exactly is Nyonya noodles and why is it a must-have during Chinese New Year?
"It's really dry Hokkien mee cooked Peranakan-style," explained her husband, Dr Tan Peng Yang. "It's actually my grandmother's recipe. The entire extended family would convene at her house for lunch every Chinese New Year. The highlight of the meal would be these noodles. And it's very apt because noodles represent longevity."
He continued: "After my grandmother passed away, the recipe was then passed down the family, amongst my Nyonya aunties. Eventually when they too passed on or grew too old to cook it any longer, the mantle was then passed on to my wife who tirelessly took it on. Over the years, she's made it her own, tweaking it to the taste buds of our family, and thus Nyonya noodles was born."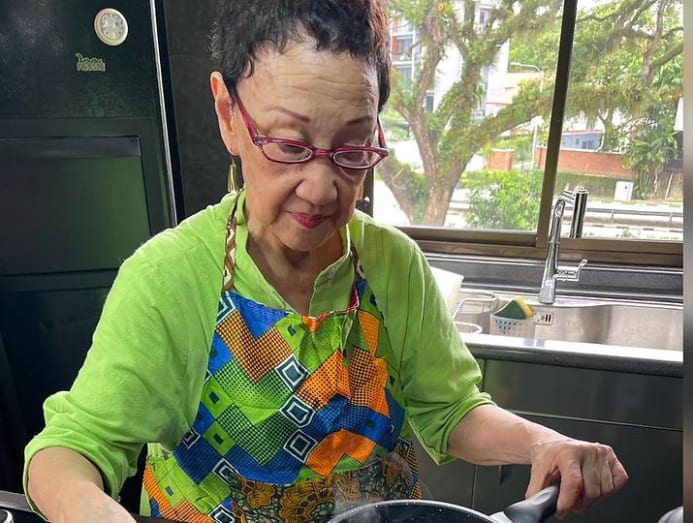 Now talk to any Peranakan family about food, and you will probably get the typical "no one makes it better than my grandmother/mother/grand-aunty/aunty". 
And it's par for course if you ask Richeal's large family, who will all attest that it tastes this amazing because it's made entirely with love and a lot of effort. And the fact that they only have a chance to eat it once a year.
Richeal, however, will say it's the nutty saltiness of the "taucheo" (fermented bean paste gravy) that sets this noodles apart from the others. And yes, that is added with a lot of love.
THE WANG FAMILY'S 'COIN' DUMPLINGS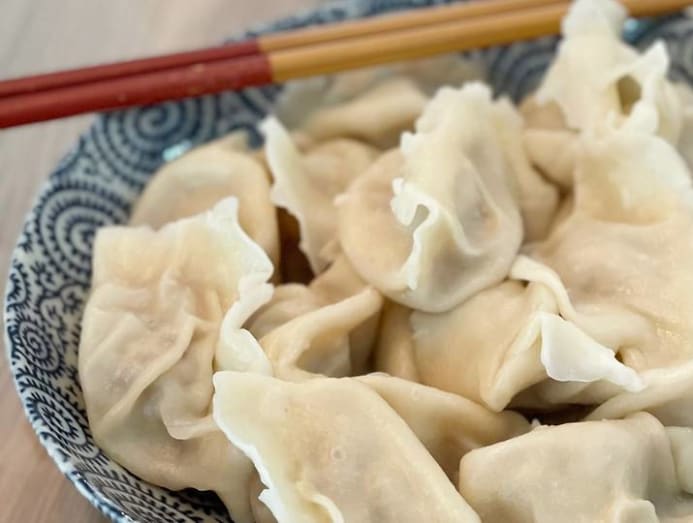 Now, it wouldn't be Chinese New Year without some homemade dumplings (jiao zi). And as far as symbolic dishes steeped in tradition go, this one is the, erm, gold standard.
Families traditionally spend the eve preparing the dumplings before midnight and will eat them during the last hour of the old year and the first hour of the brand new lunar calendar. It's a custom that dates back to the Ming and Qing Dynasties and one that Singaporean PR Tina Wang loves to dutifully follow ever since moving here 15 years ago.
Tina's mother, Wang Gui Lan, has been making dumplings in her hometown in Dandong City in the Liao Ning Province since the older lady was a little girl. And as the 68-year-old grandmother explained in Mandarin, the pronunciation of dumpling (jiao zi) phonetically refers to the turning point between the old year and the new year.
"It means farewell to the old and let's usher in the new," said Gui Lan.
"Dumplings are shaped to look like the ingot – the gold and silver pieces used as money in olden times. The shape symbolises wealth," Tina explained.
"We believe that eating jiao zi will bring good luck, so that everything goes well in the coming new year and that the family can be together. It also represents being prosperous, because look at all this 'money' you're eating!" she added, laughing.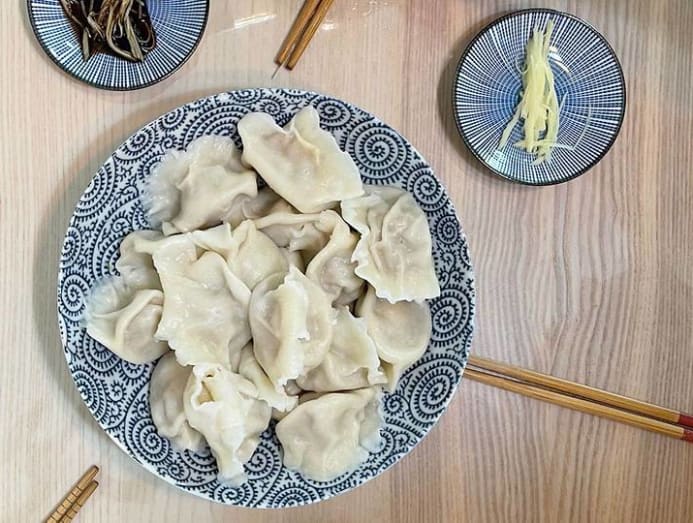 Indeed, when family and friends get to partake in Tina's family's homemade jiao zi, one might end up eating actual money.
As a fun tradition, Gui Lan sets aside carefully sanitised coins – legal tender 50 cents or one dollar coin – and puts them in random dumplings during the wrapping process.
With the Chinese believing that certain fillings of dumplings have auspicious connotations themselves, putting a clean coin brings the tradition to the next level. Be the lucky one to eat the dumpling with the coin, and you'll be the wealthy one all year round.
Tina who is married to a Singaporean and has two young boys, enjoys the exclusive time spent with her mother making jiao zi from scratch – whether it's kneading the dough to make the wrapper; marinating the special pork mince or doing the actual wrapping for the dumpling itself. It's also meaningful to her that she is keeping a big part of her Chinese roots alive.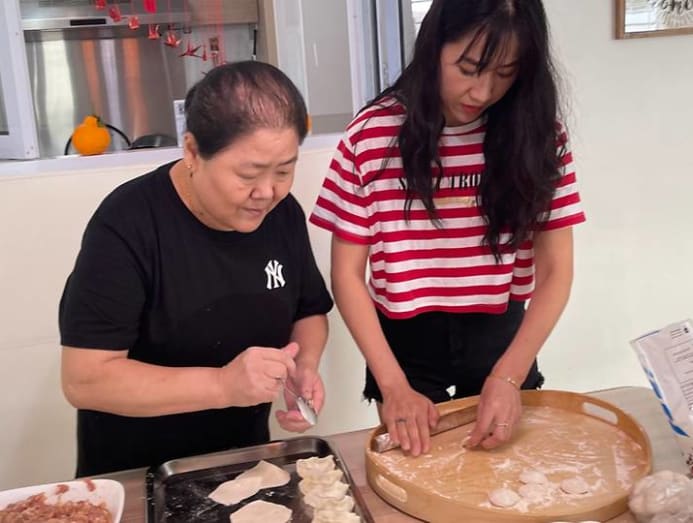 Her two sons and husband, of course, enjoy the eating part of the process the most. But the 38-year-old hopes that her two Singapore sons will one day learn from their grandmother and carry on the tradition.
"Last time, I kept saying that I didn't want to learn how to make dumplings," confessed Tina with a smile. "But now that I'm all grown up, I think it's a skill!"
READ: Why do you overeat during Chinese New Year?  And what happens to your body?