People who claim to love people can often be found in sales roles. While they're not necessarily lying, interactions with some of these types can sometimes come off as a little transactional.
And then there are people whose love for a fellow human being is so unadulterated and pure that you can't help but want to bask in their lack of agenda.
Despite holding a leadership role in a business that sells quite a lot of things, Shanya Amarasuriya belongs in the latter group. She's 31, a scion of the B P de Silva Group, creative director of B P de Silva Jewellers, and driven almost purely by her pursuit of human connection.
But Amarasuriya's social clout isn't the kind that crackles with charisma or fills the room with unbridled vivaciousness. It's quiet, curious and calming – precisely the stuff that makes her a perfect fit for her family's jewellery business.
While the rest of the Amarasuriyas take care of The 1872 Clipper Tea Co and fine jewellery brand Risis, the great-great-granddaughter of founder Balage Porolis de Silva is busy keeping his legacy alive, one relationship at a time.
Related: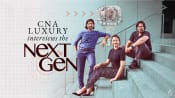 'Our dad is like a rare Pokemon': B P de Silva scions Navin, Rehan and Shanya
"I always want to engage with clients. I wouldn't even call it sales," she declared. "A lot of the time clients have trouble expressing what they want in their jewellery, so I take a lot of joy in understanding who they are and then distilling the essence of their DNA into a design just for them."
B P de Silva Jewellers is a favourite among those who seek bespoke, heirloom-worthy pieces. But after Amarasuriya took the helm as creative director, the brand began to expand its coloured stone offerings, launched its first collection crafted in ethically sourced Fairmined Impact Gold in 2020, and is working toward a Certified B Corporation, a designation awarded to businesses meeting high standards of social and environmental accountability and transparency.
And she's not slowing down. With the business celebrating its 150th anniversary this year, Amarasuriya has plans to open its first flagship in a decade alongside new jewellery collections that honour the brand's humble beginnings.
But none of this would have happened if she didn't push her father, Sunil, for change. Because Amarasuriya didn't just have to fight for a seat at the table of the family's founding company, she had to build that seat herself.
"I noticed that a lot of other jewellery brands were really looking into their past while also looking into the future. We had been a brand for 150 years but we've never expressed it," she said.
After three years working in different roles in the Group's subsidiaries as Executive Director, and another three earning her degree in Gemmology and Fine Jewellery Design at the Fashion Institute of Technology New York, she knew in 2018 that she was ready to be the creative lead that B P de Silva Jewellery never had but sorely needed.
Amarasuriya draws inspiration from various art movements (with a soft spot for Art Deco), nature, and the stones themselves, which is all typical jeweller fodder. But her creativity also flourishes through bonds with others. She recalled how one 90-year-old client from Queensland, Australia, had written them a letter – yes, by hand – asking if they could recreate his wife's lost wedding band, since BP de Silva Jewellers was responsible for the original one almost 60 years ago.
Related: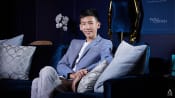 Meet the ex-army regular who is running his family's jewellery business in Bedok
"His didn't have an email address because he didn't know how to email," she said. "But I was so excited to write back, we ended up exchanging letters every month, writing about the importance of handwritten notes and this shared human experience. These are really timeless values because ultimately, we all want to feel seen." These exchanges eventually helped ideate a new collection that is due to launch at the end of the year.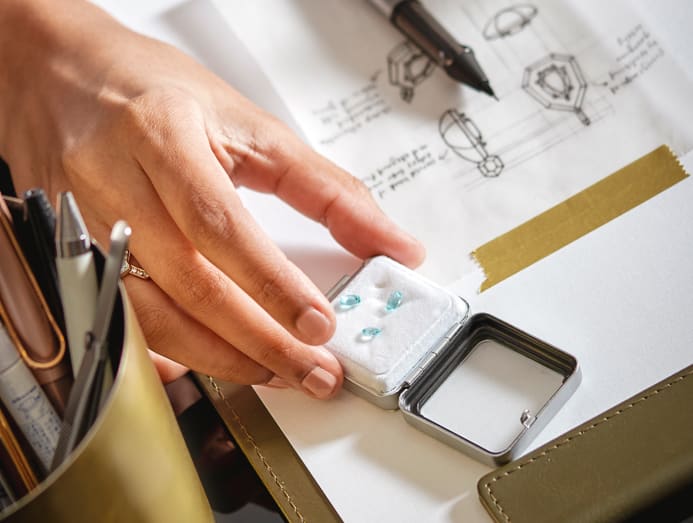 Determined to foster more of such kinship in person, Amarasuriya wanted the new flagship, opening in June, to feel like a friend's luxurious apartment rather than a snooty boutique. "When I first started going to Sri Lanka to source for gemstones, I would have a list prepared with all the stones I was looking for," she said. But the dealers there were more interested in serving her tea, asking about her family, and building their relationship, utterly unhurried in getting to the actual trades.
"Coming from the high-pressure, high-speed pace of Singapore, I didn't get it. It felt like a chill-out session, and I grew very much in love with that side of my culture," the Sinhalese said.
So, in addition to selecting a location for the flagship that was surrounded by plenty of greenery and incorporating a private courtyard in which clients can view their jewellery in a bath of natural light, Amarasuriya insisted on adding a tea bar to the space "to take away some of the intensity that comes with stepping into a jewellery store. I don't even want to talk about jewellery for the first 10 minutes because I just want people to feel at ease."
One of her greatest triumphs was being able to win over an intimidating client who was shopping for an engagement ring for his partner. "He was a fellow creative and one who held a top position in his company, so he was very intense. He would take notes of everything I said, and I would often come away from each meeting feeling quite drained."
But she didn't falter in her mission to connect, and he slowly came to realise that all Amarasuriya wanted was to find out what his fiancee would like, not force a sale. By the end, the jeweller even took a chance and added some details that alluded to one of the stories he told about his fiancee.
"It was almost like watching him come to life, which was lovely. We tend to wear this heavy armour around new people and in new places to protect ourselves, so there's nothing more blissful that finding someone who sincerely wants to create something with you and to have some fun. I never thought at the beginning that our time together would end with a bottle of champagne that he brought us."
Related: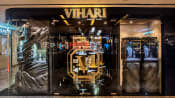 Homegrown Singapore jeweller opens flagship boutique in Paragon
Stories like that are plenty at B P de Silva Jewellers. Even its motto is "Safekeeping stories since 1872". It's just now time for the company to finally tell its own. "The family business focused a lot on the 'doing', like manufacturing, production and trading, but not a lot on the 'dreaming'," she mused.
So to honour the brand's patrimony this year, its latest collection of necklaces featuring coloured stones was named Pocketful Of Gems, a reference to how this whole business started when Balage Porolis arriving in Singapore with just a handful of gemstones in his pocket. "I realised that brands really are built on dreams, and it's not just fluff like people think it is."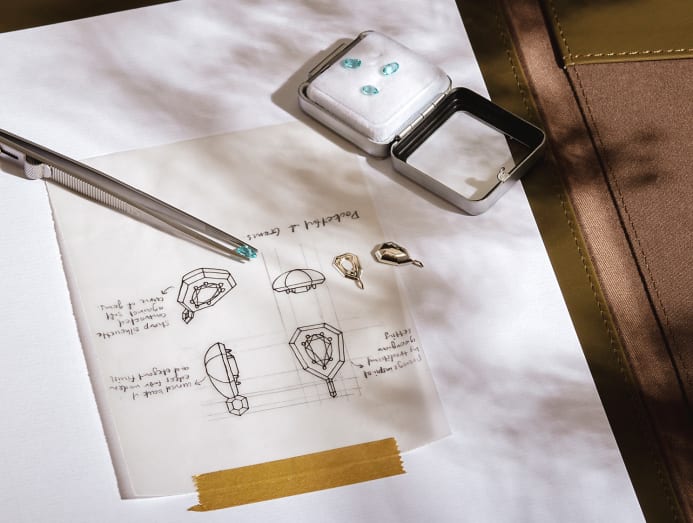 Besides, it's not a lot of brands that get to celebrate a 150th anniversary. But Amarasuriya isn't particularly fussed about the grandeur of it all. Ultimately, it always ties back to what two people can create together.
"One of my first jewellery teachers taught me that we are in the business of happiness," she said. "It's still a lot of work but we get to be part of life's best moments. People come to us with a lot of sentiment and emotion – stress included – but we get to navigate that together."

"One of my first jewellery teachers taught me that we are in the business of happiness. It's still a lot of work but we get to be part of life's best moments." – Shanya Amarasuriya

Related:
This Singapore jewellery brand works with artisans with autism to create intricate beaded pieces