The world is no stranger to Louis Vuitton. While everyone knows of the global luxury brand and recognises its ubiquitous monogram, not many know of its storied history as a pioneering travel goods company, and much less of Louis Vuitton, the man behind it all.
Born in 1821 in the mountain town of Anchay in eastern France, he set off on foot at the age of 13 to find his fortune in Paris. Working odd jobs along the way and honing his skill as a carpenter, he finally arrived in the capital more than two years later. He apprenticed with renowned trunk maker Romain Marechal for 17 years during which he became a valued craftsman at the atelier. This beginning in his career helped him pave his way to being a leader in an artisanal industry that required absolute skill to construct custom-made trunks, and refined savoir faire to win clients in a burgeoning trade.
THE MERIT OF INNOVATION
Horse-drawn carriages, boats and trains were the main modes of transportation at the time, and it was not uncommon for baggage to be handled roughly or suffer from theft. Travellers thereby relied upon craftsmen to create trunks that could protect their belongings.
Vuitton was in his early 30s when he founded his own maison in 1854 at 4 Rue Neuve-des-Capucines in the Place Vendome district, and it was then that he designed a flat-topped trunk that could be stacked. It was a radical innovation, as trunks had hitherto featured curved lids to allow water to drain off. Airtight and waterproof thanks to a specially treated canvas he created, it was also theft-proof – famous escape artist Harry Houdini was once invited to pick the company's patented Tumbler Lock, which he declined (incidentally, the lock is still in use today).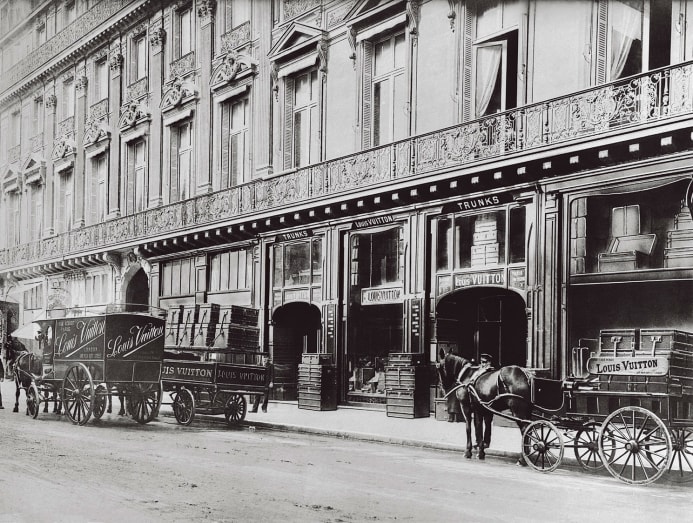 In no time, the Louis Vuitton trunks that came with a clever array of drawers and cubby holes found their way into the first-class suites of steamships and railway trains. Vuitton's creations attracted a great number of affluent clients, including Napoleon IIl's wife, Empress Eugenie de Montijo, who ordered all kinds of trunks imaginable for the most diverse of their personal possessions.
Vuitton's intimate understanding of the world of haute couture and his excellent foresight in identifying the significance of creating an array of travel-related trunks allowed him to wrest advantage and ride the wave of revolution that was taking place within the world of travel.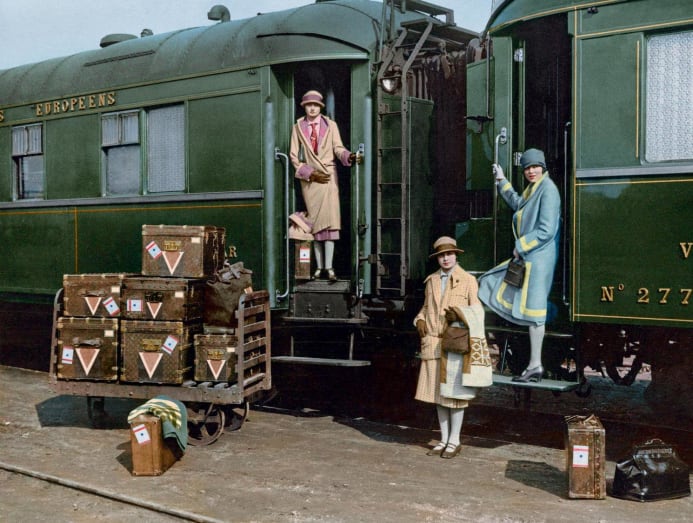 While key features of the trunk stayed the same over the years, Vuitton was continually challenged to introduce new canvases, simply to keep ahead of counterfeiters.
His first trunk featured a solid grey canvas, known as the Trianon (1858-1876), and this was followed by the Raynee canvas (1876-1888), a pattern of brown and beige stripes. In 1888 came the introduction of the Damier canvas, a chequered pattern offered in two colour schemes. It was after Louis Vuitton's death in 1892, when control of the company passed to his son George Vuitton, that the now-iconic LV Monogram canvas was introduced as a tribute to his father and patented in 1896.
George drew inspiration for the canvas design of a flower and quatrefoil from the tiles in their family home to go with the LV Monogram. As the company's signature canvas, what now is commonplace in the world of luxury leather goods was considered a radical move back then, as any initials seen on a trunk were typically the carrier's own. These classic patterns have been reproduced and reinvented over the decades, but remain a steadfast pillar of the Louis Vuitton brand.
Related: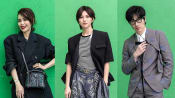 Zoe Tay, Stef Sun and more attend Louis Vuitton's fashion show in Singapore
THE POWER OF EVOLUTION
It was only a few years after the house's founding that Louis Vuitton began to outgrow its Parisian headquarters. In 1859, the workshop was relocated to Asnieres, a village located northwest of Paris, and which today remains the heart of the brand. It was where the company continued to innovate – in addition to filing patents for special hinges and clasps, Louis Vuitton's early adoption of new materials and technologies helped assert his dominance in the travel-trunk market.
Asnieres is also where the series of Explorer trunks melded in zinc, copper and brass that were dedicated to the purpose of travel to exotic lands in Asia and Africa were produced throughout the 1890s.
But it was the aluminium models that were by far the most luxurious. Now one of the least expensive materials on earth because of its abundance, affordable mass production methods didn't exist until the 1920s, resulting in aluminium, at the time, being a very precious metal.
(One aluminium trunk from 1892 sold for a record-breaking £162,500, or S$291,244, at Christie's London in 2018, becoming the most expensive Louis Vuitton travel trunk ever.)
In over a century and a half since then, this very atelier has created a plethora of exceptional, made-to-order pieces. Since customisation has long been part of the house's services, some novel – and legendary – bespoke creations have resulted.
Particularly famous ones include a tea trunk created in 1926 for the Maharajah of Baroda who wanted to take it with him on hunting expeditions, and intrepid explorer Pierre Savorgnan de Brazza's Bed Trunk in 1874. Most recently a DJ trunk co-designed by French audio technology company Devialet was created to allow DJs to travel with the necessary equipment for their performances.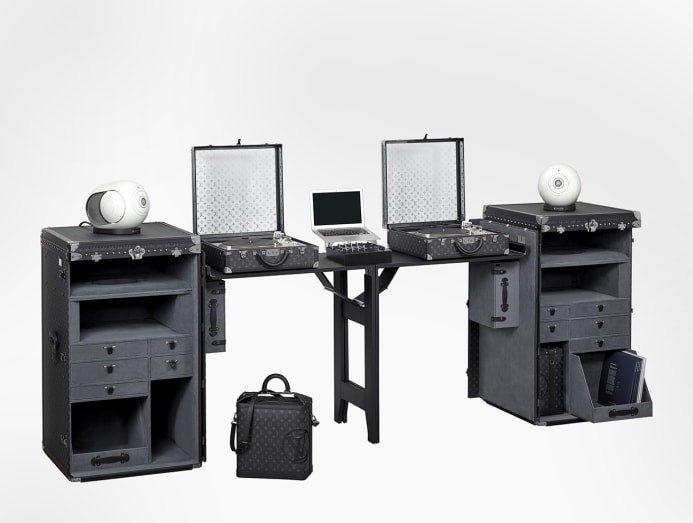 Key pieces and hard-sided luggage special orders are still created in this workshop till today, which until his recent demise were overseen by Patrick-Louis Vuitton, a fifth-generation descendent and the head of special orders.
Clients can personalise their orders of a trunk in varying dimensions to serve a multitude of purposes – from classic flat trunks, to bespoke cocktail trunks, watch trunks, and trunks to hold fragrances, almost every request is considered. In a 2016 interview with Savoir Flair magazine, Patrick-Louis reportedly stated: "As long as it expresses individuality, realises a dream, and respects the tradition of travel, there is nothing we won't create… except for a coffin. That, I refuse."
The house has always embraced a keen sense of curiosity and whimsy, as evidenced by its array of unique collectible trunks over the years. A historical Louis Vuitton dog trunk which has been offered since the beginning of the 20th century, for instance, has been updated with a contemporary and luxurious expression, while still adhering to the classic hard-sided aesthetic codes.
Another standout is the elegant Vanity Mahjong trunk, which was first introduced as an exclusivity in 2020 and 2021 in the North Asia market. A newversion that further fuses contemporary and heritage codes will make its debut at the former Command House in Singapore in mid-April. Featuring a beautiful jade green hue for the lining that's reminiscent of iconic mahjong table tops, this trunk is made by hand in corian and wood, and, when not used to show off skill and strategy, makes for a splendid objet d'art that will accentuate any interior.
Related: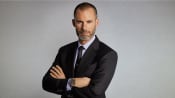 10 minutes with… The great-great-great-grandson of Louis Vuitton
THE BEAUTY OF ADAPTATION
It is without question that the strength and longevity of the Louis Vuitton brand lies in its uncanny ability to constantly reinvent classic models while looking to its archive for inspiration. Some models have been produced for over 100 years, while new styles incorporate traditional designs and motifs that proudly showcase the evolution of the brand.
Just as exciting as bespoke orders are special collaborations with designers. Despite its history in artisanal production, Louis Vuitton understands that its expertise needs continuous renewal and refreshed perspectives. As such, the house has never stopped innovating and creating. With the worlds of art, fashion, and street culture becoming increasingly interconnected, the heritage trunk maker has in recent times sought out hip and avant garde personages to collaborate with. From artists such as Yayoi Kusama to Jeff Koons, each pairing has yielded not only new and game-changing designs but also attracted a new repertoire of customers.
The Supreme x Louis Vuitton collaboration for instance, which represented the perfect blend of New York street style and French refinement, saw items sell out despite the hefty price tags. The resale value is even more eye-watering: auction house Sotheby's recently sold a Louis Vuitton x Supreme Monogram Malle Courrier trunk originally released in 2017 for US$88,200 (S$119,600).
The brand has also been producing bags since the end of the 19th century, many of which were the basis for the icons we know and love today. The beloved Trunk Clutch, for instance, is a classic miniaturised version of the piece that first made Monsieur Vuitton a household name.
It is a nod to the maison's heritage with a host of details inspired by Louis Vuitton trunks, from the S-lock clasp and leather trim to the Malletage-print lining, and comes in a variety of styles. In 2021 the brand released the Trianon PM, also inspired by their trunk legacy. Created by its creative director Nicolas Ghesquiere, it is in fact one of the few handbags that actually come with wood trimmings front and back and is reminiscent of the brand's signature Courrier Lozine 110 and Malle Haute 110 trunks.
A most recent creation is the Vertical Box Trunk for Spring/Summer 2022. A contemporary everyday bag featuring a new silhouette, its sumptuous cowhide in cool saffron yellow is adorned with the LV signature and a "7" in honour of the late artistic director Virgil Abloh's seventh collection. Another of Abloh's signature creations is the Soft Trunk which is now available in different sizes, with the Mini Soft Trunk featuring an avant-garde debossed pattern on black cowhide leather particularly well-received.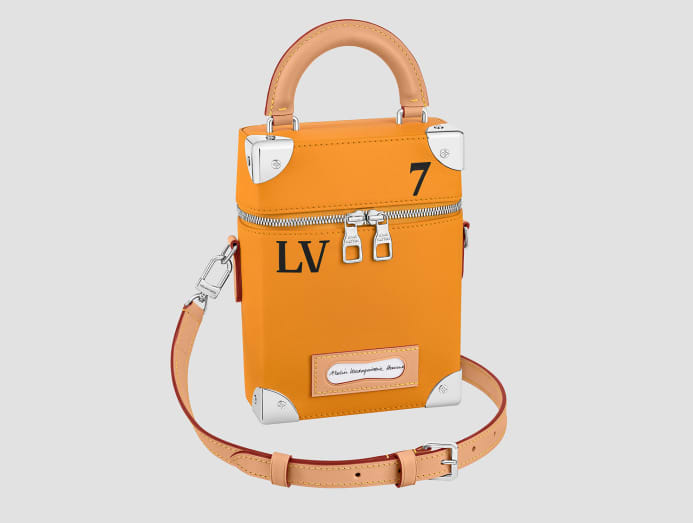 Clearly Louis Vuitton continues to perpetuate the ambitious vision of its namesake, who will forever be an innovator and visionary. His extraordinary legacy encompasses a priceless savoir-faire that is seen in everything that the brand does today.
Much of this can in fact be appreciated at Louis Vuitton's upcoming 200 Trunks 200 Visionaries exhibition, which represents a celebration of the bicentennial birthday of its founder last year. A stellar list of 200 collaborators from across a vast array of disciplines were invited to pay homage to its iconic trunk, and Singapore is its first stop of a global tour.
Just like when Louis Vuitton himself anticipated the age of modern travel and its ever-changing needs, collaborations and partnerships with iconic creative minds continue to push boundaries and express the maison's bold legacy.
200 Trunks 200 Visionaries runs from Apr 4 to 27, 10am to 10pm; Marina Bay Sands Event Plaza, 10 Bayfront Avenue. The exhibition is free of charge. To register, visit https://ap.louisvuitton.com/
Related:
Louis Vuitton Nike Air Force 1s sell for total of US$25.3 million with strong interest from Asia