Anyone who follows the local food scene through social media has certainly run across the incredibly well-written and passionate posts from Veronica Phua.
This charming, enthusiastic professional eater explores our local food scene, from the smallest hole-in-the-wall hawker stalls to the country's Michelin-starred temples of gastronomy. What's clear through her reels and posts is a true love for food, a real respect for F&B professionals and a clear understanding of how to present content that is both appealing and useful.
The last, I have come to realise, after having gotten to know Veronica over the last few years, comes from decades of experienced storytelling. What most foodies that follow the always-hungry Phua on Instagram don't realise is that her expertise in creating content comes from three decades of working as an art director, and even before that, a degree from the Nanyang Academy of Fine Arts.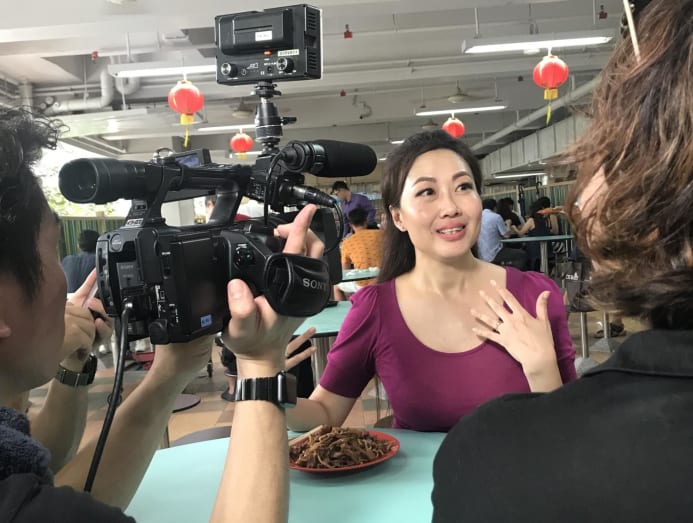 HI, VERONICA. I THINK MOST PEOPLE WHO KNOW YOU NOW AS VERONICA PHUA THE FOODIE DON'T REALISE YOU HAVE THIS AMAZING CREATIVE BACKGROUND. CAN YOU GIVE ME A QUICK WALKTHROUGH OF YOUR AGENCY CAREER?
Ha, ha. Sure. I actually spent close to three decades in the advertising industry. I worked my way up from a Junior Art Director to a Senior Art Director at a couple of international ad agencies for more than a decade before opening my own boutique agency, Plum Ideas, with my husband, TH, in 2003. The key clients, for whom we conceptualised and produced countless print, television and digital campaigns, ran the gamut from media giants to tech, tourism and pharmaceuticals. I was very proud to have our work pick up a few awards along the way, too.
Speaking of awards, I am honoured to be representing Singapore on the Grand Jury for this year's Gerety Awards, an advertising awards event across multiple creative disciplines, shortlisted and judged by an all-women panel across the world.
HOW AND WHY DID YOU GET INTO ADVERTISING?
My earliest memories are of creating in every imaginable way. Besides drawing on every available piece of paper, I was dreaming up new games to play with my younger brothers. In school, art ranked as my favourite subject alongside English and Literature. So, I knew early on that I wanted a career in the creative field. During a holiday break while studying at the Nanyang Academy of Fine Arts, I interned at a family friend's company – he supplied fonts to the big ad agencies in those pre-an-Apple-Mac-for-everyone days. Through that stint, my eyes were opened to the fun, stimulating, intense and, at that time, glamorous, world of advertising. I was thrilled to have found what I was searching for.
Related:
Creative Capital: This man runs 'Singapore's best and coolest barber shop'
WERE YOU HIGHLY CREATIVE EVEN WHEN REALLY YOUNG?
I like to think so. My parents can vouch for my passion as they have kept a stack of my drawings and writings from that era. One of my favourite activities was to produce mini "newspapers" that reported the latest events from an imagined Fairyland. I also did a little "side business" of charging my classmates who wanted my drawings. The going rate was one cute eraser for each "masterpiece"!
YOUR HUSBAND WAS YOUR BUSINESS PARTNER AT PLUM IDEAS. HOW DID YOU GUYS MEET AND WAS IT LOVE AT FIRST SIGHT?
Anyone who has worked in the advertising industry knows the hours are long and a free weekend is a rarity. Thus, it's no surprise that our paths crossed in an ad agency. He had joined BBDO as a Freelance Art Director during the time I was there as an Art Director. I doubt either of us would describe our meeting as "love at first sight" but the attraction was fast and mutual.
WHEN DID YOU DECIDE YOU WANTED TO HAVE YOUR OWN AGENCY?
After I was retrenched by BBDO, the two of us took the plunge. I remember TH saying to me, "Since you aren't afraid of hard work, why not start our own company?" So, we did. Best decision we ever made.
HOW HARD WAS IT RUNNING AN INDEPENDENT AGENCY IN A FIELD THAT HAS SOME REALLY LARGE, DOMINANT COMPETITORS?
I think we were extremely blessed because it was a confluence of factors that worked in our favour. Media corporations and MNCs were just opening their Asia-Pacific offices in Singapore around the time we launched Plum Ideas and that led to a non-stop flow of exciting regional projects. Several corporate clients were also diversifying their pool of creative partners and were keen to work with boutique agencies. Agencies like ours were slightly less expensive and much more nimble.
WHAT IS YOUR FAVOURITE MEMORY FROM YOUR PLUM IDEAS DAYS?
The very frequent travel as well as the opportunities to meet and interview interesting personalities. Since the sales offices of TIME Warner, CNN International and the BBC were our first few, and biggest, clients, I flew around the region and sometimes beyond, very often for filming. Two of the biggest highlights for me were the interview and shoot I did with multi-award-winning composer Ryuichi Sakamoto in New York, and three Cambodia Tourism campaigns that saw my crew and I travel across the country.
WHY DID YOU GUYS DECIDE TO WIND DOWN PLUM IDEAS?
We could see that advertising as an industry was changing rapidly – the budget for traditional media was shrinking considerably as digital media began to become an important component of marketing plans. We had to make a decision whether to evolve, or to call it a day. After much deliberation, we went with the latter as I was also starting to feel a little burnt out.
HAVE YOU ALWAYS BEEN A FOODIE?
Oh, yes! My mum, who is the OG of foodies, has long had an influence on me and my brothers. Weekends were the most exciting because we would pile in the family car to go dine at her favourite hawker stalls or eateries, and also check out some new place that she had heard about. I remember how we could differentiate between tasty and boring flavours even when we very young.
WHAT DREW YOU TO POSTING FOOD CONTENT ON SOCIAL MEDIA?
Initially, my objective was to keep track of food I'd enjoyed, so I started using Burpple in 2013. It was an app I had stumbled upon. Back then, it was designed like a food journal. Shortly after that, I began posting on Instagram, and as they say, the rest is history. When I began receiving messages of appreciation for my detailed posts about food from people I didn't know, I realised I was helping people make better decisions when they dined out, and it filled me with joy.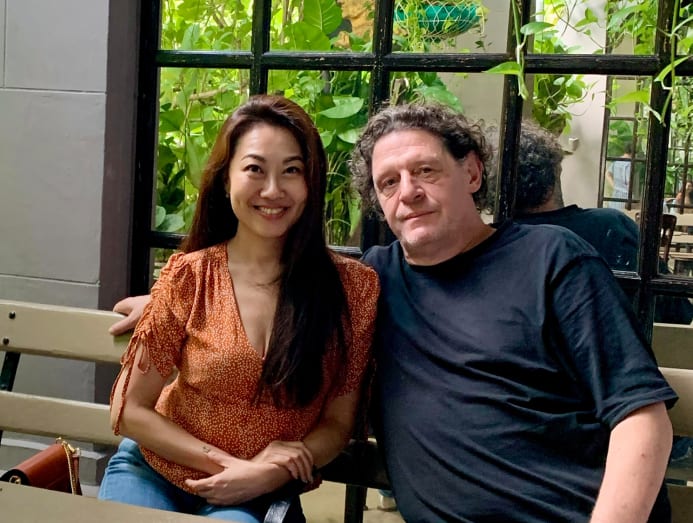 YOU WERE BURPPLE'S BRAND EVANGELIST FOR A WHILE. I UNDERSTAND YOU NEVER SOUGHT OUT A JOB FROM THEM BUT THEY CAME TO YOU. CAN YOU TELL ME HOW THAT HAPPENED?
After a few months of using the app, the then-Community Manager, Jayne, reached out to me to bequeath the title of Tastemaker as I was posting quality content regularly. Shortly after, we met up in person along with the other Tastemakers for an event, and we clicked from the get-go. I met the rest of the then-Burpple team over the following months and cultivated a strong bond. When they knew of my plans to close Plum Ideas, I was approached to join the company as a full-time consultant. The role of Brand Evangelist was created for me because it was a genuine reflection what I was already doing for Burpple.
WHAT DOES FOOD MEAN TO YOU?
Nourishment, a source of great joy and a wonderful way to connect with people.
WHAT ARE THE ELEMENTS OF A GREAT MEAL TO YOU?
Plenty of delicious food, good wines and great company. When everything is right about a meal, it's electric!
YOU SEEM TO BE ABLE TO REMEMBER THE NAMES OF SO MANY PEOPLE FROM ALL THE RESTAURANTS YOU GO TO. IT'S REALLY QUITE IMPRESSIVE. HOW DO YOU DO THAT?
Do I? That's something I haven't really noticed myself. Perhaps I honed my memory over the Plum Ideas years when I was conducting interviews with VVIPs. My crew and I had only a tiny window of time to film them so going in mentally prepared was vital. Therefore, I always made it a point to fill my brain with necessary knowledge to ensure the allocated slot could be used as efficiently as possible. I guess that muscle memory hasn't faded.
YOU GO OUT MORE THAN MOST OF US. WHAT IS ONE THING THAT CONTINUES TO IMPRESS YOU ABOUT OUR LOCAL DINING SCENE AND ONE THING THAT YOU WISH YOU COULD CHANGE, OR CONTINUES TO DISAPPOINT YOU?
I still get awed by the incredible variety of good food we can find in Singapore at every price point. We literally are a melting pot of many cultures' cuisines; not only of our ancestors who first settled here but also of the people who came from all around the world to settle and work here in the past couple of decades or so. Currently, what really excites me is the rising number of young Singaporean chefs who are carving out their version of Singaporean cuisine.
As for the second part of your question, I feel diners can be more thoughtful and constructive when a meal has fallen short. Consider giving feedback to the manager or head chef before leaving the restaurant so the team is aware and can either offer some form of service recovery or, at least, an apology. I think smiling and claiming everything's fine when asked, then going home to pen a negative review seems unkind and unfair.
WHAT'S YOUR PLAN? WHERE DO YOU WANT TO TAKE THIS WHOLE FOODIE KOL THING? OR IS IT REALLY JUST A PASSION AND HOBBY? OR, DO YOU HAVE SOME BIG, AMBITIOUS PLAN?
Honestly, I didn't start out doing this with any plan in mind. Discovering good food and creating engaging content to share has been and still is what I truly love doing. I am, however, staying open to interesting opportunities that come knocking.
IF YOU HAD ONLY ONE DAY LEFT IN SINGAPORE, WHERE ARE THE THREE PLACES YOU WOULD GO FOR BREAKFAST, LUNCH AND DINNER?
Ha! I see you saved the hardest question for last. Hmmm… I would head to Da Dong Prawn Noodles for breakfast, then enjoy a leisurely lunch with lots of wine at Spago before calling it a day with dinner at Mustard Seed.
Related: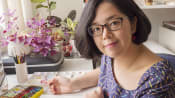 Creative Capital: The artist who paints mouthwatering food in watercolour