Felicia Toh is a busy person. The 35-year-old runs Quarters, a successful architectural practice, lectures at the National University of Singapore, and writes about architecture and design. She also runs NOST, a fashion line she founded in 2019 that, in her words, "partners maker families and vulnerable communities to create beauty sustainably".
If wearing her four hats isn't enough, Toh has been hard at work, through NOST, to launch a first-to-market line of clothes made from PALF, a fabric made from pineapple leaf fibre. It will debut at an upcoming exhibition at the National Design Centre on May 15 and run until June 10 this year.
NOST was awarded a Good Design Research Grant for its research on the development of these. Blending old and new, innovative pineapple leaf fibre-blended yarns are passed to heritage artisans to weave into fabrics on a step loom, and batik artisans to hand-print original motif designs.
Toh's project stems from seeing the potential to use modern innovation to breathe new life into the heritage craft of the artisan families NOST works with. Many of them, she said, have difficulty competing with commercial producers. Prices of natural fibres have almost tripled for artisans due to the pandemic.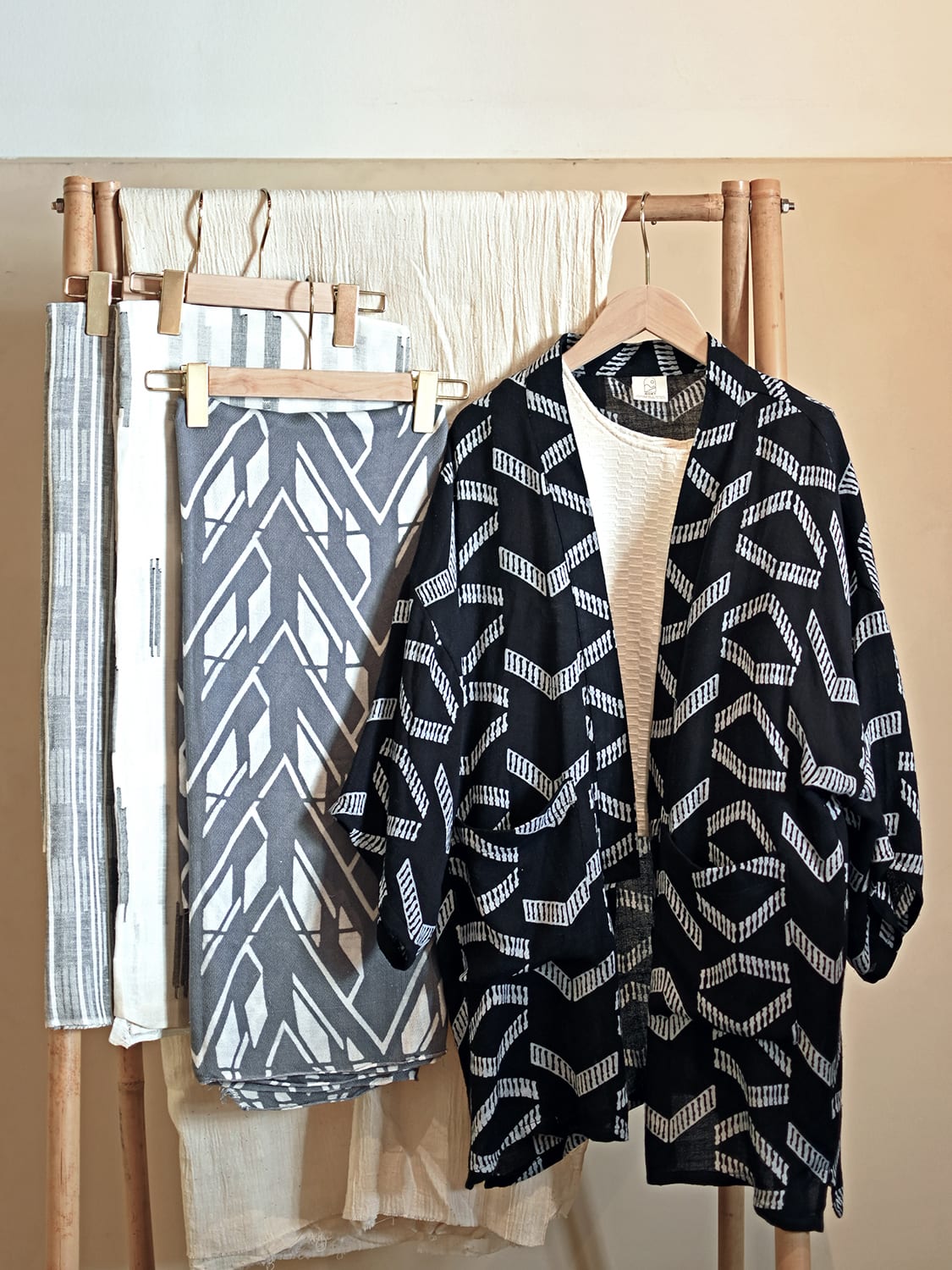 She hopes that through her PALFCRAFT project, artisans will be able to gain reliable access to sustainable pineapple leaf yarns at scale, and future-proof their craft through producing sustainable textiles for global markets.
HI FELICIA, WERE YOU DRAWN TO DESIGN EVEN AS A KID?
I remember drawing fashion outfits when I was in primary school. My best friend and I would spend hours each afternoon sketching on stacks of paper. As a teenager, my design dabbles extended to designing t-shirts for school and church camps, and painting banners and murals.
When I joined architecture school in NUS, I don't think I really knew what I was in for – just a vague sense that it had to be something creative that allowed me to draw. Thankfully it turned out to be a path I find quite gratifying.
YOU STARTED QUARTERS IN 2016 WITH A PARTNER, KENNETH KOH. HOW DID YOU KNOW HE WOULD MAKE THE RIGHT PARTNER?
Kenneth was my schoolmate in architecture school. When an opportunity came up to design Omakase Burger's first outlet in 2012, I roped him in. We ended up designing all the other Omakase Burger outlets together, as well as Picnic at Wisma Atria – the project that launched Quarters Architects.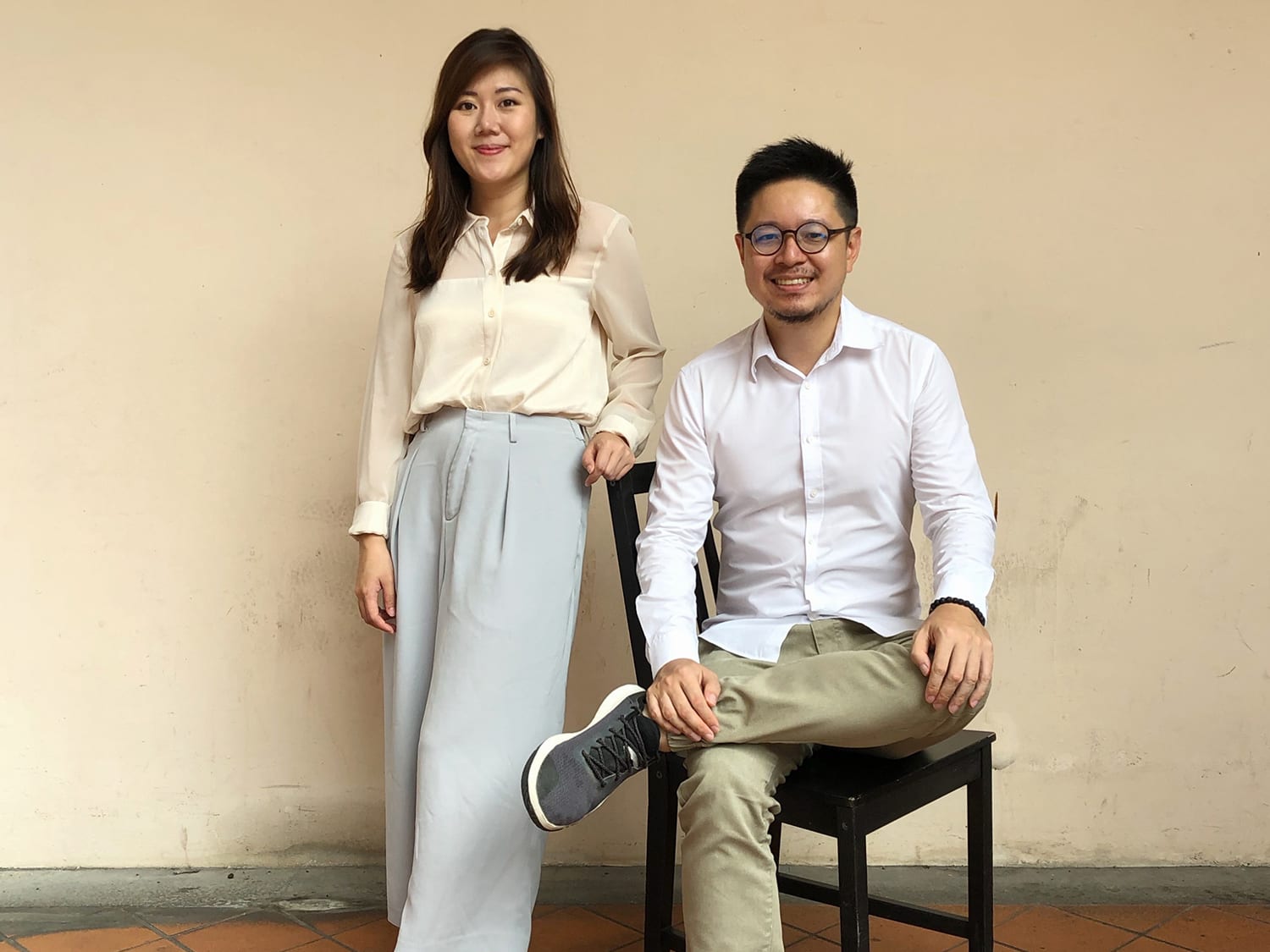 I started the practice first, and Kenneth joined me as a partner after he obtained his architectural license. We have different strengths but a common interest in conceptual ideation that allows us to enjoy working together.  
WHAT MADE YOU WANT TO START YOUR OWN PRACTICE?
I was in transition in 2016 and was considering a few job offers when within a span of two weeks while travelling in Japan, I suddenly received enquiries from various contacts to design a restaurant, pre-school and residential apartment.
It was quite serendipitous, and felt like a God-given moment. I realised that these projects could tide me over for one year financially; and if I were to take them on, I wouldn't be able to simultaneously be in a full-time job elsewhere.
That led me to take the leap and start Quarters Architects. Thankfully, we've had a stream of projects ever since.
Related: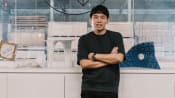 This Singapore architect designs and makes his own prototypes for owners with 'something important to say'
Meet the 'misfit' artist who dreamt up ART-ZOO, Singapore's coolest giant inflatable playgrounds
WHAT DO YOU WISH YOU KNEW SIX YEARS AGO ABOUT BEING AN ENTREPRENEUR?
That the business itself is a design project – and one that wasn't taught in design school or even in practice as an architectural designer. What is the firm structure? What kind of culture do you want to build? How do you design a system that allows you to deal with the toughest part of running a business, for example, chasing for timely payments or dealing with difficult vendors?
We are still learning on the go, and there are some lessons only experience can teach but it would have been wonderful to speak to mentors about leadership, financial structures and designing the business six years ago.
YOU'VE WORKED IN SOME VERY WELL-KNOWN FIRMS. ARE THERE ANY LESSONS YOU LEARNT FROM THOSE PRACTICES THAT HAVE INFLUENCED YOU AS A DESIGNER AND ENTREPRENEUR?
Architectural practice is known to be a rigorous one. When I was at Formwerkz, designers would be put in charge of the entire process from design, authorities submissions to construction management. I'm thankful for the exposure to the full, unfiltered process of architecture, and the rigour with which the bosses and colleagues approached every project.
ARE THERE A FEW PROJECTS THAT YOU FEEL EITHER PROUDEST OF OR THAT BEST EXEMPLIFY QUARTERS?
We had a lot of fun designing the Learning Express at the Lifelong Learning Institute – the client brief was to design "classrooms of the future". The project consisted of nine interactive classrooms with breakout lounges.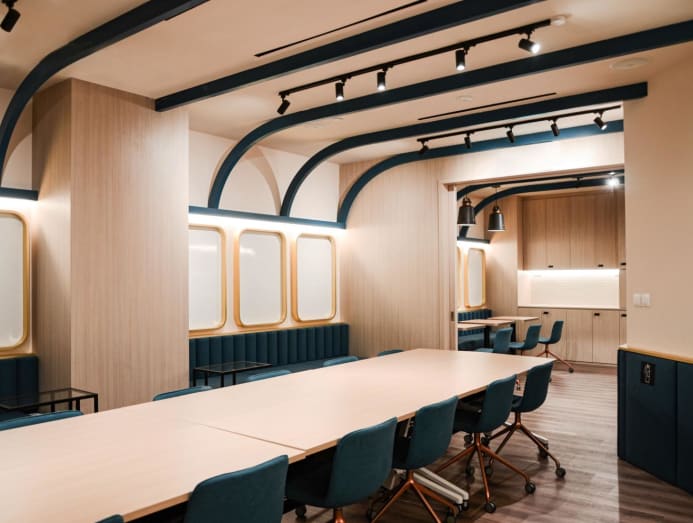 We were given the freedom to conceptualise learning as a journey, consisting of various pit stops. Each classroom represented these stops – and were as varied as a beachside party, a train cabin interior, a library book hall and an interactive game show room.
Each of the spaces were fitted out with interactive screens or writable surfaces, in line with research that shows that learning andragogy is evolving away from teacher monologues to participatory formats.
We designed the interiors, graphics, signage, as well as room accessories such as writable wooden tablets and styling objects. We particularly enjoy work that allows us to create immersive worlds; once you step into the space you feel transported.
Another project highlight was the sculpture commissioned by National Gallery Singapore (NGS) for Light to Night festival, called Between Two Worlds. It was stationed at Esplanade Park, surrounded by these historical war monuments, the Padang and the CBD.
That year's theme was Invisible Cities, and NGS had commissioned local poets to write sonnets inspired by the sites. We had the privilege of creating a sculptural space inspired by Kevin Wong's atmospheric sonnet, So We Might, which discusses memory and longing – losing a loved one for survival, to an unreachable elsewhere – "I'll call out to you, sometimes, across the worlds that separate us."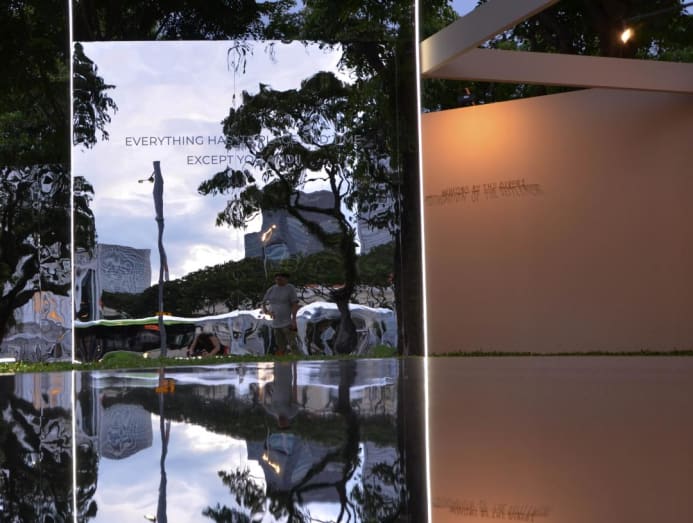 Between Two Worlds was a spatial sculpture that pulled the multiple facets of Singapore's cobbled reality into a single charged passage; external mirrors reflect and dissolve into its glitzy surroundings, while an internal passage inscribed with shadowed lines of the sonnet whisper alternate narratives.
We take up community impact projects annually, and a current one we're collaborating on now with Agency, a design thinking firm, is to re-imagine workers dormitories and improve their living conditions.
We've built a prototype dorm room with the Agency team. This project is piloted by Dormitory Association Singapore Limited and the Ministry of Manpower, and is a meaningful co-creation process that we hope will enhance guest workers' lives in Singapore in the near future.
ON YOUR WEBSITE, YOU SAY YOU LOVE TACKLING INTERIOR-DESIGN EXPERIENCES THAT ARE NARRATIVE-BASED. CAN YOU ELABORATE ON THIS PLEASE?
We are fascinated by the idea of creating an immersive world from the moment you step into a space, akin to Alice falling down the rabbit hole. Design has the power to evoke sensation and create immersive experiences, and our favourite projects are those that allow us to design the details from the space to graphics so we can tell these stories in new ways.
YOU STARTED NOST IN 2019. CAN YOU TELL ME HOW THAT CAME ABOUT?
I started NOST in 2019 after traveling to India and meeting with artisan families who create beautiful heritage textiles from the heart of their homes – families of weavers, block-printers and indigo-dye masters. As a designer based in Singapore, it was a dream to be able to partner them to create something new yet using completely traditional techniques.
NOST comes from 'nostalgia', which at its root etymology means 'a longing for home.' The idea was to celebrate the sense of feeling at home wherever one is, producing quality, comfortable pieces hand-crafted from the artisans' homes to yours.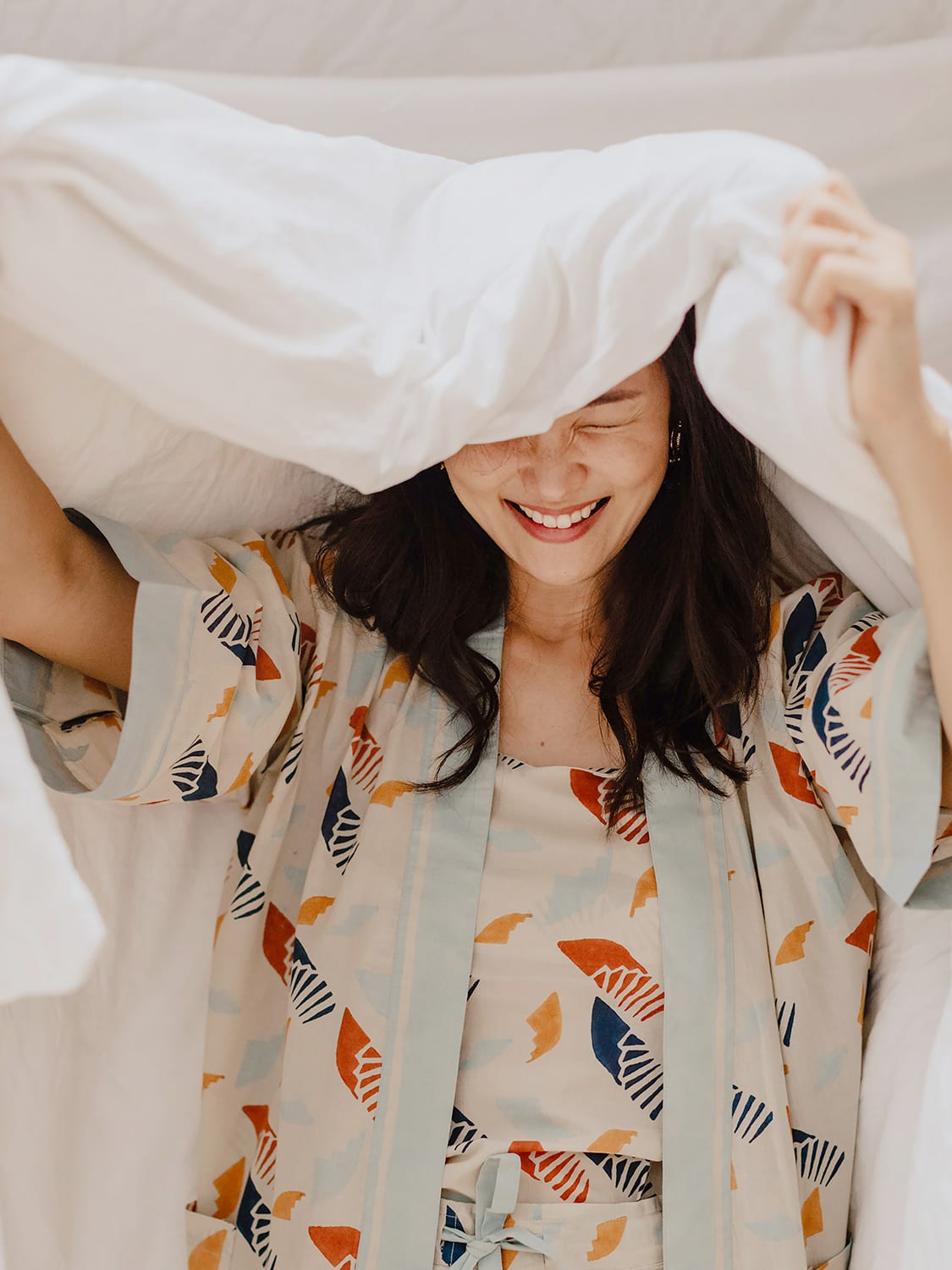 I started with loungewear because I thought there was a market gap in Singapore for comfortable, organic pieces one could wear at home, which were also versatile enough to wear out for errands.
Then COVID-19 hit, and with the lockdowns and restrictions all of us started spending a lot more time in our homes. I had no idea that would happen when I started the brand.
HOW LONG DID IT TAKE TO GO FROM IDEA TO ACTUALLY BEING READY TO SELL PRODUCTS?
Nine months! It was a birthing process.
WAS FINDING THE CRAFTSPERSONS YOU WORK WITH DIFFICULT?
Not really. We realised that the world is so connected despite being so diverse; we met the artisans via a network of local friends' contacts, Facebook and just going door to door in specific villages known for batik (in Java, Indonesia) as well as specific forms of block-printing (in India).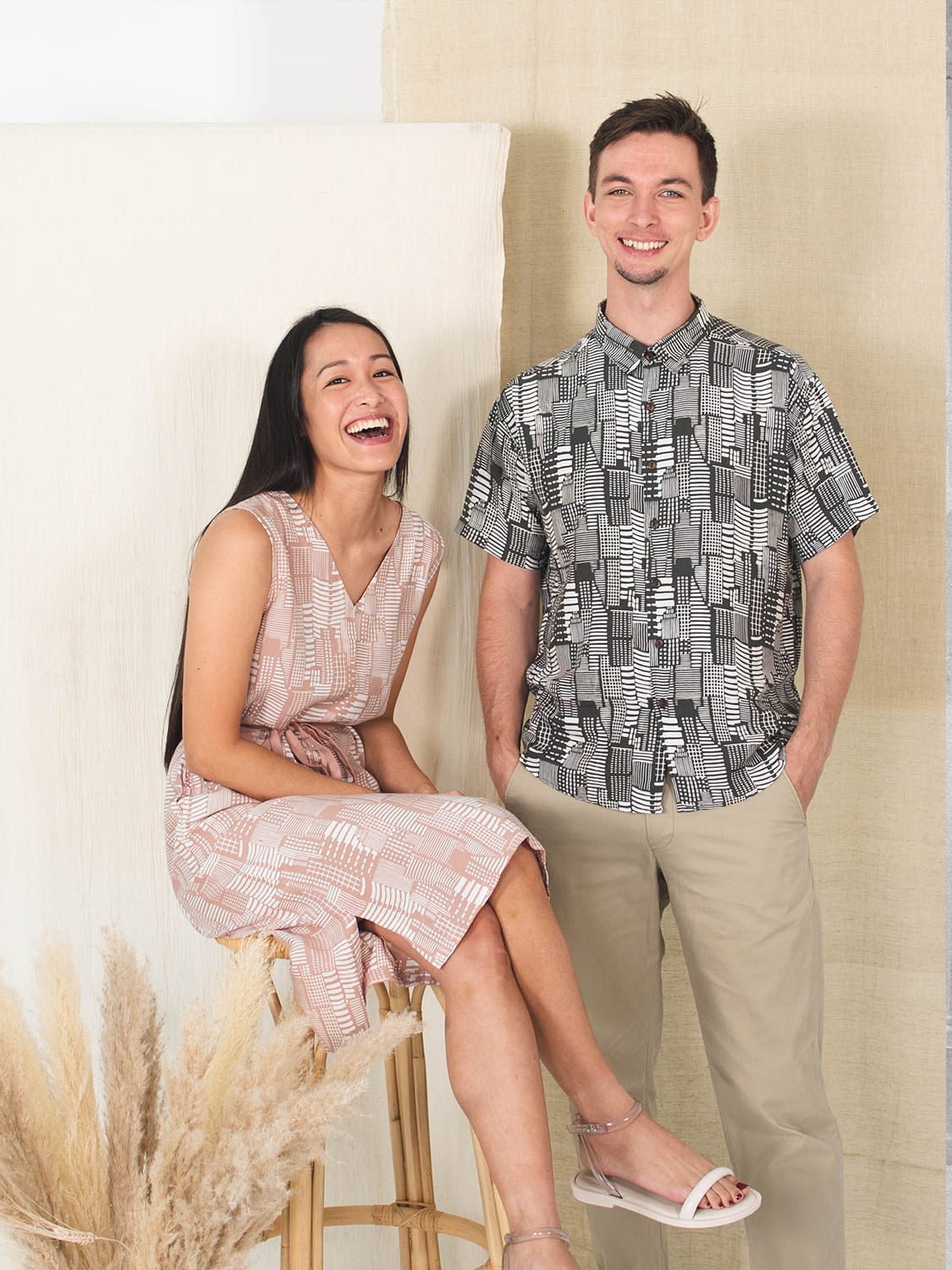 WHAT'S BEEN THE HERO PRODUCT SO FAR?
The Stara Robe in Modular Black has been a popular piece, with its bold faceted print inspired by the Concourse building.
The City Print collection men's shirts and dresses inspired by Singapore's skyline, and batik printed on 100 per cent TENCEL, is cooling on the skin and sells well especially amongst couples looking for fun matching outfits.
IN ADDITION TO NOST AND QUARTERS, YOU ARE ALSO A WRITER/JOURNALIST AND ADJUNCT TUTOR AT NUS. HOW DO YOU FIND THE TIME TO DO ALL OF THESE THINGS?
I think we find time for the things we love. That being said, I do tend to say yes to too many pots on the boil, and then I learn my limits and adjust accordingly the next season.
Architecture is still my mainstay, and I'm learning to keep pace with these other interests without sacrificing rest and refreshing time with loved ones. Writing is a hobby, a form of discovery for me as I speak to other architects and designers. It certainly helps to have a wonderful team of people onboard – Kenneth and my other colleagues who are great at what they do.
WHO OR WHAT INSPIRES YOU?
Many of us in Singapore live such frenetic lives. What recharges me is reduction – making space for reflection, being in nature, reading, tending the soul, quality time with family and friends.
Inspiration comes in many forms; I love travelling and being exposed to cultures and places that are completely different from what I'm used to. The strangeness is refreshing, and acts as a mirror that causes me to realise my own set of values, and see new perspectives.
WHAT'S NEXT FOR NOST AND QUARTERS? ANY EXCITING PROJECTS/LAUNCHES YOU CAN TELL US ABOUT?
NOST has an upcoming exhibition at National Design Centre from May 15, for PALFCRAFT – our Good Design Research Grant project that develops heritage pineapple-leaf textiles, loom woven and batik-printed by artisans. PALFCRAFT is a collaborative project with Nextevo, a Singapore-based sustainable fibres manufacturer.
We are excited about PALFCRAFT because of the possibility to put innovative, sustainable pineapple leaf yarns into the hands of artisans, to weave and batik-print new fabrics in a range of NOST designs.
Quarters is also working on a range of office projects, a tertiary educational institute, boutique hotel and residential homes — some of which will be completed before the end of the year.
DesignSingapore Council's Good Design Research empowers designers to design for impact through research and experimentation, supported by funding and a wide network of knowledge partners. Read more.